Now that I've addressed all of the issues from the last internal test, Turnover can now finally move out of alpha.
Next week, keys will be distributed to KickStarter backers and other testers via Steam. This will kick off the first round of beta testing for Turnover. The plan is to have the first beta test run for a while, just to gather feedback. When that period ends, the beta will be updated regularly with features and fixes. Over time, I'll probably bring more and more people into the testing fold as well.
It has been one hell of a journey getting to this point. I'll admit, it has been kind of surreal. When I started working on the engine project back in 2013, I would never have guessed it would have turned into a full game at this level. I'm very fortunate to have gotten this far. Thanks for reading the blog and sticking around, and thanks for all of the support.
Now, onto some things I've been addressing to prepare for beta.
Minimap Changes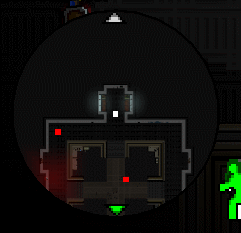 New minimap blips have been added. Originally, everything was drawn normally, but it looked terrible and nothing could be easily made out.
A few things to note:
Enemies are shown as a red blip.
Friendlies are a white blip.
White arrow shows the direction of your current follower.
Green arrow shows the direction of the exit.
I think the minimap meets its original intent now, as I found myself actually using it. Should help players out a bit.
Aspect Ratio Improvements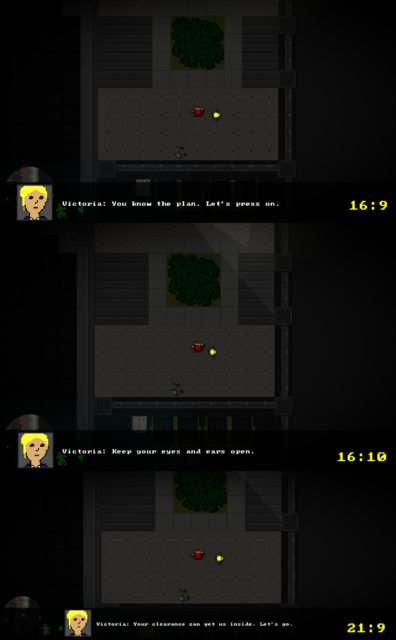 I've put in some work to make sure that everything looks good among various aspect ratios: 16:9, 16:10, and 21:9. It took some tweaking of HUD text and image placement, but now everything should be fairly consistent..
Final Alpha Changelog
Here is the last progress changelog report I'm going to post. From here on out, I'll include only official build changes instead of every little in-progress thing.
Matched color/themes of certain HUD elements.
Added minimap arrow to show direction of current follower.
Added colored minimap blips.
Fixed a few hitbox issues.
Increased Sentinel alert time.
Slightly reduced Sniper / Turret bullet speed.
Revamped Attack Dog: Increased run speed, slightly reduced hearing radius.
Added Help Hints to the "Continue?" screen.
Fixed important level points being bugged.
Fixed outstanding animation/timing issues, such as tying cigarette smoke to animation, death animations, and foot step noise generation.
Fixed an overlooked math bug.
Fixed perks not applying.
Revamped Shock Trooper: Much better accuracy on his lunge attack.
Edited the cutscene scripts to be clearer. Melded some together to reduce length. Just cutting out the fat.
Fixed various drawing issues.
Rebalanced many levels.
Tweaked a number of sprites.
Added a few more screen shake effects at certain places.
Fixed enemy outlines drawing incorrectly.