We learned a fair deal preparing for and making our first character from scratch, the mythical and semi-mechanized Bauk.
The idea behind the unit was a resistant damage-sponge that could reflect projectiles using a large, spinning shield, and also use it to attack his enemies much like a Spartan. Since the unit is one of the few aboard the ship created specifically for fighting, we also indulged a bit by turning his right arm into a shrapnel-firing cannon.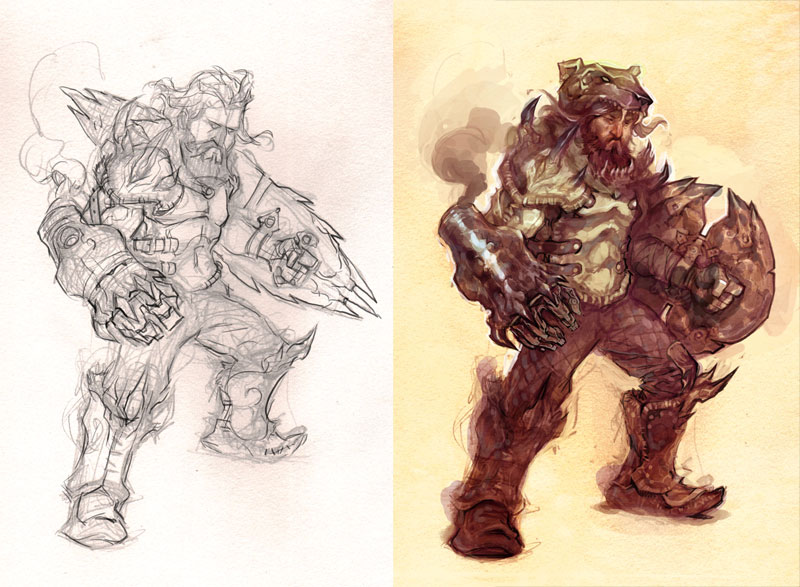 The link to the bear come through the unit's general hardiness and resistance (he can shake off all status effects after one round), and various aesthetic touches. The most obvious is the bear-cap atop his head, as well as the general stockiness and wild mane of hair. We also embedded a necklace of bear teeth into his beard to provide a semblance of a lower jaw, and attached claws to the ends of the cannon and foot-coverings. A patchwork of leathery fur-trim further added to the ursine look.

Colouring wise we looked to Valve's Dota 2 approach for guidelines.
The PDF is worth checking out even if you're not making a 3D game, but it was particularly applicable for us given Trudy's classic iso-style perspective. Of particular usefulness were the tips on picking colour palettes so as to keep units distinct beyond just their silhouettes, and painting techniques (darker at the feet and brighter at the torso and head).
The character itself was modeled in Maya and used 2,698 vertices (2,9120 polygons). It was carved from a template we created as a base for the humanoid units; you can see the time-lapse process below: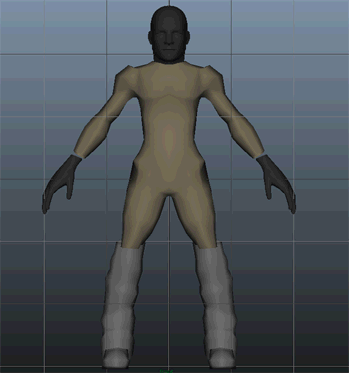 The density of the polygons is distributed fairly evenly, with special care paid to the areas that require deformations for animations (joints, beard, cloak). Static components that are animated like the cannon don't require as much detail. Here's a checkered UV layout showing the overall distribution: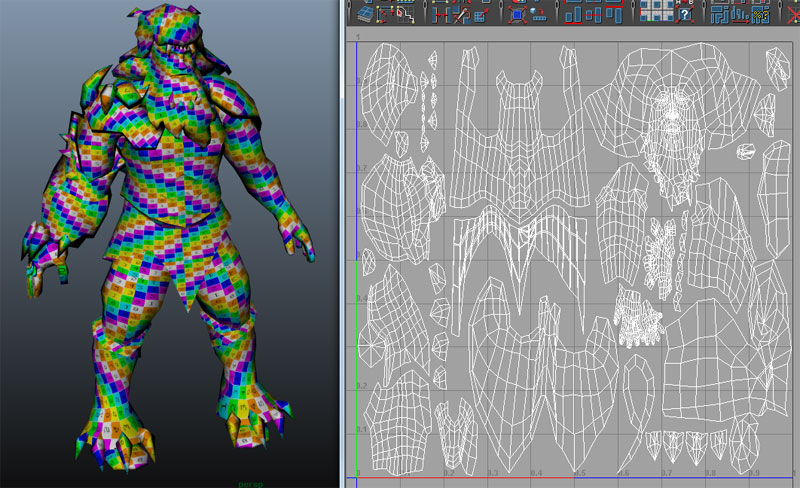 For texture mapping, we decided to try out Physically Based Rendering. PBR is a method that describes surface characteristics in more precision than typical approaches, but it also requires a few more maps to be generated. There's no de facto standard for PBR, but here's a good overview that we roughly followed.
Below are the different maps we created for PBR from a base diffuse map:
Albedo – made by hand with cut out transparencies and dimmed reflective elements such as the breast plate.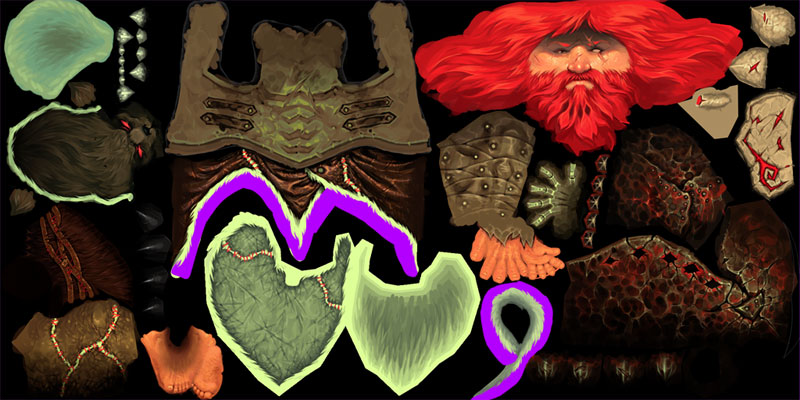 Roughness – made by hand to indicate reflective (white) and non-reflective (black) surfaces.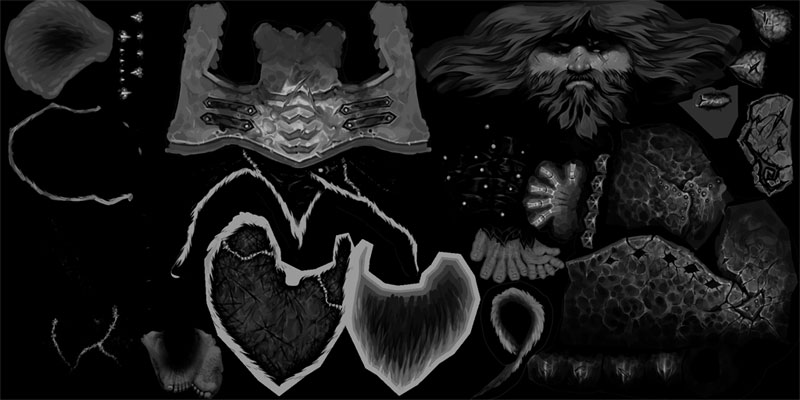 Normal – generated using nDo2 for surface depth via bump mapping. nDo2 is a great Photoshop plugin that can automate normal map creation and allows for painting in normals that aren't necessarily visible in the texture map itself. Below is an example of using nDo2 and the normal map we created with it.
Substance – made by hand to separate metallic surfaces at near-full brightness for PBR when factored in with the other maps.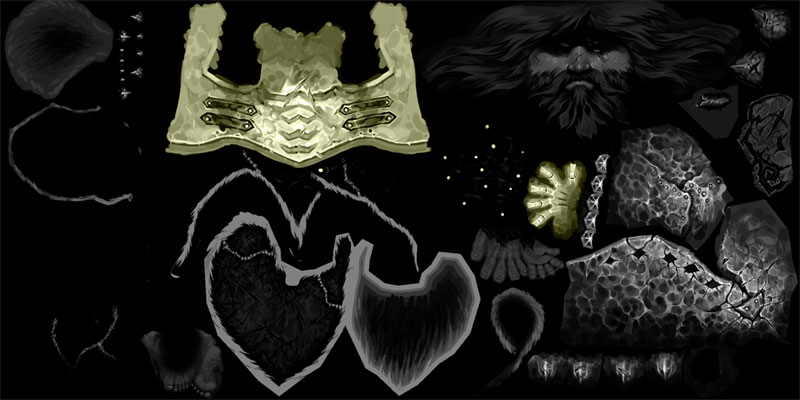 And here are the end results, the base map and the PBR version:
One thing we'll definitely keep in mind going forward is the amount of detail on the diffuse map. We found that a lot of the detail got lost in the noise and made the surface a bit less readable. It didn't muddle up the unit when viewed in-game too much, but there were probably too many folds and creases in the leather and fur parts that we'll smooth out later on.