We are pleased to announce the release of Towns v6
This version focus primarily on the sieges.
From now on, sieges will take into acount several factors such as population count, town value (determined by the base value of all the items), hero levels and days that have passed by. This means that as you progress ahead, not only population size wise, the sieges will turn harder and harder, so now it is a lot more encouraged to grow your population if you want to survive.
Soldiers now affect the likelyhood of sieges such as that if your town has a large portion of your citizens as soldiers, invasions will be less likely to come.
Aside from the usual we come in peace and you go in pieces sieges, there will be another type of siege in which monsters raid your town in order to either loot it from precious items or food, or to attack your livestock.
Sieges are now structured in such way that there will be more than one type of monster per siege and you will usually see several low level monsters led by a stronger higher level one.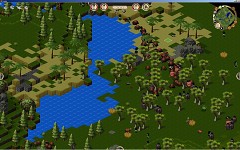 We have also added an option to determine the siege difficulties in the main menu and now have 5 options, off, easy, normal, hard and insane.
As always, we appreciate any feedback, good or bad, regarding the game and its mechanics.
The upload status and the patch notes for this build can be seen here.
-SMP