If you missed out on Part.1, you can refer to it again by clicking here.

Tip No.4: Cater to Different Spending Power

Countries in South East Asia are not only diversely different in terms of culture and language, the economical state of the country will also influence the spending power of the game users. Thus, it is always wise to prepare several denominations in your game to enable players to purchase and enjoy the game regardless of their spending capability. Always remember, even though your users may be paying in small value, but as the volume gradually increases, it can result to huge profit as well.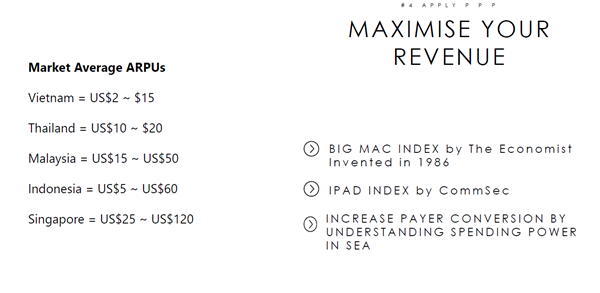 Tip No.5: Focus on the Right Market
Because South East Asia is such a diversified market, you might want to pay more attention on the marketing part and to bring the right game to the right region. Not only that, the marketing rate for different country differs as well. Hence, you would not want to waste money to run tons of campaign that might not be effective in a region.
To put it simply, in order to get value out of your marketing effort and to maximize your game revenue, you'll need to choose the right method for the right territory. Being a publisher for more than 15 years, here's what we came up with for the South-East Asia Region.
If your game is focusing on In Apps Purchase, you might want to focus them on countries such as Thailand and Vietnam; If you game focuses on Ad Revenue, you might want to target countries like Philippines and Indonesia.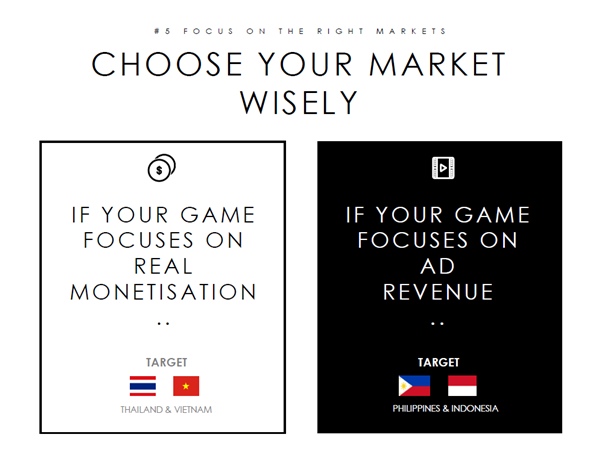 Tip No.6: Android is much more Popular!
Always remember that South East Asia countries will have more Android users compared to iOS users and that's because not everyone can afford an expensive high-end technology device, given that most of the countries are labelled as third world countries.
Not to mention, given how significant the role is for third party platform in these countries, it is no wonder Android would have played a huge role since most of the third-party platform supports APK file download which is much easier and convenient for the user. On the other hand, IPA file doesn't usually support third party platform and it is a hassle for players to run it properly on their devices.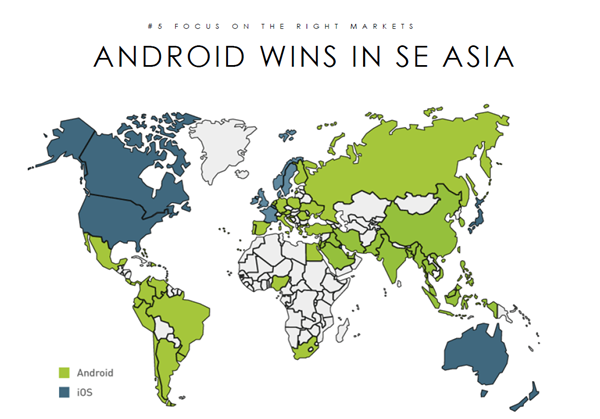 Stay tuned to Part 3 to find out what are the four last tips to maximizing your game revenue in South East Asia!