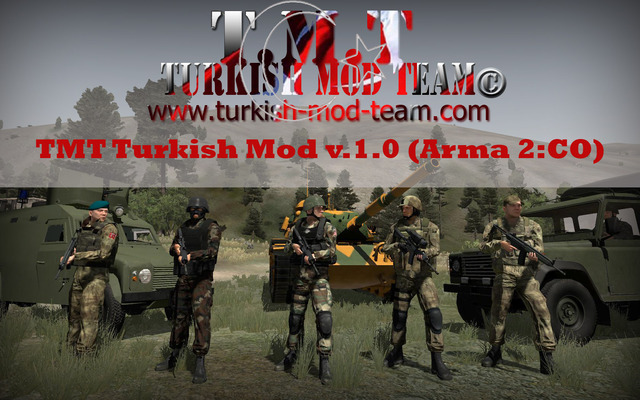 Long time after full version has been released. In this version you can play with; Otokar ZPT, F16, M60A3, Land Rover, Land Rover Ambulance, Land Rover Zipkin AA, Turkish sniper rifle Jng-90, Eryx and M72A2 rockets, new M4 and M16 varrienties with Aselsan scopes, M101 howitzer, TR-107 rocket launcher, new operational SAT and Maroon beret units, new Jandarma, ISAF TR, Polis Ozel Harekat and winter units and also new pilot and crew units and other new things.
And also older models; HK33, G3A4 and Mg3 weaopons. Any you can also use these weapons with zf scope, T40 grenade launcher, leupold scope, Aselsan Piton TWS scope, Aselsan A340 Nightvision scope, Turkish Army BTR 60 and unimog truck varieties, S-70 helicopter varieties, Mh60k, Ah1W cobra helicopters,Blue berets, maroon berets, JOH, Turkish Army Infantry, SAT security, SAT comando units.
Please follow our works.
Turkish-mod-team.com
Download Links
Mirror 1:
Armaholic.com
ABOUT MOD AND LICENSING
This mod belong to Turkish Mod Team. No body can use this mod if Turkish Mod Team management not allow. Every rights of mod beloging to Turkish mod team management. And every decision are beloging to OnlyGokhan and Mehmet Tozlu (SWAT.TR). Mod editing files cannot be use without our permission. (For ask a question please contact with OnlyGokhan)
Mod's Textures, models, configs, scripts and other all of files cannot be used without Turkish Mod Team's permission. A person, that installed the mod or includes this mod files in their PCs, deemed to have accepted the rights. When the mod and mod's files used withoud permission Turkish Mod Team has the right to legal sanctions. In case of violation of the rules a person, that intentionally or unintentionally used or provide to use mod development files, will be responsible.
REQUIREMENTS
This mod requires Arma 2 Combined Operations or Arma 2 + Arma 2 : Operation Arrowhead.
HOW TO INSTALL
Install all of files to Arma 2 main folder.
For example, default Arma 2 location :
C:\Program Files\Bohemia Interactive\ArmA 2

Steam version owners should be install it to Arma 2 Operation Arrowhead folder
HOW TO RUN
After you drop the files you will see tmtlauncher.exe. Click it and play.
If you want to create a server you can run TMT_TR_Server.bat. If you want to run TMT mod with optional required mods of TMT, you should run server with TMT_TR_Server_ALL.bat.
TMT Launcher not working correctly in Steam versions. Mod requires Arma 2 : Combined Operations. If mod is not working correctly with TMT launcher please run the mod manually or with other launchers
Credits
OnlyGokhan - TMT Leader, Mod design, Modelling, Model Importer(O2 Developer) and config, Mission and Script editor
SWAT.TR - TMT Leader, Mod design, Texture
TSK123 - Modelling
Ozgur34 - Mission Developer
Kadir Özkan - Modelling
Evrenos - Referance Finder
Rovsen Huseynov - Texture, Azerbaijan mod responsible
Memmed Mehdi - Texture, Azerbaijan mod responsible
Special Thanks to
Stigger and Project Reality - For awesome Land Rover and supports
* Land Rover, Zipkin AA and Ambulans - Model by Stigger
SuperRat, Balkan War Mod - Mg3, howitzer models and friendly helps and supports
W0lle, CWR2 Mod - For friendly helps and supports
* M60A3 - Created by Rygugu, Special thanks to Rygugu,w0lle and CWR² Mod.
* Winter Units - Modelled by CWR2 mod team, modified by (TMT) OnlyGokhan
Myke - For accept to use F16
* F-16 - model by Footmunch, updated to A2 by Myke
Vilas - For generous share Eotech scope, Land Rover Closed, some unit parts and some other models with community