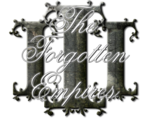 Hey folks,
we are now able to make a big announcement. Our Age of Empires III Modification " The Forgotten Empires" (Beta Version 1.0) will be released on
30 September 2010. You can download it from the GNRC page and from our taskbar at our board.
.
.
TFE Generally:
working hours: over 10000 hours for 15 persons
80 000 lines of code created
over 4900 Revisions
2406 Files
~ 450 Megabyte
100% Passion
We hope you enjoy the new era of Age of Empires III !
Your Mod- und GNRC-Team
2 DAYS REMAINING