The Universal Version Is Immanent!
After a couple weeks coding I recently submitted a major update to This Is Not a Test! This will be version 3.1.0 and it will be accepted or rejected around the end of next week. Just in time for Halloween! Perfect timing — it's kind of an evil upgrade. But before I get to the evil, let me just say that the game will finally be universal! This Is Not a Test will now run natively on your iPad, which we now think is the swankiest way to play!
Because the panel art was initially drawn for the size of an iPhone screen it didn't look quite right when just slapped on the iPad. I played around with the image size until I found a proportion I liked, then added a black and white inked background to fill in the negative space on the sides. In the end, it will look like this:
It was mostly a matter of making a second storyboard in Xcode for the iPad and adjusting as needed. However, there were some programmatic things I had to change that were a pain in the butt, like text size of a custom font (for some reason storyboard wouldn't let me select a custom font for my labels :-\ ). Here's a glimpse of how you manage the different layouts for a universal iOS app:
A Little Evil In the Update
As for the evil, this update will also contain ads and life regeneration! Buahaha. Yes, we have given away too much of our beloved game in the past. We've been revealing a bit too much skin for not enough of your hard-earned money!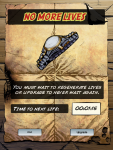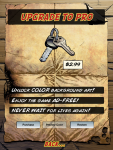 Removing ads and adding life regeneration will now be a part of the premium upgrade, along with the color art unlock. This will without a doubt help me fund more games while simultaneously making thousands of people curse me :D Interesting. Indeed, this is in preparation for going permanently free.
Stay tuned for information regarding the update's approval!