Greetings Mercenaries-
As the nights grow longer, that time of the years is upon us. Ghosts whisper from inches out of sight, goblins emerge from their hiding places, and warlocks fill the air with malevolent laughter. The Halloween season is here, and it's time for spooky celebrations everywhere. Vindictus is no exception.
From October 20th through November 2nd, we are proud to present our first Fall Fear Festival!
NIGHT COMES TO COLHEN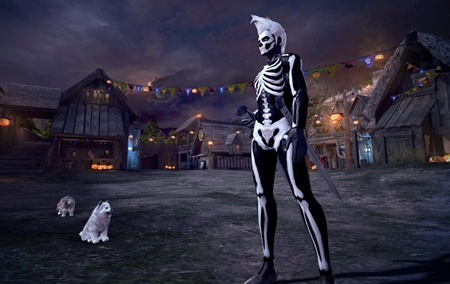 Night has fallen on Colhen and the full moon can be seen rising in clouded skies. Festive banners and Jack-o-Lanterns can be seen throughout the town. Check out these decorations as you travel through Colhen, letting the holiday spirit provide reprieve after a day of combat.
IN-GAME EVENTS


TRICK OR TREAT
Visit the Strange Traveler at the Inn after completing the Decisive Battle and he'll send you on a quest to get him candy! You can either do some trick-or-treating with the NPCs or look for candy drops from certain monsters. After you turn in enough candy to the Strange Traveler, you can get a special "Trick-or-Treat" title. Turn in even more and he'll give you a special Demon Horn Headband for your character to wear! If you don't want to turn in your candy, you can even equip it to an inventory quick-slot and use it as a consumable which will act just like an HP Potion! Haunted om-noms are, after all, a holiday tradition.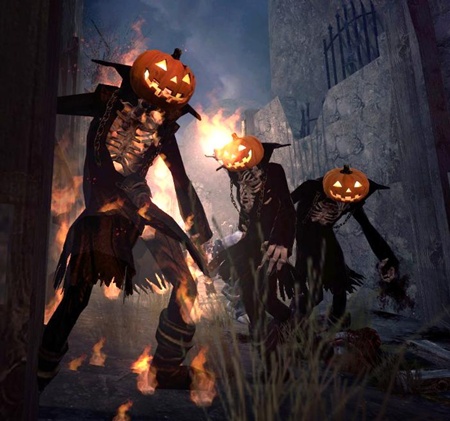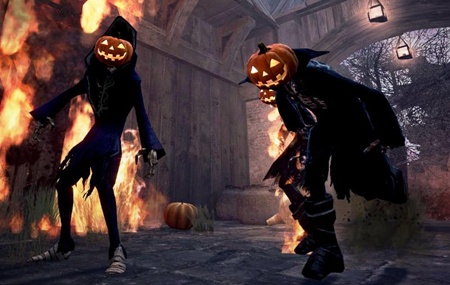 MASHING PUMPKINS
Vampires in Ainle have been seen wearing Jack-o-Lantern masks. Even more daunting, mercenaries report that flying Jack-o-Lanterns attack furiously in various dungeons, as if possessed. The Strange Traveler has tasked any mercenaries who have completed the Decisive Battle with killing 30 of these nefarious creatures in exchange for the "Mashing Pumpkins" title. Are you brave enough to handle this challenge?
NEW ITEMS IN THE AVATAR SHOP AND THE SUPPLY DEPOT
In order to get all of our mercenaries in the holiday spirit, we're offering exciting ways to customize your character in some spooky Halloween themed gear.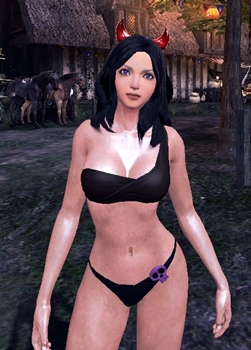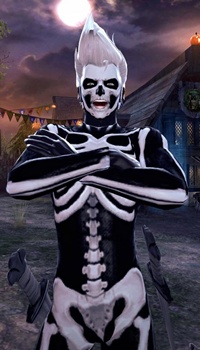 NEW INNER ARMORS
For Lann, we're introducing the Skeleton Inner Armor, sure to be a hit at any costume party. Not to be left out, Fiona can wear the very sexy Skull Inner Armor!



SKULL FACE TATTOOS
On top of that, all characters can get the 3 new face tattoos: Serious Skull, Mischief Skull and Dead Baby Skull. All are guaranteed to creep out even the most devilish Fomor!

HALLOWEEN PACKAGE
In the Supply Depot, we have the Halloween Package. This special, limited-time offer includes one coupon good for a set of the Halloween-themed inner armor, one coupon good for a skull face tattoo and a pair of the Sparkling Evil Horns. Wearing these glowing horns will definitely make your character stand out in a crowd!
**PLEASE NOTE: The Coupons in the Halloween Package will expire 30 days after they have been moved from a player's temporary storage.**
Vindictus takes place in a savage land, and sometimes a party is just what you need to remind yourself of what it is you hold dear. Kick back this Halloween, go trick-or-treating and mash possessed pumpkins with friends.
-the Vindictus Team-