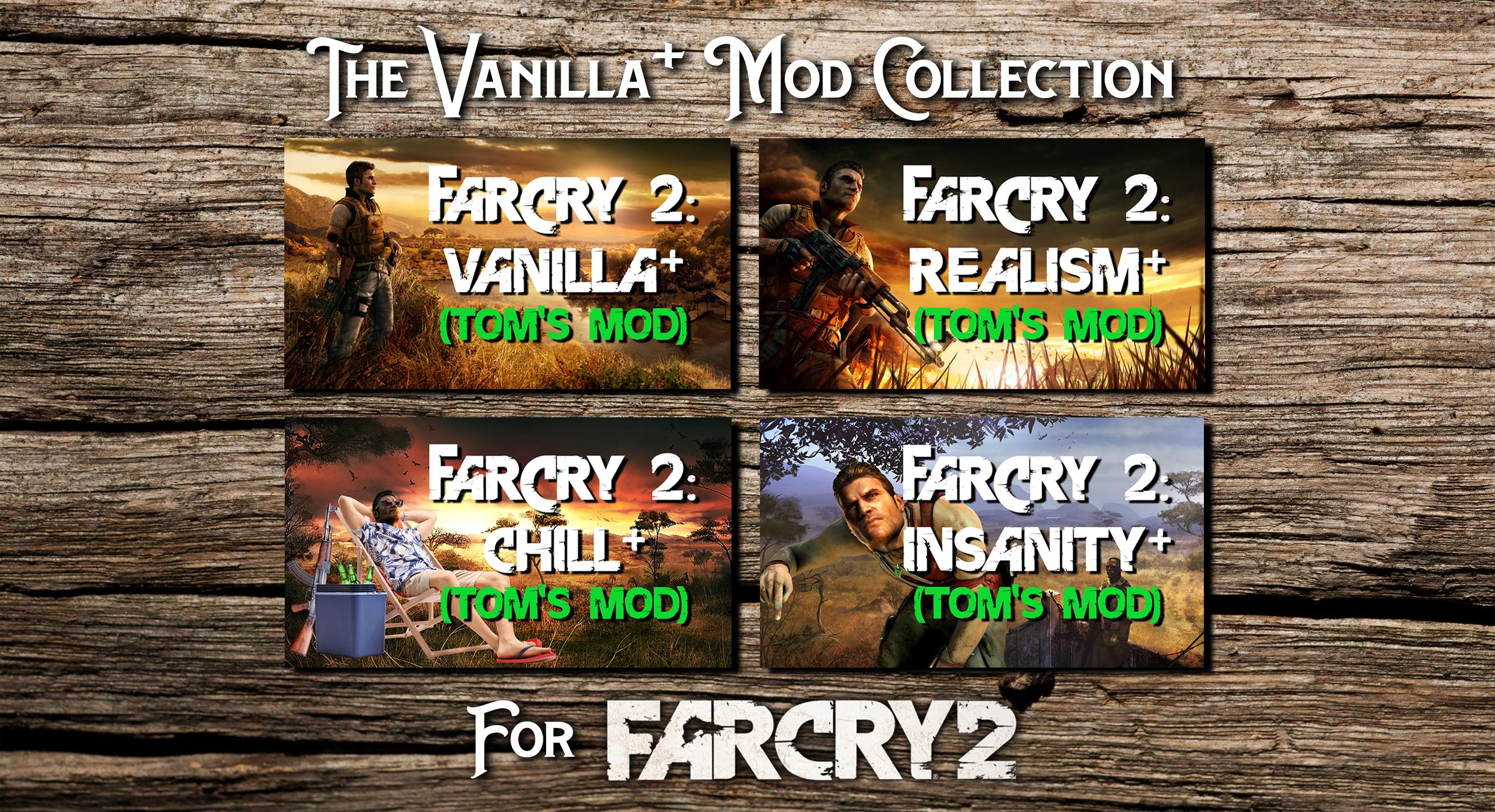 I have created four different mods for Far Cry 2 so that whatever your preference or playstyle there is something here for you. My aim is that whether you've never played Far Cry 2 or you've played it a hundred times there is a new experience to be had. Each mod has different options to choose from and in total there are 24 ways to play.
The base game has been tweaked and improved upon in addition to whole new features that have been added.
These are the best of the brand new features, available in every mod within the collection:
Enemy infighting - The world is now alive as the civil war rages around you and you are caught between both sides.

Expanded enemy arsenal - Now it's not just you that has access to the heaviest firepower, the enemies come fully equipped too.

Silent machete assassinations - Time to unleash your inner Solid Snake because stealth kills won't alert everyone around you!

Additional 'gadget' weapon slot - Choose either the flare gun or IEDs for an extra weapon slot accessible by pressing the machete button twice.

Weapon holstering - Put your weapons away and get immersed while looking for diamonds or taking screenshots.

Weapon inspecting - take a closer look at your weaponry and enjoy unique animations at the press of a button.

Improved graphics - Lots of improvements including further draw distance, improved LOD and better shadows. 60fps is targeted on all hardware and the changes scale so if you have a 2080ti or integrated graphics you will see graphical improvements.

New game+ mode - One playthrough not enough? Start again against tougher enemies and reacquire your weapons at the start of the game.

Optional limited saving - Turn up the difficulty or relive Far Cry 2 on console by limiting saving to in-game save points.
All of these come along with lots of gameplay tweaks including increased stamina, increased jump height, reduced fall damage, faster vehicles, swapped enemy patrol vehicles, less bullet spongey enemies and much more!
Check out each mod's page for a full feature list, but let's take a look at what the different versions include.

This is my original mod, designed with the purpose of enhancing Far Cry 2 without changing the original feel. Seriously, every mod focuses on realism while the vanilla game is already great!
It might not be to everyone's taste but I enjoyed Far Cry 2 as it came, malaria and bullet sponge enemies included. If you've never played before this version is first playthrough appropriate while adding enough to make the experience fresh for veterans.
There are no exclusive features in this version but if it ain't broke don't fix it!

Something about Far Cry 2 inspires the desire for a brutal, immersive experience. The more recent Far Cry games have turned into playgrounds of destruction but Far Cry 2's atmosphere and mechanics make you feel like the whole world is coming for you without mercy.
To cater to this Far Cry 2: Realism+ comes with two main exclusive features:
The first feature is 2x damage for both the player and enemies. This makes combat much more unforgiving and to cope with that enhanced first aid is included where the player can heal when out of healing syringes by holding the heal button.
The second feature is limited navigation. You'll have to be aware of your surroundings as the map no longer shows your position, undiscovered outposts aren't marked and there are no more objective arrows pointing you in the right direction. Coloured roadsigns that lead to objectives are also removed.
These features are available separately or together so the gameplay can be as realistic as you like.

Malaria getting you down? Getting annoyed by weapons exploding in your hands? Well Far Cry 2: Chill+ is for those that want to relax in Africa without the hassle of more survival orientated features.
I've included exclusive features designed to make things a little easier, such as unlimited stamina, unlimited breathing underwater and no fall damage. Sit back and relax with every weapon being available at the start of the game for reduced prices. Your buddies are invincible so there's no fear of being out there alone. The most common complaints have also been addressed and time between malaria attacks has been increased x10 and weapon reliability has been increased x5. All of this comes with enhanced first aid so you'll always be able to heal yourself.

This is Far Cry 2 as you've never played it before. Playing more like a mix of Far Cry and Crysis, Far Cry 2: Insanity+ allows you to approach every encounter in a new way. Fight from rooftops and cliffs that were previously inaccessible, jump down from mountains or hang gliders as you attack, use hills as ramps and fly in vehicles that have a massive boost in power. You are now your enemies' worst nightmare.
Your enemies know you're coming though and have brought their heaviest firepower to try and fend you off. They come with their end-game weapons, plus extra grenade launchers. Enemy drivers always come equipped with flamethrowers so be prepared to watch the world burn. Your buddies also got the message and brought their own big guns, along with flamethrowers and grenade launchers.


And that's it! I hope that everyone can find something here to enjoy.