Hello Ladies and Gents!
We've been hard at work coming up with new stuff for our beloved Yandere game, so we hope you'll love the trailer and other cool stuff in today's update! We've got a teaser trailer, character portraits, a new musical theme, and the final sprites done!
"One morning Misaki wakes to find a strange girl standing in her room..."
We've also got some new art of other girls Misaki will have to deal with, one way or another... expect to see the rest of them in next week's update, although it may be hard to get them all in one shot...
"Izanami the Dandere, Midori the Tsundere, and Kameko the Kamidere."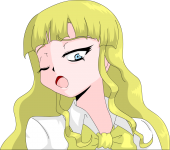 "Natsumi the Himedere is a special snowflake, so listen to your Highness's theme below!"


Our composer Rux Ton also came up with a unique theme for Natsumi that will both irritate and intrigue you with it's pomposity! It will play when she shows up for a conversation or stops to belittle your impoverished notion of romance, peasant.
"The Himedere theme was composed with the best of snob, prep, and arrogance available!"
Lastly, we've got even more sprites! With these done, all the main characters now have sprites to be used in the game, so we'll be moving on to other pixel assets soon! We've also done some rather gory sprites that you'll see if things get messy... but you'll see those later.
"The Teacher, Kichiro the Senpai, and The Principal"
Lots of stuff this weekend to check out and be excited about, but next week will have even MORE! Follow us on IndieDB, Twitter, and a new website we'll have set up soon! Also, we set up a forum on the game page, feel free to ask us anything there!
Have a crazy weekend!

- TheHyde and the Yandere Interactive Team

Check out the NEXT update HERE -->

Indiedb.com