While there are many tricks and traps in the tomb that will send you plummeting deeper into the Darkness, the Vein Wall Maze is perhaps one of the most deadly areas. Not only are the walls constantly moving, keeping you disoriented and lost, but one misstep and you will quickly be crushed to death. For this week's sneak peek, we are showing off a video of the Vein Wall Maze in action for the very first time! Making your way through this unpredictable living room is one of the most heart-thumping, nerve-racking experiences in the game. The walls are quite literally closing in around you. See for yourself:
Despite the difficulty of the Vein Wall Maze, only those who make it through will ever have a chance of escape. For beyond the maze lies a key… and of that I can speak no more...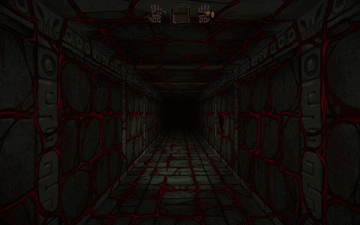 Development Updates
We've started the first beta test and I've been finishing up the last of the features for I Can't Escape: Darkness. This includes options, modifying controls, multi-language support and finishing controller support. I have also done some exterminating, getting rid of several different bugs. The TODO list is shrinking rapidly, which is pretty exciting. I still need to port to other platforms (including a potential console, but I'll speak more on that once it's official), and there is a lot of polishing and improving that needs to be done - we're working on that last 10% of development that seems to take forever!
We're making real progress, and we'll continue to be showing short gameplay clips regularly, leading up to a full gameplay video - although we certainly won't show every secret! Plenty of mysteries will be left for you to discover on your own.
Screenshots from the Beta:
Here are some cool screenshots submitted to me by one of our beta testers!
We are still on schedule for release in early October this year (in time for Halloween), so look forward to more updates between now and then!
And if you're excited for the coming Darkness, please tell your friends and follow/share!


Follow I Can't Escape via Twitter
Subscribe on YouTube
Official I Can't Escape: Darkness Website & Forums
Sign up for our Newsletter!