Though it might look like TSC's dead, it isn't. It's in hiatus because I'm focusing on getting Story of Alexia done by New Year 2015, therefore I don't have much time for collecting Souls. But I DID manage to make a few things for The Soul Collector.
First of all, the main character (the titular Soul Collector, who can probably be named)'s house. It's not finished yet, but this will be the general look. The game's environment is supposed to look quite grim, after all.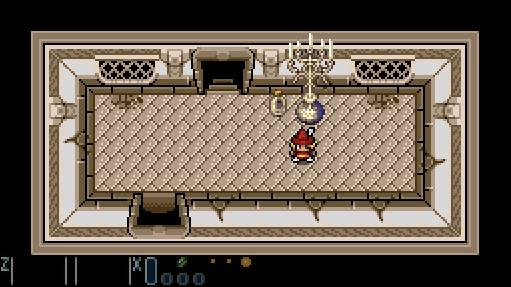 The house will have furniture, etc. however. I might also put in a book and some interactable stuff that reveals more about the character's personality. He's not your classic hero. In fact, he's a hero in name only, while he doesn't want to do bad, he isn't good either. Not a sociopath, not a villain protagonist, not a dude like Xehanort from Kingdom Hearts, or Hannibal Lecter or Jason Voorheis either. He just wants to survive. Without eating Souls, he dies. So what would you do if you depend on killing others to survive? You don't want to die, right? So he has to kill others and collect their Souls. That'll probably be a gameplay element too.
Speaking of Xehanort.. the antagonist is actually based on Xehanort, but I'll keep that to myself for now.
The Soul Collector's house has a basement too: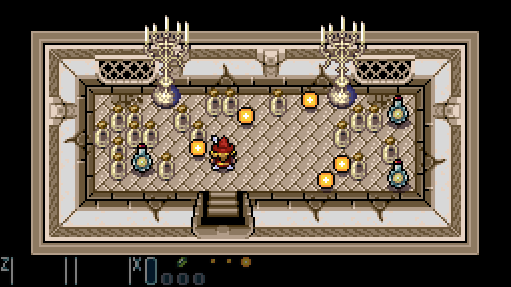 The game's intro cutscene will probably begin here. I won't tell much yet, as I'll probably first make the 'hero' able to attack, and enable him to get to the first cave.
There's not much changes on the below screenshot except for the lighting: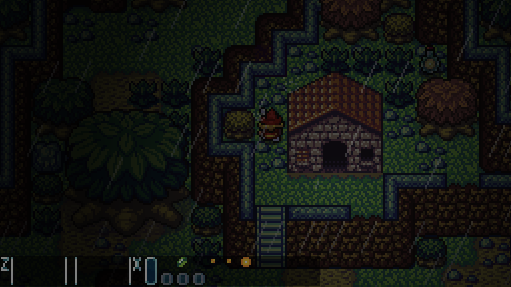 The Zelda HUD is a placeholder, of course. The HUD will look way different from that. The house might get a bit of detail, but I'm not sure when.
That's all for now! I love everyone here from indieDB (not in 'that' way of course, haha!) and I thank you for all the views, watches, nice comments, let's plays and whatever I got on this project and my other projects, they are all appreciated! Also check out Kirbypwnage's The Legend of the Artifact, he deserves it, and he's the other member of 'Blob Games' beside me and I have a small part in the game's development. So he deserves a shoutout I believe. It'd be awesome if you voted on TLOTA's Greenlight page as well.
Thanks all of you guys!
Follow Story of Alexia here:
Indiedb.com
It's the project I'm working on at the moment and also a lot more complete!
Visit SolsticeBas on Reddit: Reddit.com
Visit Story of Alexia on GameJolt: Gamejolt.com
Visit iSolsticeDay on Twitter: Twitter.com
Visit iSolsticeDay on YouTube: Youtube.com
Visit Story of Alexia on Facebook: Facebook.com
Visit Story of Alexia on Tumblr: Storyofalexia.tumblr.com
Visit Solstice-Day-Club deviantART Group: Solstice-day-club.deviantart.com