Plot and plot and plot takes a lot of time to write! And of course we can't tell you yet about all the possible surprise encounters (but if you find a mysterious box, you may not want to know what's inside it...). So instead, let's talk about the purpose of Iris Academy - learning magic.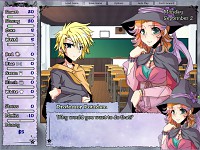 There are two main professors you'll be interacting with. On first impressions, Professor Grabiner appears cruel and sarcastic, while Professor Potsdam seems creative and scatterbrained. They will instruct your characters in five categories of magic, broken down by color - red for force, blue for change, green for life, black for objects, and white for spirits. As your skills increase you will unlock new spells. Some require only one color of magic, others will need combinations.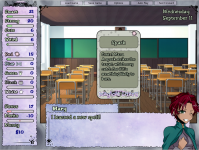 But what do you do with spells once you've learned them? Well, this is a school, so - you have exams! Every month at school ends with a dungeon challenge. You'll need to use the magic you've learned so far to complete your task and escape the dungeon. Every challenge has multiple solutions. If you succeed in a particularly impressive way, you might earn merit points. If you fail, you could get demerits, detention, or both.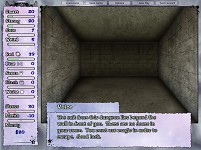 The first test is short and simple, but they will get progressively more complicated as we move through the school year. The further into the year we get, the more possible variation there is in player stats. One character might have spent all her time studying Red magic and be really, really, really good at blowing things up... but not so good at anything else. It's not much fun if all challenges are easily defeated by blowing things up, but it's also not much fun if the Red specialist can't win any challenges at all. So there will need to be a lot of possible creative combinations of dungeon items and available spells.
The Spark spell can start a fire. That means you could use it to make heat, or smoke, or use up the air in a sealed container. So will that be useful in part of a challenge? Maybe! Other spells may be entirely useless and thrown in just for laughs - or are they? Working out all the spell interactions is a big task, but it should make the dungeon sections a lot of fun and extremely replayable.
In terms of general progress, we've been working with the engine lately to make the game screen freely resizable so that it can work with different screen sizes, including widescreen, and trying to do some general speed improvements. In the plot, we're now handling the Student Council Elections. You might be running for two different offices, or your roommate might be running, or you might be a simple observer - and even if you run, you're not guaranteed to win. But holding an office might give you a great opportunity to spend time with Professor Tall, Dark, and Snarky...