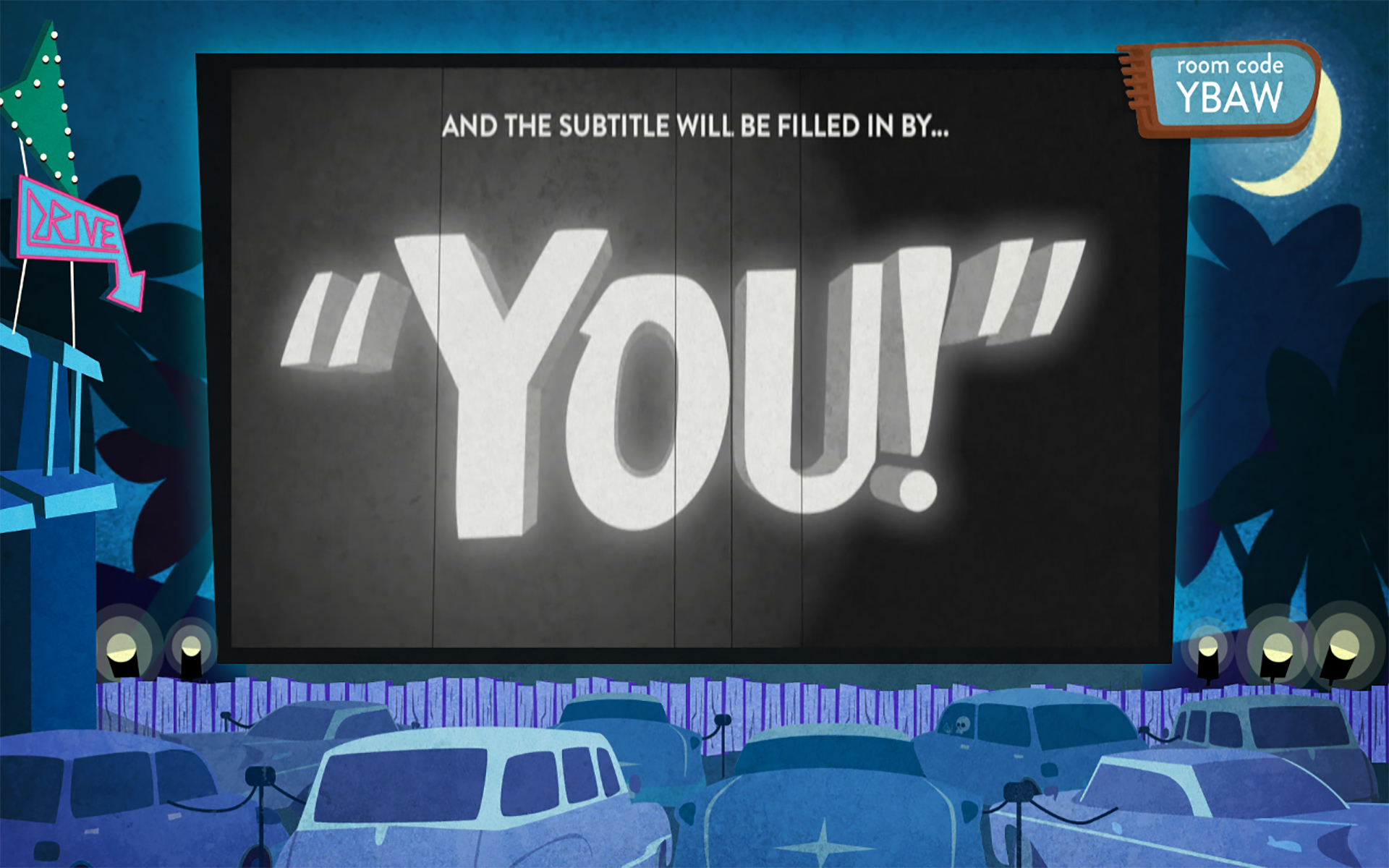 From the minds of YouTube comedian Brent "Brentalfloss" Black and veteran game developer Julian Spillane, Use Your Words is billed as a comedy game "for funny people and their unfunny friends." This claim supports the game's goal: that anyone can get laughs and win big regardless of their comedic confidence. While Use Your Words's visual style is a loving throwback to the swingin' 1960's, its player interface is about as modern as they come: Instead of using traditional controllers, players jump right into the game with their smartphones or tablets.
During gameplay, players are presented with a prompt that sets up a potential joke, and they have the option to either write the funniest punchline they can think of or use one of the game's "house answers" as a decoy. Each player gets to vote for their favorite answer, and points are given to the winners. The "house decoy" system is also a fun way to set a trap for other players, because they'll lose points if they vote for your decoy answer. Three to six players can play the main game, and up to a thousand additional users can use "Spectator Mode" to join in the fun from the sidelines!
Use Your Words will release with four mini-games:
"Sub the Title," where players can channel the fun of Mystery Science Theater 3000 by writing their own subtitles for wacky film clips.
"Blank-o-matic," where players create the punchline for a variety of text-based setups.
"Extra! Extra!," which invites players to write clickbait-style headlines for ridiculous photos.
"Survey Says," the game's grand finale; a comedy lightning round where higher point values and a shorter timer ratchet up the stakes just before the final score is tallied!
Use Your Words has an ESRB rating of "T for teen", but there is a "Family Mode" option that filters out adult content. Whether you're witty, silly, or filthy, Use Your Words tailors to every style of humor.
"We've set out to make a game that gets any group laughing and doesn't let up," says Black, who acts as the game designer. "Some games are optimized for fairness or challenge; Use Your Words is optimized for laughs. It's funnier than the Jackbox Party Pack. It gives you more freedom than Cards Against Humanity. And we're trying to make it the next big thing."
Further Information
Use Your Words will retail for $14.99 USD, with DLC coming later in the year, price TBA
Per Kickstarter, 1,065 backers pledged $46,018 to help bring Use Your Words to life.

Interview requests or Review Copies
Use Your Words Digital Pre-Order (Steam)