International Crime Syndicate `the` must have `Balls-To-The-Walls` mod for Soldier Of Fortune II is hot and live! Line-up, lock-&-load, get ready for cranked-up intensity and game-play wound so tight you won't be able to leave!
You can find the latest list of the fastest mirrors where you can download the official ICS file distribution on the Official ICS Site Download Page.
Drop by and join the fun and discussion; the ICS release party is underway in the Official ICS IRC Channel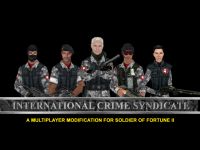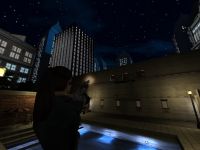 ICS is currently being servers by four 'Big Gun' SOF II servers available in the fattest pipes in FPS gaming; a current short list of the first and the best to serve the ICS action include:
· QuakeShit West ICS 1.0 Server......4.36.228.5:20111
· QuakeShit East ICS 1.0 Server.......207.115.47.136:20111
· Nachos -=I.C.S.=- Server...............63.125.192.135:20102
· jolt.co.uk - =CW= Valhalla ICS.......195.149.21.196:20600
Getting and installing ICS should be a breeze, but if you should run into any trouble there will be people to help in the Official ICS IRC Channel.
Looking For Information On ICS?
Be sure to check out our moddb ICS page, our six moddb Image Galleries: [1] [2] [3] [4] [5] [6] and for all the latest news, screenshots, information and discussion the Official ICS Site has everything; more images on the Official ICS Screenshot Page, you can join the discussion, find help and more information on the Official ICS Forums, and of course the Official ICS IRC Channel. There is also on-going ICS discussion on the Official Raven SOF II Forums in this thread.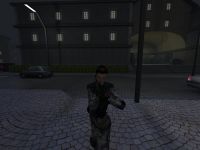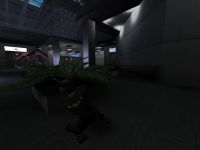 If you are interested in hosting an ICS Game Server or mirroring ICS files contact Mr. White with your credentials, or leave a message the Official ICS Forums.
Don't miss the fun; grab ICS Now, and get ready for the 'shock and awe'!
.