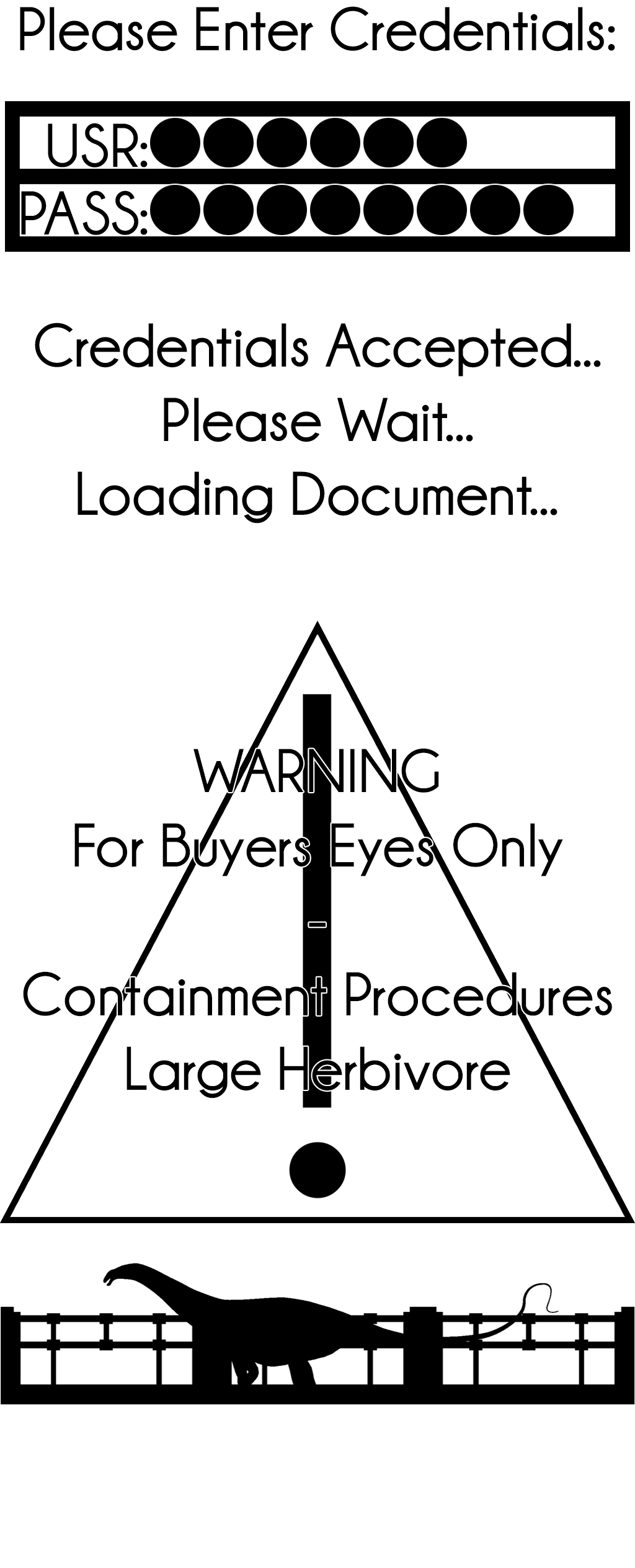 Species: B.excelsus
Animal Class: LARGE
Containment Procedure:
Entry to exhibits featuring B.excelsus requires Class Two (2) clearance from the owning parks board of directors, anyone with Class Two (2) clearance and above is permitted to freely enter and exit a B.excelsus containment pen. Any personnel entering a B.excelsus containment pen are to be equipped with standard Class Four (4) Herbivore Repellent Suits to prevent injury that may be unintentionally caused by B.excelsus individuals inhabiting the containment pen.
B.excelsus individuals are to be given constant access to plant matter alongside 10 Kilograms (Kg) of smooth pebbles daily to ensure hunger satisfaction and thus prevent a containment breach. Containment area fencing should be checked bi-hourly every day by qualified staff as to ensure B.excelsus individuals remain contained.
In the event of full containment failure park personnel are to observe Class Two (2) Herbivorous Sauropod Containment procedures, termination is only advised if loss of visitor life is inevitable and Class Two (2) Procedures fail in their entirety.
Containment area for this animal should be at the very least 500*500 Meters (M) in size and contain no less than ten (10) individuals and feature at minimum MEDIUM clearance fencing. Containment areas are to be sparsely forested with low-growing trees to facilitate and encourage natural browsing behaviours alongside the planting of low-growing large ferns to facilitate and encourage natural grazing.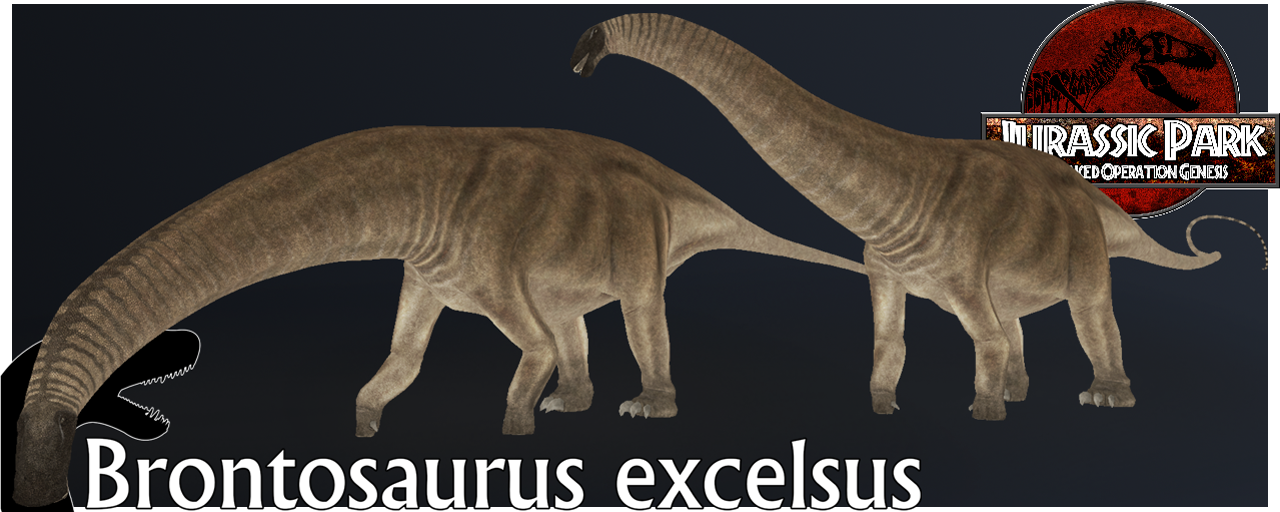 History & Description:
B.excelsus is a large and abnormally friendly Sauropod, standing Twenty (20) meters (M) in length and weighing Fifteen (15) tons (T), individual B.excelsus typically feature a plain body with stripes adorning the end of their tails and the ends of their necks, the head of B.excelsus is universally a much darker colour than the rest of their bodies for currently unknown reasons.
B.excelsus was first brought to the world in [REDACTED] and has maintained a middling rating as an animal similar to its contemporary C.lentus. B.excelsus overall is relatively simple to keep within containment so long as they are kept fed and thus do not feel the need to attempt to venture outside of their containment areas for food. However B.excelsus has a unique trait of being abnormally friendly towards humans and a total of 12 deaths due to staff negligence have been attributed to B.excelsus due to, what is assumed unintentional, crushing from the affections of these animals, this lead in part to the development of the Herbivore Repellent Suit in order to protect staff lives while in an exhibit and to aid in trying to dissuade B.excelsus individuals coming close to humans in general.
Within the private collectors trade Brontosaurus is a prized animal for its original world renowned status as the standard Sauropod, however with Brontosaurus being the world's only Diplodocid and thus the only Sauropod available with a non-vertical neck both parks and collectors have found the ancient image of B.excelsus shattered before them.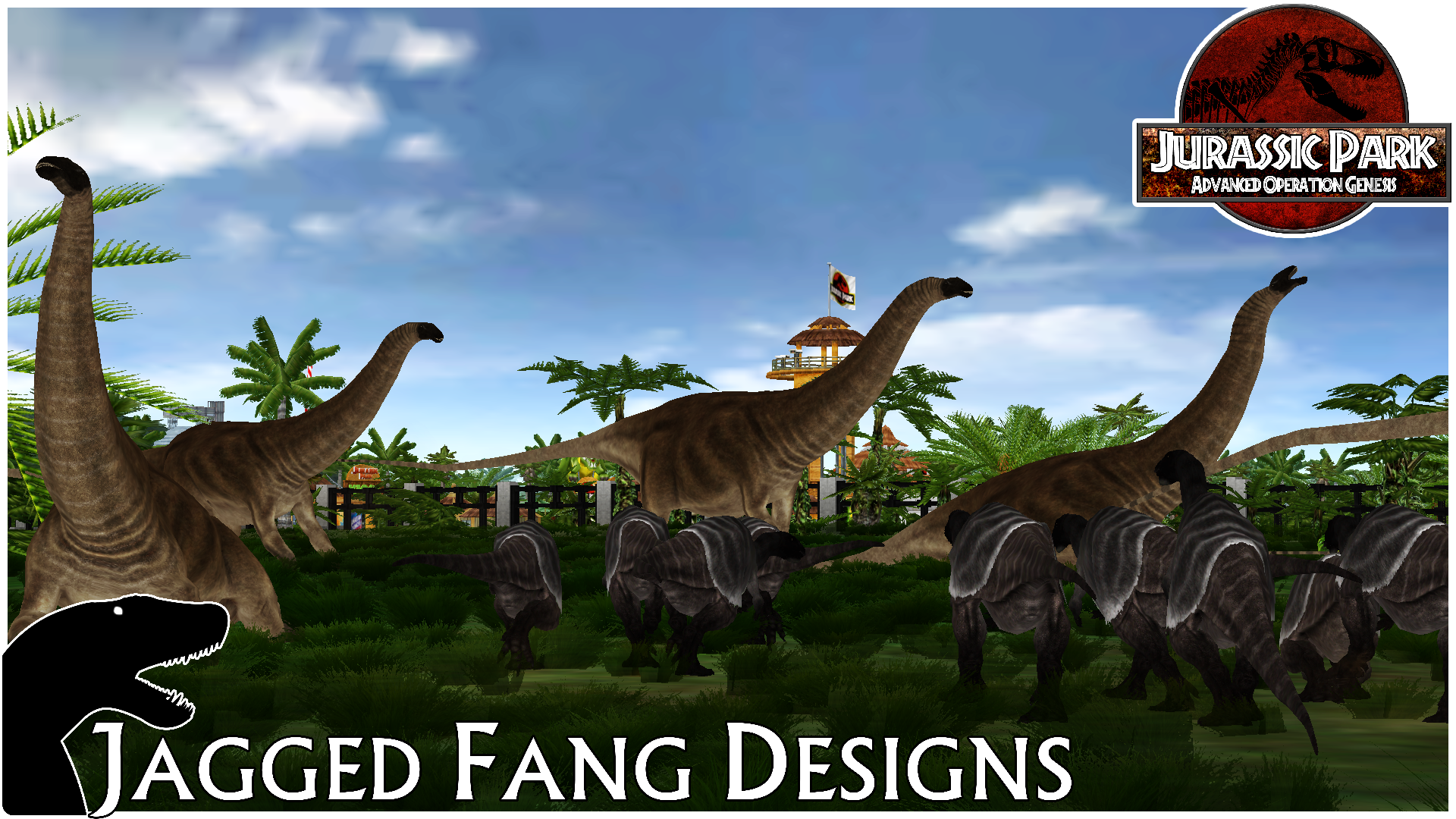 Thank you all for reading, expect more from us soon.
~Jagged Fang Designs~