On the whole, it's really confusing in what category any vehicle found in the movies can be put. For example, the 74-Z, BARC Speeder, STAP, Swamp Speeder, AT-RT and heck, even Spelunker Droids can be considered recon vehicles/droids. But it would be strange and overwhelming to have them all fulfill the same role. The core attribute of an effective recon unit would be speed. Therefore, to keep it simple I decided to have four core recon-dedicated vehicles and leave it at that for now, namely the 74-Z for early-war Loyalist forces and the BARC speeder for late-war Loyalist forces. On the Separatist side, the Single Trooper Aerial Platform in the standard Trade Federation brown as early-war recon vehicle and the same vehicle in a Separatist blue paint scheme as a late-war recon vehicle.
The Aratech 74-Z Speeder Bike
Although perhaps not as absolutely iconic as the Death Star or X-wings... or AT-ATs... or Tie-Fighters... the Imperial Scout Troopers on Endor still made a very powerful impression when they jumped onto their 74-Zs and zipped away between the giant trees of Endor to call for backup (who knows why they can all jam each other's vehicles). Queue a high-speed action sequence, involving several high-speed collisions with Endor's oversized flora and excellent sound design, and you've got an inescapably Star Wars-y bike. Years later, it reappeared as Stass Allie's speeder of choice in the dreadful Order 66 sequence in Revenge of the Sith and for some, in the unused animatics for the Battle of Geonosis for Attack of the Clones. And now in The Clones of War in the hands of Loyalist commanders.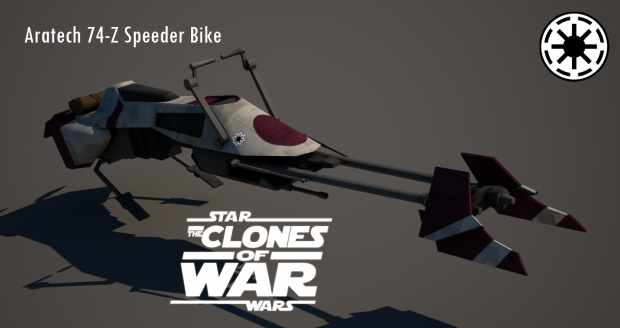 A military variant of the civilian 74-Y, built by the Aratech Repulsor Company. Capable of carrying two soldiers with speeds of over four hundred kilometres an hour, the 74-Z was equipped with sophisticated sensor equipment and a light blaster cannon mounted on the bottom of the vehicle. To gain its impressive speeds and maneuverability, Aratech only lightly armored it. It has however, proven itself a capable and trustworthy vehicle for its designed task: Reconnaissance. The standard speeder bike used by all Loyalist Reconnaissance and Cavalry Corps' at the start of the war, it was also sparingly deployed by Separatist auxiliary forces.
A long time ago, I modeled a crappy 74-Z and exported it. For those first tests, I actually put the canon max speed into the game which, according to Wookieepedia, was about 500 km/h. The result was hilarious and seemed to be true to the movies! But it wasn't playable. It kept crashing into everything and little bumps on the 'road' would result in epic jumps into space after which it would crash into the ground like a tomahawk missile several hundred metres further and explode, killing the poor foolish clone trooper riding on top.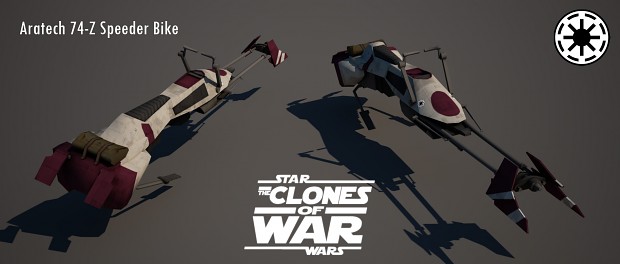 The 74-Z is a scout vehicle and doesn't seem very useful for anything other than quickly deploying a single soldier (or two, if you count an additional rider like Luke in the beginning of the Endor chase) to a remote location. Adding functionality like perhaps rudimentary medical equipment or a small cargo of mines are things I'm considering to make it more useful in a multiplayer environment.
Its single 'Light blaster cannon', doesn't seem very powerful. For example, as seen in Return of the Jedi, it doesn't even seem to graze the bike on direct hits and barely destabilizes it, but a direct hit by Chewie's bowcaster causes a fleeing scout trooper's bike to violently explode, even blowing him off his bike. So we can only translate this to nothing more than a slow-firing sub-machinegun attached to the bottom of the vehicle. And that Chewie's bowcaster is exceptionally powerful! In any case, the driver is completely unprotected and an easy target.
Keeping all these things in mind, and to keep the bike somewhat useful, it will need a high maximum speed to keep the driver able to do his job of reconnaissance. It will be armored enough to withstand blasts from small arms, but be ripped to shreds by anything that's not a blaster rifle, repeater or anything lower-caliber.
Another interesting thing is that when in Episode III, Commander Neyo and his wingman attack Stass Allie, they fire with red lasers. This is definitely something I will incorporate for the late-war BARC speeder, but we never saw the 74-Z fire. In Return of the Jedi it fires yellow blaster bolts, but we can all agree that the style in technology is very different in the prequel films. I'm going to keep it safe and stick with blue, because I never want to see Phase I clones outfitted with red-firing weapons!
Next up: The Baktoid Armor Workshop Single Trooper Aerial Platform.