Hope you saved up you going to need it if you want these great weapons in your hands. United Cutlery is no stranger to the world of creating officially licensed replicas from television, video games and motion picture films. Beginning with replicas of the famous survival knives from Sylvester Stallone's popular Rambo films.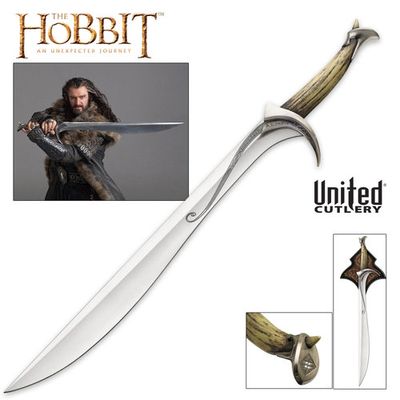 United Cutlery established its presence at the forefront of the replica-making business, and went on to produce popular officially licensed collectibles from the Indiana Jones films, Blade Trilogy, The Expendables franchise, and perhaps most popularly, The Lord of the Rings film trilogy. Most recently, United Cutlery has continued this proud lineage with the design and creation of a series of arms and weapon replicas from the blockbuster film trilogy, The Hobbit.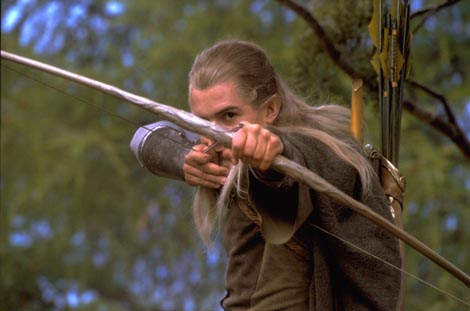 Bilbo's epic quest was split into a trilogy for film production. Throughout the course of the film series, United Cutlery created a selection of officially licensed replicas and prop weapons from each motion picture, beginning with Orcrist, the Sword of Thorin Oakenshield, Sting, the Sword of Bilbo Baggins, the swords of Kili and Fili the Dwarves, and the storied staff of Gandalf the Grey.To help conceptualize the manufacturing process and bring these legendary pieces of Middle-earth to life, United Cutlery partnered with well-known fantasy designer Kit Rae. Kit Rae is one of the foremost fantasy and collectible weapon designers in the industry, with a worldwide following of his unique weapon designs and fantasy art. Since the mid 1980s, Kit Rae has designed an exclusive lineup of fantasy collectibles for United Cutlery. Given his decades of design experience and expertise, United Cutlery naturally chose Kit Rae as the Design Consultant to supervise the production of the officially licensed weapons and arms collection from The Hobbit film trilogy.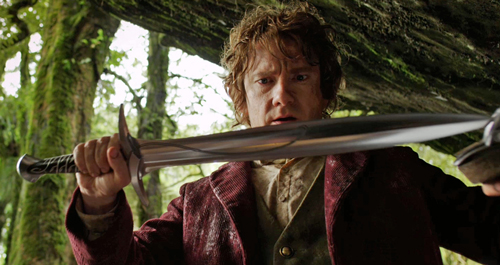 United Cutlery's approach to creating these replica props is simple but steadfast—to create the most accurate and visually stunning replicas as possible, using modern materials and production methods, at a price that is affordable to the average person. From the start of the long design and manufacturing process, to the completion of the final product, painstaking attention to detail and top-quality craftsmanship are the focus of the project. Following these uncompromising standards, United Cutlery went to the best, Weta Workshop of New Zealand, the company that produced the actual filming props used on the sets of the film series.
The start of this arduous process, which usually takes around 10 months to complete, typically begins shortly after filming is completed, around six to 12 months before the release of the film, using the actual filming props produced by Weta Workshop.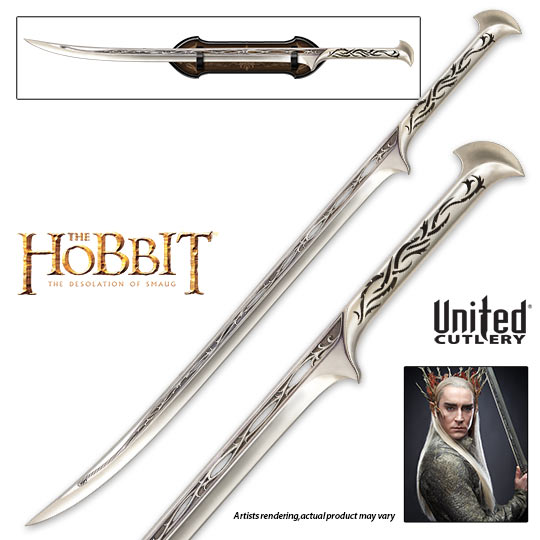 "We consider our film replicas heirlooms that fans of the licensed property will cherish for many years beyond the life of the film, and as a fond memory of the world created in the film," said Rae.
Each officially licensed piece is individually serialized for collectibility, and comes with a certificate of authenticity describing its provenance and attesting to its prestige. Thanks to United Cutlery's commitment to excellence and visionary leadership, these highly sought-after Middle-earth relics have been brought to life in the 21st century, and now have a home among their dedicated fans and collectors. - Link to website see comments section