Hello fellow IndieDB'ers! I'm proud to announce the hugely successful launch day on both Kickstarter and Greenlight!
It has been just slightly over 24 hours since the campaigns have launched, and thanks to all of you guys we have already reached $395 of our $5000 goal in only one day, so let's keep the momentum going! Remember; you can get a free copy of the game when it's released for as little as a $5 on Kickstarter!
We also already have over yes 800 votes on Greenlight! Keep those votes coming in! we're getting votes left and right, but we need 5,000 to break the top 100! :)
Now, once thing I've always wanted to know while setting up these type of campaigns is stats, it seems very few people are willing to talk about them. It's so hard to find some solid information online, so I thought I'd do everyone a favor, and share my first 24 hours with you all.
First, I thought I'd show you the nutty gritty steam stats. As you can see, we have a ton of votes, followers and comments already. At first, the large amount of "no" votes made me feel uneasy, but if you take a look at the average yes:no vote percentages in the top 50, Retro-Pixel Castles is actually doing absolutely amazing!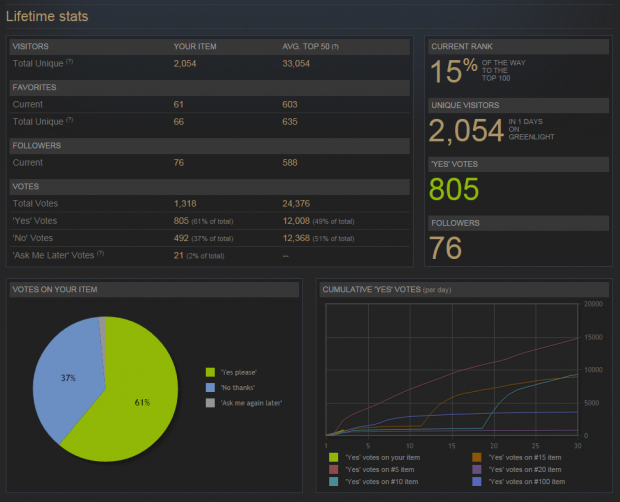 For Kickstarter, within 24 hours we have received just shy of $400! I was surprised to see how much of it came from external social media sources I use, so guess what? All that crazy marketing people tell us to do actually works! So remember guys, get yourself a Twitter, post regular updates on IndieDB, and get yourself a thread going on popular dev forums like TigSource and Java-Gaming.org!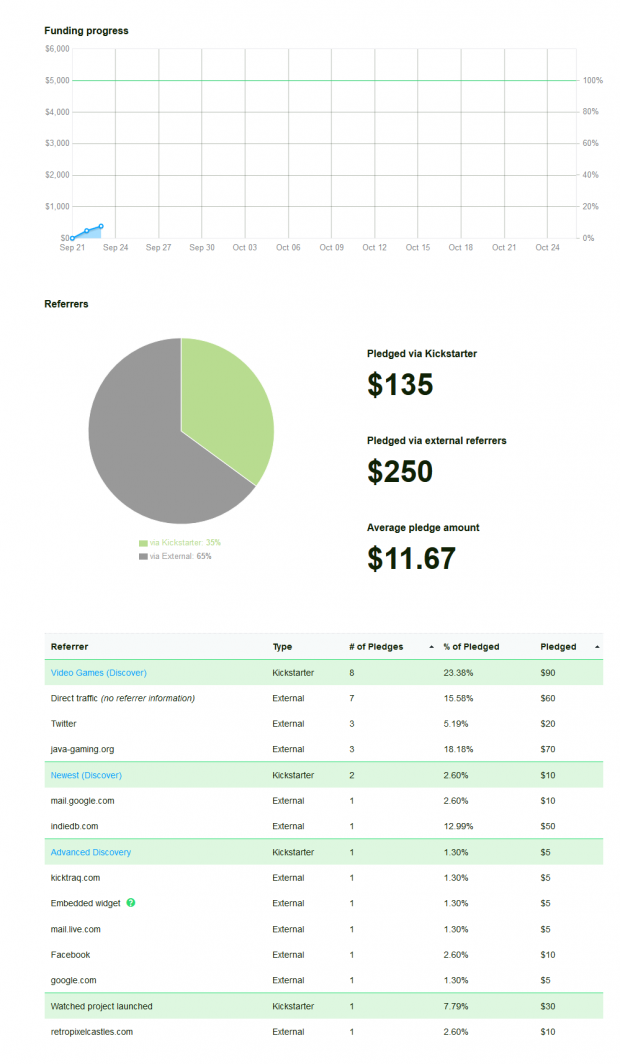 Now that RPC has done so well, lets keep this momentum going! Please take the time out of your day to checkout the Kickstarter and vote on Greenlight!