Dear players,
Welcome to the Kakele Update 4.2!! It has been a while since we have launched the Play to Earn feature in Kakele, and many players have benefited from exchanging their gold for Nano cryptocurrency (XNO) and vice-versa! If you have not tried it yet, we suggest you to go check it out! We have been busy fixing old bugs, reworking existing features and adding new things to the game. We maybe have gone overboard and made too many changes for this update :) We have also launched 3 new servers since the last update! Thank you everyone that has shared your feedback and ideas, so that we can make the game better together. The pirates are coming!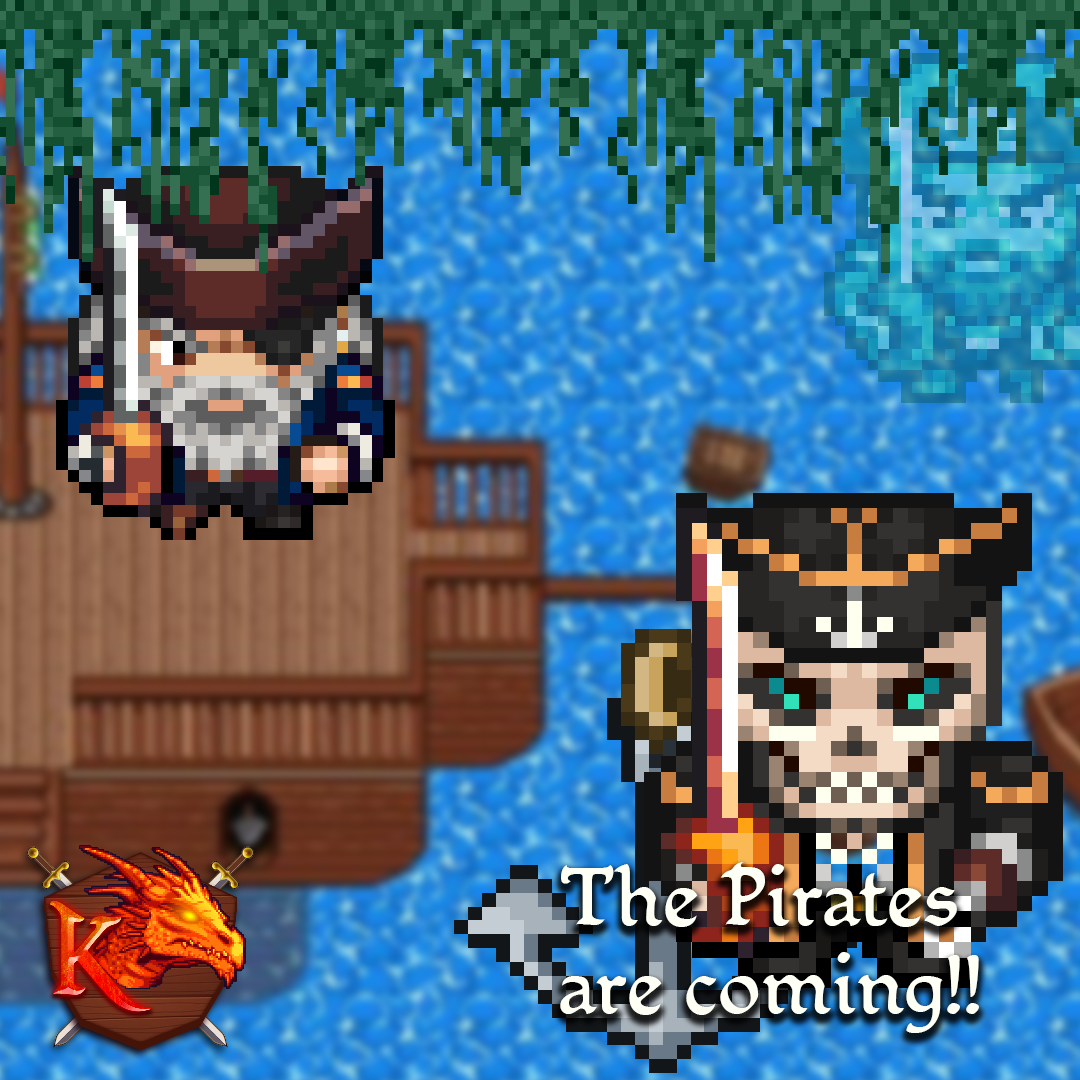 The new update is around the corner. The test server will be opened for Gold partners and Patreons on July 23rd, and other partners and Patreons a few days later. Then, on July 30th, we will open the test server for all players! As always, we are looking forward to hear your feedback on the changes and new features, so that we can improve the game as much as possible for the new version launch. Everything is subject to change, so please be patient and test things out before giving your thoughts in our Discord or Reddit! Please help us to test everything, so that on launch day there are as few interruptions as possible.
With that, we also wanted to let you know that we are updating our game rules, clarifying around sharing accounts, chat abuse and using macros. We will soon announce when that happens, with the link to the updated rules.
Here are the list of changes for the update:
– New content! The Bastards of Light are coming to Kakele (a Pirate company), and so are many other items, equipment, quests, outfits and pet (you will love this Parrot)! Are you prepared for this challenge? This will be a low level to mid/high level content. There is also a new map event, that we hope you all have fun participating in :D
– New revamped website! We will add new languages after this update to our website: Kakele.io
– The market NPC is now global! You can buy and sell items across all servers. For adding an entry cross server, there is a fee associated with the item rarity. Here is a sneak peak: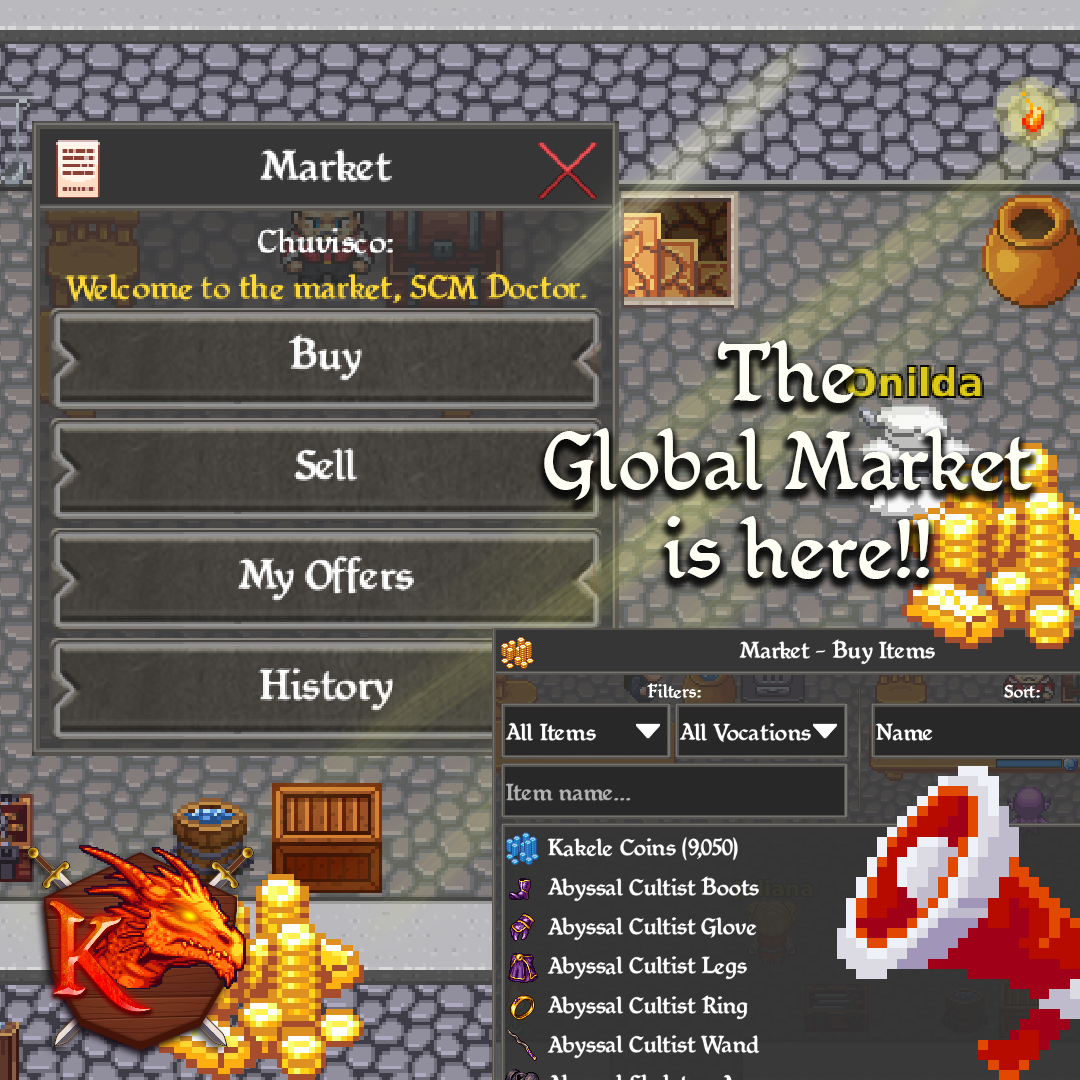 – Roofs! Have you always imagined how the citizens in the game protect themselves from the rain and sun? The roofs of course, which now are visible in the game :) In your house, you can remove the roofs if you want your rare collection to be always visible.
– Players will now stack up to 3 in protection zones. We hope that it makes it harder for people to block the protection zone areas that way. We have also updated some of the teleport scroll positions, to make it hard to block the path around crowded areas.
– Have we mentioned the Pirates? Right, and with the addition of pirate boats, the existing ports are also revamped! The captains are proud of their hard work.
– Not only ports, there are many new revamped sprites and new animations in the game, so that things look more lively. Some user interface elements were also polished.
– We are running a Prize event in Kakele! Check out our Discord or social media to join the prize pot to win legendary items, such as the Warlord Sword! We can answer any questions you have by email too.
– The improvements to the game don't stop there. We are adding: new loot animations, vignette when taking damage, teleport blur, dust effect when walking, creatures animate when taking damage, explosions with ripple effects, HP and mana bar animations, adding a grid when walking (people not used to grid games get confused by it), screen shaking during powerful spells (yes each vocation has one), some camera delay effects, feedback vibration on phones when using hotkeys and the joystick, creature death animation. All that juice for your delight. Of course these can be disabled in the options in case you don't like them :( But please let us know your feedback on them, and which other cool stuff we can add to make the game more lit!
– From the update, you are allowed to announce that you are selling the game assets externally, in the trade chat. Please beware that this is unsafe, and you assume all risks involved in it. We strongly recommend using the new global market!
– We are adding Jumbo monster tasks! After resetting a monster task in the Explorers Guild, you now have to kill 10x of that monster, gaining 10x of the reward! This will help players to explore hunts that were not very interesting before, as you will be able to stay there 10x longer! Let us know the new hunts that you discover to be more profitable and that gives more experience than item task hunts!
– The Premium Account purchasing is being changed. Now you have to choose between 7, 15, 30 or 90 days (instead of months). The price for 7 days is 150 Kakele coins, 15 days is 300 Kakele coins and the 30 days (1 month) and 90 days (3 months) prices remain unchanged.
– There are many performance improvements in the game client and server, and we have added more options for you to disable in case your game is lagging. On top of that, we are experimenting with some techniques to reduce network load in peak times. For instance during a war, if there are 100 players in your screen, you will mostly see the explosions and projectiles within your range (that is, about 7 squares of distance). This is experimental and subject to change based on your feedback!
– A revamp of the game storyline. We have improved it up to the level 50, and we will continue to improve the game storyline in the next updates. We have also reworked and improved the lore around the storyline, and we will be adding voices to narrate the story! It is definitely recommended that you check it out :)
– Weather system! Have you always imagined how would Kakele look like on rain, fog or snow? Imagine no more!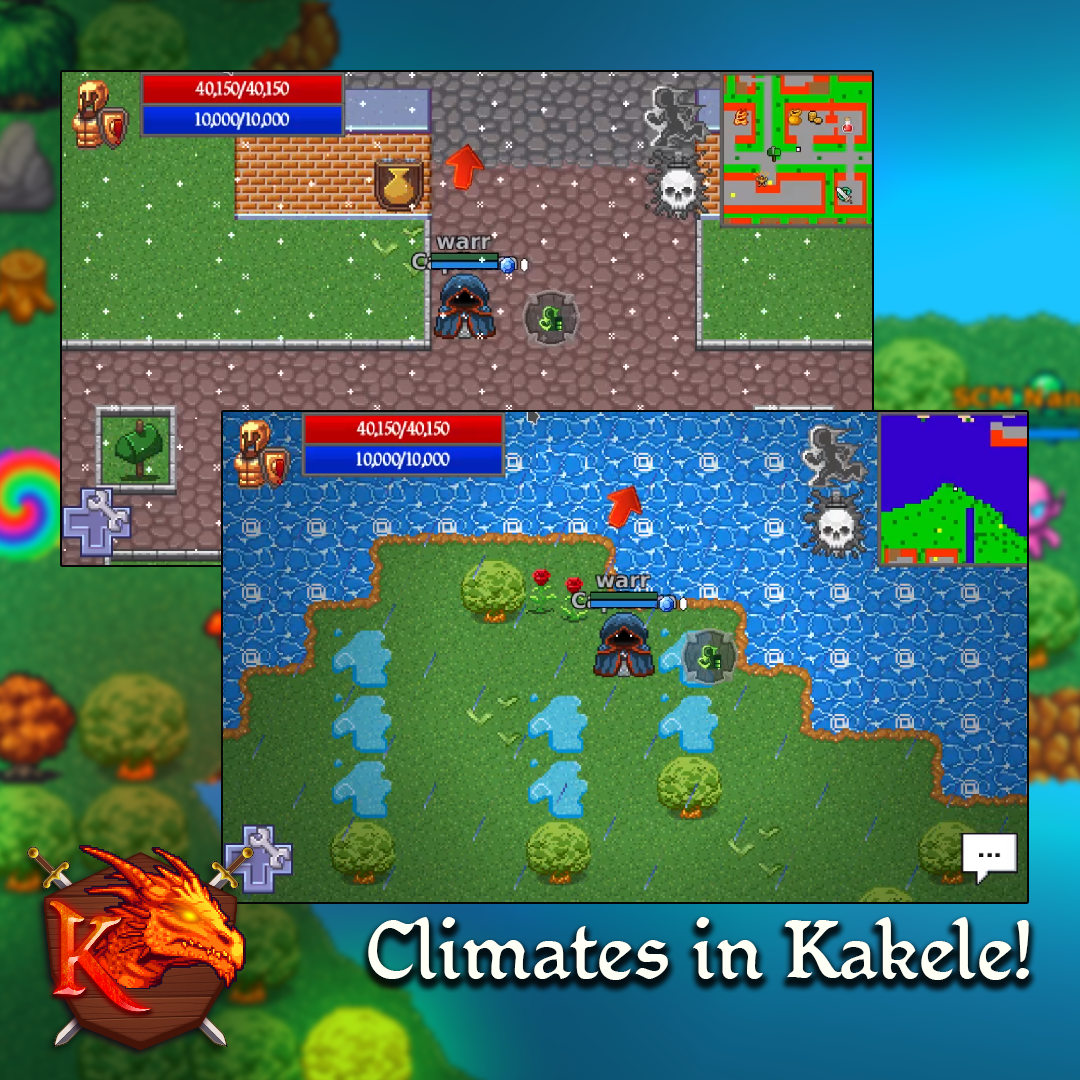 – You now have more controls over which notifications to receive from Kakele events, in the game options!
– There is a new PvP castle in Kebelessa! It gives the conquerors spell protection.
– On the subject of PvP castles, they will now open every 10 hours instead of 20 hours!
– As requested by many, we are adding some additional hunts and adding instances to some hunts! That is right, regular instanced hunts: Elf Guard Skies, Elementals pre-corrupted, Demonic skells in Norde, Hell castle tower, Heaven castle east, Voids & company in one of the void places, All Beetle types, All slimes (but the green one), Normal Dwarves in Muroria, Ninjas fort, Endless seal, Spider and Red Spider in Castlewania, Nobles fort, Elfs and night elfs new city, Monks and celestial circuit, Torturers in Liopos, Cyclops, Trolls, Sky Elfs, Cyborgs in Villa. Please check them all out, and let us know if there are any issues, or if there are extra hunts that should be added!
– The Gold Patreon membership now includes a new outfit after a period of subscription! Did you know that players can also create unique items for them after a certain tenure? This update we are introducing a new item for one of those loyal Patreon members!
– You can get auto-verified in our Discord! Go to the "Get Verified" channel and follow the instructions there. Then you can chat with other fellow players and staff members in our official Discord.
– Some balancing of the dragons, such as reducing the burn damage a bit for the undead dragons, the heal for chromatic dragons and discouraging trolls in the undead golden dragon room.
– You cannot change instances when logging out anymore. Changing instances only happen if you enter an instance with no battle status, and that you have not entered an instance in the past 10 minutes. Players with the PvP status will also not be able to enter instances (you can get PvP status inside the instance).
– We are removing the level cap for instances.
– We have announced previously that now, the Staff Community Managers have the ability to watch your character from their computer. This is so that we can investigate rule violations more effectively. On top of that, we will start streaming some players randomly in our Twitch and YouTube! Those players are chosen randomly and will get 10 Kakele coins and 1 Reputation coin for every 10 minutes streamed. If you don't want to be streamed, you can disable it in the Reputation window.
– The golden outfit will now give one extra benefit: you have a training dummy in the golden room area, that can be used for 4 hours non stop (at the gym you need to reenter every 1 hour).
– We are now implementing automated systems to catch macro and bot users. Those will be auto banned from now on PERMANENTLY! If you are using any third-party software to play today, your account will get suspended.
– We have made some increases to the Kakele coin price of some outfits, pets, guilds, server transfer and houses. We are also increasing a bit the price for bank transfers, given the Euro drop over this year (we will adjust it again if it goes up).
– Clarifies the number of days and costs for the character market in the game client.
– Fixing the Nano exchange taxes calculations. We are also improving the integration, so that withdraws fail early if the server is too busy and it won't time out like before (timeouts need our manual intervention).
– The X-mas items will now be of Uncommon rarity.
– A new server boost to double the chance for golden mobs was added!
– Players will now be sent to the Kebelessa temple when the server restarts, to protect the game from map changing bugs.
– Pets can now be changed even on battle!
– Inactive guilds will be disbanded. That means that the guild need a Leader or Vice Leader to have logged in in the past 3 months.
– Improvements to the screenshots performance.
– Vocation balancing. As previously announced in our social media, please check the details out there, and TEST in the test server first before giving us feedback please!
– There is a new coupon system. That will be used by us to easily distribute prizes for events, and also for partnerships with resellers. The referral code in your account still work, but now it will have a different format, so please check it again in the Referrals menu.
– We are on TikTok! Don't forget to follow us there and check out the fresh content, fr fr.
– We have reworked how stamina is recovered. If you logout in a house, every 2 minutes recovers 1 minute of stamina. Otherwise, you recover 1 minute of stamina for 3 minutes offline (or 4 if you are free account).
– We updated our screenshots in the app stores. Let us know what do you think about them!
– Showing gold and loot value in some NPCs.
– The Community Supporters are now renamed Volunteer Agents (VA), and they help us to reply to in-game tickets.
– Improved chat toxic system. We hope that now it will be less sensitive, but let us know otherwise.
– Fix of chat layout bug, no more chat messages on top of chat messages.
– Legendary items blessings will be 2x better than rare items blessings.
– Fix of other reported bugs by players (such as the bank bug, the Polish amount bug, initial hotkeys saving, items without level to be upgraded, screen sleeping on Android, initial sound and volume being too high, keeping hotkeys even when changing char name).
Geez louise, that is a long list! We will be testing all these changes in the test server, and we hope you will join us to test it too and to give your feedback. We are open to hearing your opinion and changing things that you think we have got wrong, in our test server channel on Discord and on Reddit. We also wanted to reiterate that only the Staff Community Managers have the ability to enforce rules, as they are officially part of the staff. They don't play the game, and have no interest in participating in guilds, and they try to be as fair as possible to all players, regardless of country, language, race or guild they belong.
A friendly reminder that we are attending the Brazil Game Show in October in Sao Paulo! Are you attending? Shoot us a message as we are excited to meet you all there. Do you know of any gaming fairs in your country that you think we should participate? Let us know too!
Who else is hyped for this update? Help us to share the good news by sending it to your friends and in your favorite social media. We are looking forward to meeting you in the test realms of Kakele!!
Best regards,
The ViVa Games team