So i'm Greg, the sys admin working on ModDB servers and software. It's a job i've been doing behind the scenes for 8 years now (99.8% uptime last year), and I figured a few might be interested to know what is going on. Hence my post (more will come on a semi-regular basis) if you find this interesting and want me to share more insight into what it takes to run a site the size of ModDB.
Over the last couple of months we have:
Virtualized and made redundant all web / batch / media and streaming servers so we can add and change our setup with no downtime.
Cached and spread the load of delivering millions of images across many servers, instead of relying on one EPIC master to do the grunt work. To give you an indication of the impact this has, check out the image below which shows the difference adding 1 webserver made: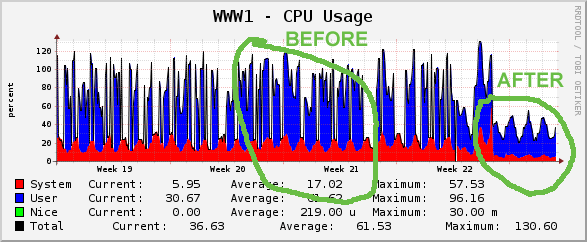 We are also shortly about to undertake ModDB's biggest upgrade yet which will:
Replace our primary database server so it goes from 16 to 24 cores. We are also considering upgrading MySQL 5 to 5.5 which will allow us to utilize all 24 cores (at the moment we only utilize 4!!)
Replace our monster backend storage system with a SAN that will provide a 5 times increase in storage capacity for everything from files, to videos and more.
This will mean:
A faster site.
We can consider upping the image size limits.
Eventually a better video serving solution.
These initiatives only scratch the surface with regards to what we are going to do over the next few months (i.e. fix dodgy ads, update videos, more download servers), so track this blog for updates.