As always, I'll start the new post with an obligatory link to the new OverDose website and forums. Over the last few years our servers have had the personality of a chronically depressed lemming and have had the tendancy to drop out of existence at the best of times. Thankfully, we have been on the new server for a good while now and its as solid as an IT nerd on the front row of a swimsuit modelling contest. So, the big shiney logo below, go ahead and play whack a mole with it:
This link will give you access to the main OverDose website where all the news gets posted first, as well as access to the [TBG] forums, which we think of as kind of our "EXTRA!" area. We post a lot of development junk, pictures and info in there that doesn't make it to the main sites, so if you want first hand access to the inner workings of OverDose, get your filthy mitts on a forum account and get posting!
[TBG] On The Newb Review Podcast!
Sorry I never got around to posting this sooner, a few things stood in the way. You can now hear myself talking about OverDose a little on the Newb Reviews Podcast, as well as other things and general banter. If this one sounds a little more "go with it" than usual it's because these guys are friends. Click on the logo below to visit the site!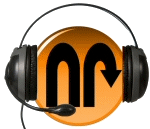 [TBG] In Need Of Character Animators!
As you know, we currently have several character models completed and fully rigged ready for animation. This is proving to be a hassle as we don't currently have anybody who is up to the task of animating them, sadly. Like I said, these are fully completed models that are rigged and ready to go, they just need animations.
The reason I'm posting this is that OverDose finally added its own complete animation sub-system that allows us to do pretty much anything we want animations wise, and we need some new animations to test the animation blending with. So even if you feel you may only be able to help out with a few, that may be enough to get us off the ground.
Remember, the sooner the characters are animated, the sooner we get a playable beta out.
If this sounds up your street as something you could manage, let me know. You can contact me on various ways:
Mail: odium@team-blur-games.com
Messenger: odiummsn@hotmail.com
Here's some useful links to OverDose:
OverDose WebSite: Team-blur-games.com
OverDose ModDB Page: Moddb.com
OverDose Latest Design Doc: Moddb.com
And a few shots of the game:





And of course, a few videos as well:
(More videos and pics on the web sites)
Well like I said, if this sounds like something you could handle then by all means get in touch. OverDose has a hard time finding members to help with its quite large work load for some reason, but we won't be going anywhere.
Thanks guys.