I have been working away at this game for what seems like a year (but has only actually been 6 months), and over that time, I have to admit, there have been moments where I completely lost the plot.
At the outset, what I was trying to make was a 4x game that didn't have the combat. I knew that I wasn't going to be able to (due to lack of experience, and limited time) include CPU opponents to play with (or human ones for that matter), so I attempted to find another hook that would make the game interesting.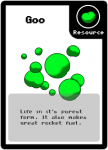 The hook that I decided upon was a count down timer that would force the player to act quickly and motivate them to continue to perform (or grind) the main game mechanic... mining.
Originally that count down timer came in the form of the games three resources you were mining for in the world (ORE; GEL, to be renamed GOO; and CRYSTAL, which I am shortening to CRY) that were slowly ticking away as your station consumed them. It was an interesting idea, but what it ended up doing wasn't good at all. You were grinding away at collecting the three resources simply to stay alive, with little other motivation or reward, thus killing player motivation and fun.
I attempted to add more reward to offset the pain of the grind by adding a scoring system that had you earn currency (they were still just points, but it was because of the mining company theme) each time you collected resources, built structures, or other key points of progress... still, it wasn't enough. You still had no direct connection with the resources you gathered and any sense of reward for doing so. The points were just points, and the resources were just being consumed without benefit. What it needed was a purpose behind the resources that would empower the player, rather than simply sustain him/her (something play test feedback had also told me, in far more convoluted language).
So, I took a step back and examined what my game had become: what was adding to the original idea, and what was taking away from it. What I came up with were two things to expand on, and two things to diminish.
Expand on Resource Gathering by adding more ways to collect resources, and adding new things to use resources for; and Expand on the board game and card game aesthetic by adding more cards and 'pieces' that you use and place on the 'board'. Diminish the sense of punishment caused by the resource consumption 'timer'; and Diminish the sense of urgency, instead letting the rewards be the primary motivator for resource gathering.
So, with this as the goal, what I have done to change the game so far has been:
1) I have changed the count down timer mechanic to instead be a slower burning 'currency' timer (that was previously my point system that didn't make a whole lot of sense) that still needs some tweaking.
2) I have added a resource cost for research and facility construction (though I am still keeping my TEK only model for working on the game board).
3) I have started to add more facilities (with the goal being to have more than there are spaces to build them, making each time you play the game different).
4) I have also started to work on expanding the research mechanic to separate out the facilities from the upgrades, requiring you to spend resources to purchase the upgrades from each facility.
This has meant that the game is going to take a bit longer to get done (adding a little more than a months work to it), but I am aiming for end of year on XBLIG.
Thanks for your support,
- fidgetwidget.