Dear Community,
Garrett and myself would like to address a few things. First and foremost we wanted thank you guys for your continued support for Survivors of Ragnarök. We would not have made it this far if it wasn't for our community constantly supporting us with each news post and update. You guys have really been are number one motivating factor with developing Survivor's of Ragnarök. We hope to have the communities support moving forward with future en-devours.
With that said we wanted to secondly address the silence for the past two weeks of development. We have been working on a side project that has taken a substantial amount of our time in developing Survivors of Ragnarök. Trying to balance between these two projects is taking a lot of time and resources in developing Survivors of Ragnarök.
This unfortunately brings me the last thing I wanted to address. Because of the lack of resources for developing Survivors of Ragnarok, we can not hold to our bi-weekly updates any longer. For that matter we can not hold to any updates at all. We made the difficult decision to stop development on Survivors of Ragnarök as a company and pursue other endeavorer.
We regret to inform you that French Rice Games will no longer be developing Survivors of Ragnarök. We want to devote 100% of our time and resources to a much more promising, unique, and truly innovative project.
We unveil our latest and truly ground-breaking new game, Modern Battles: Combat Warfare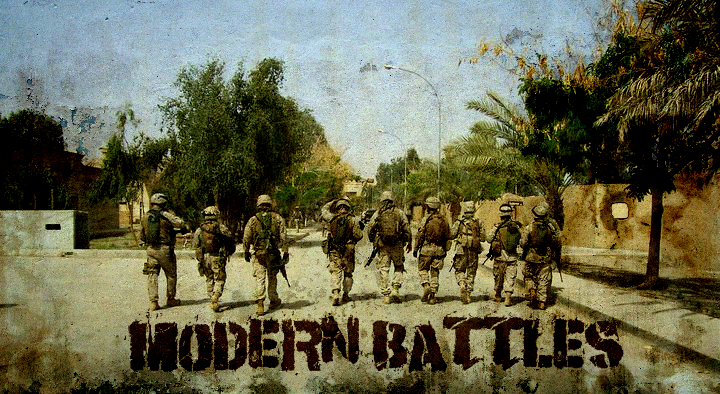 Modern Battles: Combat Warfare takes place in the distant present. It follows a group of soldiers fighting a war in several unique locations. A war-torn middle eastern city, a stealth mission within an arctic base in norther Russia, and thick forests deep in Ukraine are just some of the unique locations you can only find in Modern Battles. Along with a unique and exciting single-player campaign we will be developing a unique and rich multi-player component. Players will be able to level up and unlock weapons and abilities as they play through multi-player matches.
Features Include:
Cinematic Quality graphics. The game will feature over 20 shades of brown and a unique art style pulled from real life.
Unique single-player campaign that takes the players to unique and incredible locations that will fully showcase shades of brown you never knew existed!
One-of-a-kind unique multi-player component that allows the player to create unique classes tailored to the players unique play-style.
A level up system for multi-player matches that allows players to level up and start all over again to obtain a unique badge.
Unique Co-Op component that allows players to play through unique scenarios not presented in single-player or multiplayer.
Tactical game-play. Work together with your team to rack up the most kills or reach the limit in our unique Team Deathmatch game mode that rewards tactics and teamwork!
Expect Modern Combat to be released Fall of this year. Pre-orders will be be available later this month. If you pre-order the day pre-orders are available you will receive 10 new multi-player maps, 7 new co-op missions, and the other third of the single player campaign as a reward for your pre-orders!
We hope you guys are just as excited as we are about this project! We apologize in stopping development of Survivors of Ragnarök however trust us when we say it's for the better.

Regards, French Rice Games
As always don't forget to follow us on Twitter, Tumblr, Facebook, and Blogger. You can now subscribe to our Pixel Pushers Podcast on iTunes!