Hola chavales, so let's make a Survival Horror game! Great, I made some characters in Fireworks, I can do some little animations, a lot of ugly creatures and maybe I can trick a programmer to work for me... (there are a lot of them on internet) Let's make this game!
Rodrigo Chico: Eh, nice sketches but what about the game?
Well, you know, a survival horror, shoot few bullets in the creatures faces. But in this case in a original and fabulous 8bit style! Look at this sketches. Aren't they amazing?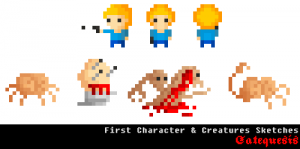 Rodrigo Chico: Maybe, but I want to know about the story... what happens in the game?
Oh, that's the question dear Rodrigo. Sometimes I hear developers, gamers or even my mum saying things like "La historia no importa en un videojuego" (Story does not matter in a video game). I have long discussions with these people because the story matters, always. And they say "In a action game? are you bananas? You only want to kill, who cares about the story?" Some people thinks the story is a never ending scroll text telling you about ancient characters called Ainulindale Noldor in a far world of... whatever... I think a story can be found in two sentences, or a scar in a character face, or a logo in a uniform. Sometimes people think the game will be the same without a story, you have to reach your target, your objective, kill the f*cking boss, that's it. But if you think about, it's not the same feeling to kill the boss because its a bad person, or to kill him because he kidnapped your girlfriend, or the king of Spain, or your blind son, or a radioactive ficus. Because you want to be a part of the game, even in a casual game, you have to care about this issue.
Rodrigo Chico: Well, but what do you tell me about Tetris? eh?
Yes, Tetris has no story, but it has a music, and graphics and this things are connected in a Russian style, that's a story for me too. I have some good example with Triple Town, this is a Tetris-like but with a different story (and gameplay), the same mechanics will work without the trees and the bears, but... you know, its not the same game. So the story its important to define a game, any game.
Rodrigo Chico: Ok, you're right, so tell me now what about Catequesis?
I think this is a great subject for the next post. ;)
By the way, for the next week my French fella Max will make a post about cooking baguettes in Java environment.