This very very old video of a random battle showcasing the new laser effects wasn't meant to be released to the public, but because of the lack of activity I've decided that I'm long due on showing 'something'. So, watch it and I hope you'll be satisfied for at least a few minutes xD:
One major factor for the mod's inactivity is partly because of a very annoying bug. In one of the first alpha builds of the mod, walkers walked and everything was awesome. But as the mod evolved and more features were added, something broke the custom animations and they never walked again.. Some time ago, we've been hard at work to fix this very frustrating issue.. without success and morale dropped.. Until activity degenerated to its current state. But before that, we've made many new animations and models which I will post here soon, including the DSD1 Dwarf Spider Droid.
The singleplayer campaign will follow the story of the 342nd Attack Battalion, primarily their assignment to stabilize the Myno system, which is on the brink of civil war. While designing the clone troopers of the 342nd Attack Battalion, I just couldn't decide on what color to give the final design.. so I've decided to make it into a vote!
This is the design for the 342nd Attack Battalion regular troopers in a few color themes that I liked. I urge you to take a look and leave a comment!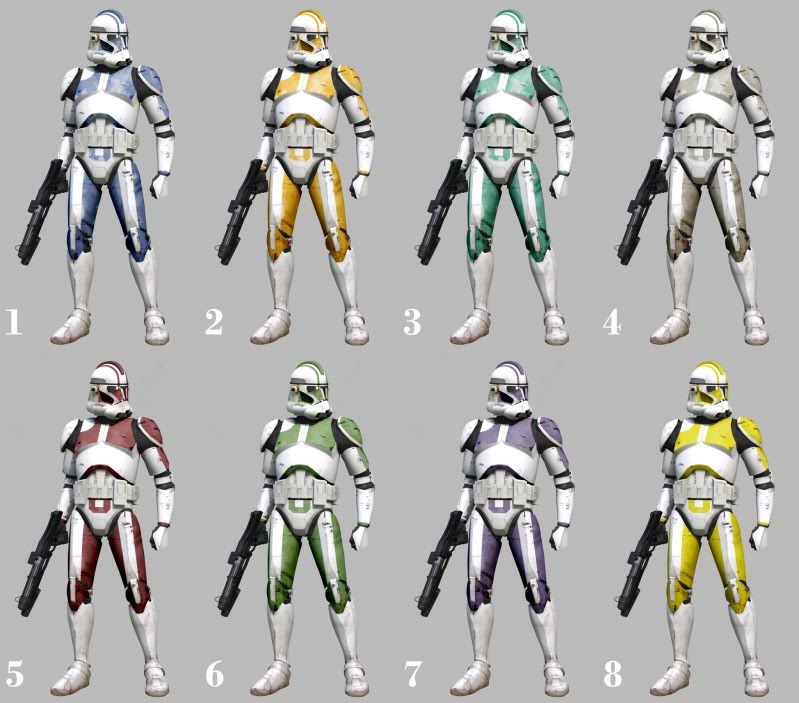 I hope you've enjoyed reading this and in the next update (which won't come as late as this one), I will detail the storyline of the singleplayer campaign!