State of the Mod #2 - Maps
A general overview of how the BZII Unofficial Expansion Pack is going. Please tell us what you think, maybe that will help urge some of our members to work even more!
This time, we are concentrating on maps, lets see what has been going on recently. Please feel free to suggest new content or join us on Battlezone 2 Mod Development and contribute.
Existing Maps
Listed below are those that are working 100% and are in our 'done' pile. Additionally, these maps are self contained and can exist without the UEP. This was done as most are converts of old and new 1.2 ZST maps. ZST being a Strategy variant that uses AI3 turrets and other measures to make flying, a glitch removed from 1.3, a legal and fair tactic by making AI units capable of attacking targets defying gravity. Some Vets, a term used to describe hard core 1.2 players, are now also playing the 1.3 version of Battlezone II. It has recently come into its own nicely as a slightly more RTS oriented FPRTS. These maps will be isolateable and separately installable to allow Vets playing 1.3 to have the maps they know and love without the overhead and clutter they feel Recycler Variants and new game modes present.









You will note a large number of maps are missing from this list. We are still processing maps as quickly as we can. The above however represents those that we have completed our evaluations of that are, for what we can tell, perfect. We will release the UEP to those with assets involved before the public release if they wish it to allow them to insure their assets are represented how they want them.
New Material
Just as we have a great number of already released maps, we also have some new content, and it is this time I am proud to present the newest piece of work, CTF: TJ Torlan!
This beautiful map is designed around the same style as another map by the same author, TheJamsh, for the still unfinished Reactor Wars game mode. This is a shining example of what happens when assets from around the community come under one roof.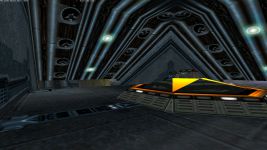 Here we have our first bit of awesome. The flag base is in a tunnel. This might not sound cool to you laymen, but as a modder for this game I can say this is one heck of an achievement. There are still some minor issues that might make us revert this, but I hope we can hack something together to get the flag to spawn in the correct place. Currently I notice the flag still spawns above ground. Issue with moving the flag after the fact is that it is when 2 flags touch, 1 being at its spawn location, that a point is counted. So, there is more fun ahead, including possibly faking the entire flag capture system completely; but we will succeed!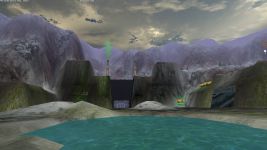 This map is breathtaking. It utilizes textures from spAce (some of the best map textures seen in BZ2 so far) and FleshStorm 1/2 to create a hybrid factory mountainside environment. Again used, as with the Reactor Wars map, are Nielk's Transition Tunnels and 1 by 1 large tunnels. These allow for tight but spacious tunnels and small breaks in the large spaces though doorways originally intended to transition to smaller tunnels.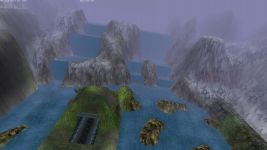 The spectacular terrain of this new world is continued with beautiful waterfalls straddling one of the bounds of the map. Although the other half is not yet completed it is likely to continue this flow. The angel statues on the map already give a great presence, and I expect more styling and placement to come. What is so amazing is that nearly everything you see has come from various distant stretches of the community but has never been seen together.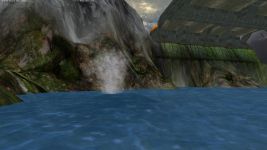 I have to say I love working with this guy. TheJamsh can be a little flaky sometimes, but it might just be an artifact of timezones (him being a Brit and I an east coast American). He continues to try to bring cool effects and unexpected elements into the game. Here, we have a new form of horizontal movement, something rare in Battlezone, only seen before with elevators (units using the glitch that negative hover heights don't descend if piloted) and just now recently pilot shield tower elevators in FleshStorm 2. This geyser not only pulses sprays into the sky with awesome SFX, but it pushes units right back into the battle!
It might sound like I have overused works like beautiful and awesome here, but really, this was just dropped into the version control without more than a small comment. It is work like this, nearly silently done, that makes me happy to work with this team every day. This is a step in the right direction, and I hope we keep it going.
A word from TheJamsh
After seeing the long update Nielk1 recently posted i thought as dev leader it was only fair to do the same...
So where are we and what's going on behind the scenes?
As N1 said we are at the moment concentrating on maps, getting them tested and finalized, fixing any pathing bugs or anomalies that may have never made it into the original versions and prepping them as best as possible for release.
I am also making a few new ones so that the pack isn't just full of old content, Nielk1 shows you a few shots of a WIP map known as "Torlan", designed for Capture the Flag modes. (A deathmatch version may also be included). Its another map based on the planet 'Coldusan', which you can find a whole bunch of easter-egg history about in the new RW: River extra options shell.
The preview images you see are without colouring and lighting, which i have added today. The colouring down on the river bed really gives a cold post-process (Epic plug) feeling now, and a bit of gritty brown and grey up in the facility areas gives it a nice industrail-feel up top. There are also a couple of new weapons and units specific to this map, and some nice new particle effects ;).
As for other things, im slowly pulling my recycler variants back into a reasonable state. They have become somewhat of a mess when i went feature mad and added as many things as possible to them. There is now a re-balanced slimmed down strategy version as well, so strats can be graced with some of the TJRV benefits you get.
As for Dogfight mode, well as the days go on it gets more and more fun. The powerups are all completed now coming in at around 35-40 new exciting weapons, most of which are new in concept as well as their looks. A few easter egg vehicles should keep people with overkill in mind happy as well. DF mode is approaching final testing stage, and for the moment im marking it as content-complete. DF mode is EASILY the best aerial combat in BZ2 seen thus far, feels as tidy as the stock game, no bodges or things that you can't/shouldn't do, its free and fun.
I took the time to complete some old relics that Pandemic's (RIP) Jack Davis never managed to complete before release. Two new aptly-named maps for CTF and Strat modes can be found in the map list.
The main holdbacks at this point are finishing the maps, fixing a few .dll bugs, getting my recyclers into a shippable state (mainly the warship variant, which is due to be re-vamped), and reactor wars. The rest of the bugs are fairly simple minor things that can be fixed quickly, its just the matter of finding them all.
Keep your eyes peeled, hopefully we won't have too long to go now!
- TJ
A note from AHadley
Hi there, guys!
I've been probably the least active of the main developers for this by a long way, so much so that I'm not sure I count as that any more. It's a busy time, final exams and the like, but since there've been no new updates for a fairly long time, I decided I'd better say something. These guys I'm working with (TJ and NK1, for the most part) never cease to amaze me, they're constantly doing things I'd never even considered possible. My work around here consists mainly of LMM mods, and I've got a couple of maps under my belt too - for example, the Teamcolour Skins you'll find under the Images section, which I recreated based on the work of ZeroAngel, with the help of TJ, NK1 and various others at BZU, and two expansion LOOT maps, of which BZ2 is sadly lacking - but I can't help feeling rather inadequate next to these guys. It's an honour working with them.
Since this is a Maps post, I think I should probably say a few words with regard to the ones I'm making. As I mentioned earlier, both of my maps so far are for the LOOT gamemode. There's only one of these in stock BZ2, and it's the Pleasantview map, which always seemed somewhat rediculous to me. Why would the Scions and the ISDF be raiding banks in a seaside town?
The two I've created bring a slightly different (and more canon) feel to the gamemode. The first is LOOT:Core, which is, as you may have guessed, set on the planet Core seen at the singleplayer game's finale. The players roam around a series of Supercomputer tunnels (complete with their own Supercomputer - you'll be seeing a lot more of those in Multiplayer if NK1 ever gets the ReactorWars gamemode finished) picking up the 'moneybags' - here is the biggest difference. Thanks to some ODF wizardry (not very clever, to be honest, I don't know why it hasn't been done before), these goals are no longer bags full of gold bullion. On Core, you are treated with Core Relics like those used to activate the terraforming Alchemators. The map originally also contained Supercomputer Sentries and Seekers, but these were later dropped because they made things too difficult.
The second is LOOT:Base. It's set on Mire, in an abandoned ISDF base. The map is unfinished at the moment, and the in-development copy on my hard-drive is currently it's fourth (or possibly fifth) iteration. This time, players (as either Scion or ISDF teams) search the base, trying to pick up the Data Recorders (which would have appeared originally in FE, had there not been a mix-up which left us with moneybags instead) in order to ascertain the events that lead up to the base's abandonment - but there's a nasty suprise waiting in the base buildings! This is the first Battlezone 2 map that I am aware of that includes significant amounts of in-building scenery, but I'm beginning to wonder if there's a reason for that.
Anyway, I'm beginning to ramble. On a slightly less sentimental note, I can promise that work on this project will be back up by 9th June, 10th at the latest. As TheJamsh said, keep your eyes open and pin us to your bookmark bar - we're a long way into the testing phase - not long now!
~AHadley