Hello and welcome to StarMade,
In this update, the shields have been completely redesigned, and the chat has gotten a lot more comfortable to use.
Shield System
The Spherical shield system has been replaced with a "skin" shield system, which can be understand as a layer on your ship. Every shield module on your ship (independent from its position) will now provide for that one shield.
The capacity and recharge rate depends on the amount of shield modules on the this.
But be warned: shields now have a constant pretty high power consumption. Once, the shields on a ship have been taken out (the more red, the impact, the less hp are left on the shield), the shield goes into a 10 second recover period, until it starts recharging again. That 10 seconds are reset every time the ship has been hit while its in recovery state.
The system is still not completed. Here is a list of things that will be added in the future:
The player will be able to regulate (in %) how much power is transferred to the shields
There will be greater detail in shield distribution (regions of a ship)
The player will be forced to build shield generators on the outer hull (or near to it)
The shields (if present) are also now indicated in the action bar on the bottom.
Furthermore the implementation of the new shield shader open a whole new array of possibilities for more graphical effects .
New Chat Features
The chat got some new features.
Dynamic line breaking will make sure that the text never reaches to far into the screen.
A scrollable backlog lets the player read up on past messages.
Message flashing and fading out.
Private Messages: Players can now talk privately with /pm playername message.
User Created Ships and Space Stations
Our players are building amazing structures. Here are a few of them:

Battle Cruiser Operational
(made by
hellopppp)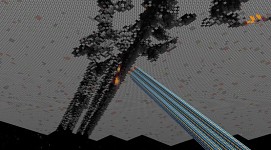 The Planet Cutter (giant harvester)
(made by Skyclad)
Still in queue
More stuff is still in queue, a new player model, custom skins, a database upgrade for 85% less size and faster loading, a docking system upgrade, a physics performance upgrade, a block manufacturing system, and much more
Thanks for playing StarMade,
- schema