Spacejacked was greenlit on April 17, 2015, so this post is a little late. We would like to thank everyone for the support! In the past one and a half months we have been constantly at work tweaking the looks and design of the game in response to tons of helpful feedback from gamers on Gamejolt and Newgrounds.

As of this moment, we are hard at work on Spacejacked's Challenge Mode and will make part of it available for playing when it is ready. If all goes well, we'll be able to resume work on the Story Mode before long!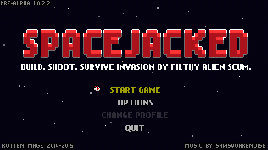 Exciting times ahead!