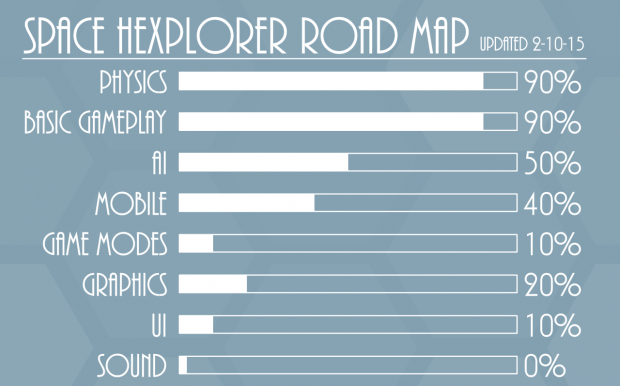 Above is the current Road Map for Space Hexplorer as of 2-10-15. Below I'll explain what still needs to be done.
Physics:

The physics engine is really 100% done. I still need to tweak it for speed and adjust some variables her and there, but it is working great. If I wasn't allowed to touch it anymore I would be satisfied with where it is.

Basic Gameplay

: By basic gameplay I mean flying around shooting and all the modules working the way I want them too. The only thing not done here is balancing... and won't be done until very close to launch.

AI

: The AI script I have now works well, but the issue is all the enemy ships follow the same AI logic. I am in the process of developing different AI aggression levels for enemies with different weapons. For example: an enemy with mostly close range weapons need to be very aggressive about getting near the player. On the flip side a long range weapon enemy needs to stay further back. Right now they are all mid ranged AI. Also I still need to add a retreat state so the enemy retreats if taking too much fire.

Mobile

: The current build runs very nice on my android phone. I still need to add achievement, leader boards, some sort of ad revenue, A couple IAP (for example disable ads) and other misc. things. Most of these will be completed towards the end of development.

Game Modes

: I plan on having 4 to 5 different game modes in the first release. To date maybe a half of one is made (the survival mode). This will be my main focus in the coming weeks. I just need to make sure each mode is fun and unique enough.

Graphics

: This area I always struggle with. As a pure computer programmer awesome graphics is not really in my wheel house. I've picked up things here and there simply because of necessity. The graphics in this game will change and change a lot.

UI

: Nothing really done here except a basic builder screen. No menus or anything.

Sound

: Just like graphics this is not my strong suit. As of right now I have no sounds or music in the game.