We've been super busy this last few weeks and in this update we will cover everything that has been going on behind the scenes. The game has really progressed and is almost ready to go in PC and Mac versions.
Development Highlights:
Sound Engineer Danae has been creating some epic music and sounds
Draw range option added to enhance fps for some players
Now serving the game from a worldwide CDN (Content Distribution Network)
Rubberman has been converting the game from PC to Mac
Game controls and beginner hints added to webpage

Free download of developers access version for PC: www.orcisland.com
Music and Sounds:
Music and sound are a major part of video game development and we are so lucky to have the very talented musician and sound engineer Danae working on the games audio tracks. You can hear a short teaser by Clicking Here.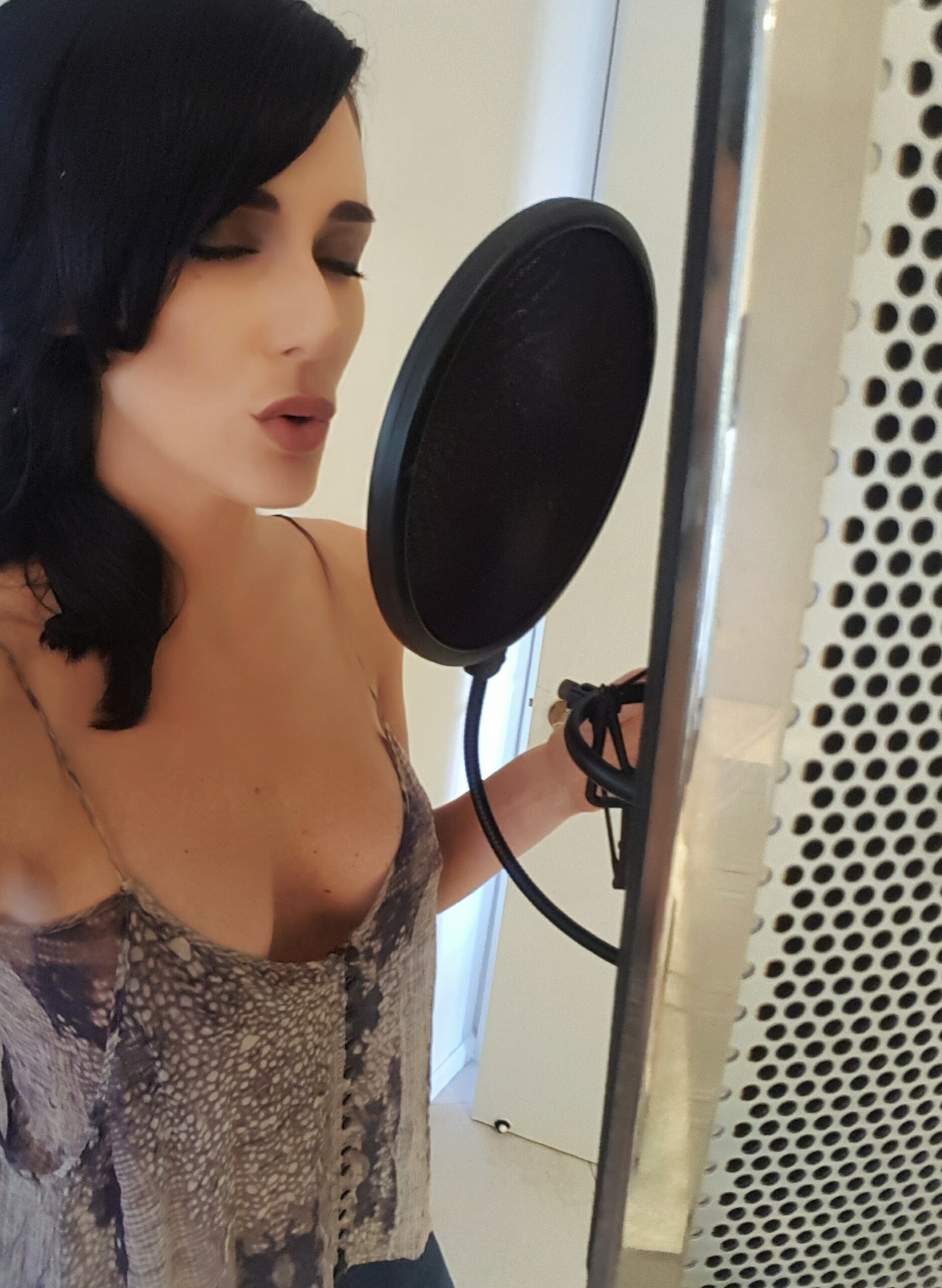 Danae Perfecting the Night Sirens in Orc Island
A huge and extremely fun feature of the game will be your battles to survive against the many Orcs who roam the island at night looking for any food source they can find. Now this wouldn't be complete without an epic battle scene track. Danae wasn't sure how this track would pan out until she heard it combined in game with an actual Orc battle scene. The results were awesome and really sets the atmosphere for the game, have a listen by Clicking Here and let us know what you think in the comments box at the end of the article.
Draw Range Option and Improved Selection Menu Graphics
Some players were reporting a "Lag" when playing the game, at first Rubberman said "I'm reluctant to do it because I love the overall look of the game". However, player power always wins as we have seen this week with a very well known company! He added a "Draw Range" button, you can now draw from full, half and small view. On an 8 year old laptop a player got 30 fps.
The selection menu boxes have also had a graphics upgrade as seen below.
Content Distribution Network Hosting
On the 14th November we had a major but hugely exciting problem occur. Close to 10,000 players downloaded the game, over 3 terabytes of data was downloaded from the site! The web site was choked and our hosting was overloaded, this problem has been resolved. We are now serving the game from a worldwide CDN (Content Distribution Network). All downloads should be at full speed anywhere around the world.
Converting the Game From PC to Mac
Rubberman has been on a mission to convert the game over to Mac, he said today "This has been my most challenging job for at least 20 years".
His first major obstacle appeared when he found out that Apple have stopped developers from developing for 32 bit Mac's. It seems they want everyone to upgrade their Mac's if they want to play the latest games. This made Rubberman furious. To fix this he had to write a x86 assembler code conversion program to convert 32 bit x86 to C++. Did it in a day, at this stage he had control over the opengl and half the Mac interfaces working.
Next up! Maybe best just quoting Rubberman.
"Had to re-write the data structures for C++, it is such a messed up language, signed/unsigned variables, can't assign pointers unless they have the same structure etc. For the programmers out there, did you know you don't have access to the carry flag in C++! Over 500 times in the last 2 days I have read on the internet "that is not allowed". Nonsense, the C++ language was written by children! Anyway, I have overcome these problems by constructing my own language to overwrite C++"
So not to be defeated, he recast all his variables and then overwrote the C++ structure to get rid of the C++ construct.
Today I got an email for Rubberman
"I have tamed the beast!!! (C++), I had to get into Xcode and redesign their data structures to give me raw access to the memory. All of my assembly code works on the Mac. Now I have to get the Mac interface with the keyboard, mouse and a sound player happening then we are good to go".
Just in time for him to enjoy his weekend maybe!
After a stressful time, we are on track for a Monday Mac day!
Game Controls and Beginners Hints
Now when you download the game you will be looking at the game controls and some basic beginners hints for surviving your first day or two on the island. These are easy to follow diagrams, they will also be put in game for the full release for easy reference.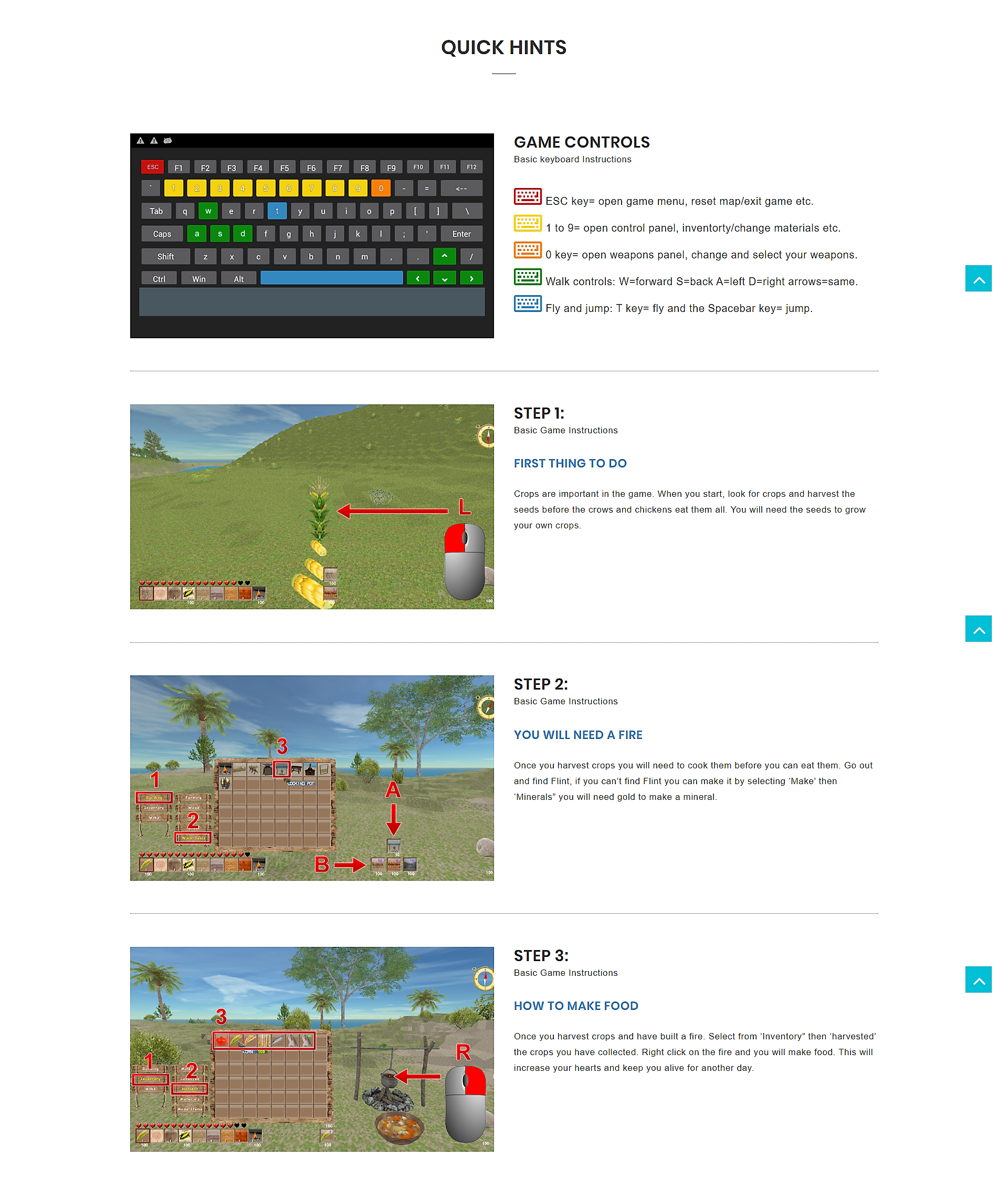 Well I think we have covered everything for now, as a one man programming show it's remarkable the amount of work Rubberman has done on Orc Island in a short space of time. Don't worry he isn't all alone in his development cave. Here he is with his best friend, his pet Magpie! It comes in to see him every morning at 5am and if he doesn't get fed the Magpie sings very loud, he then gets fed!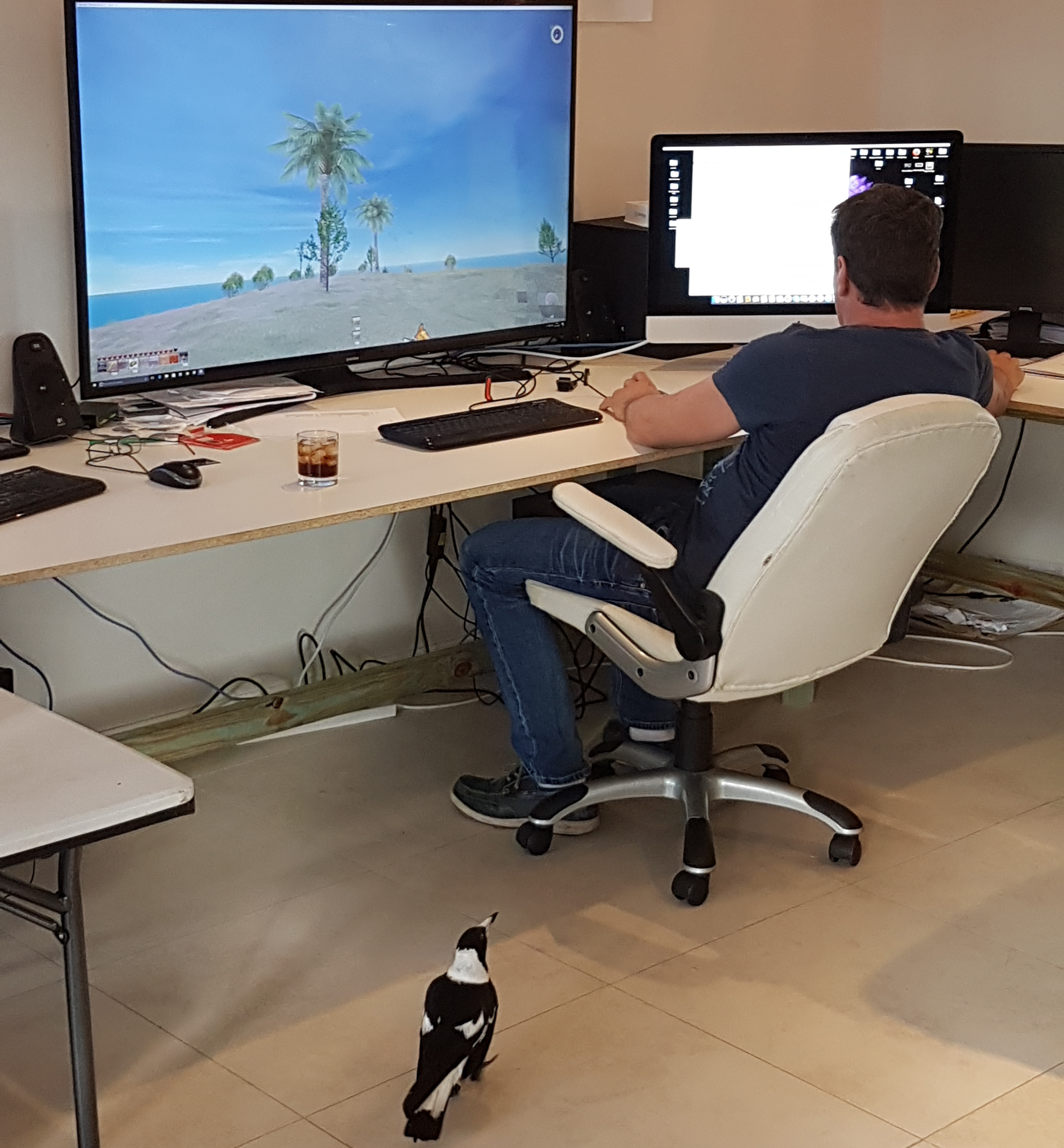 Rubberman Hard at Work Under the Watchful Eye of His Pet Magpie
Being a true Australian, Rubberman also takes time out of his extremely busy schedule to throw some shrimp on the bar b lol.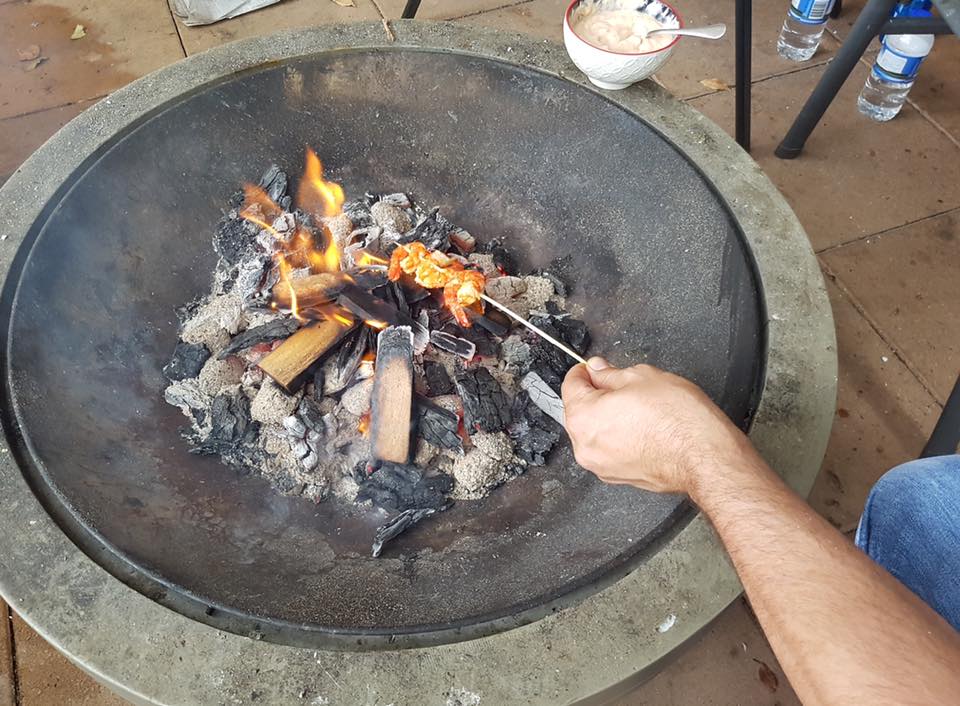 Shrimp on the Bar B Time
Player Proof of Life
We were mailed our first proof of life pictures by a player this week. Check this out, so cool. The player had survived 143 days on Orc Island at time of the mail. Not only that but his house and farm look fantastic! We look forward to receiving many more of these from players as the game evolves.
To see the latest development news follow our Twitter or Facebook pages.
Orc Island is being developed in conjunction with Virtual Earth Online by software developer "Rubberman" who started writing video games since 1980.
Quick and easy download of the developers access release is at: www.orcisland.com
Game controls:
WASD to move
Mouse to look around
Right/left click for blocks/materials
Space for jump
T and space to fly
T for up
G for down
Double click 1-9 for item selection
0 to select hand tools
Left/right click for fishing
Right click to place items on tools, wood/straw etc on fires
Left click to plant and harvest crops
Gold can be used in place of any minerals you can't find
Free to play and no need for internet once downloaded.
Follow us on YouTube for the latest video updates!