Hi all!
So, you may have noticed that we've only been showing you ARMOUR as a way of defending yourself in the game, but that's not all you get! You'll remember that Rachel did up some amazing shield sketches a while back. Well, those shields are all done now, and will be being added to the game with our giant loot update that is coming soon :)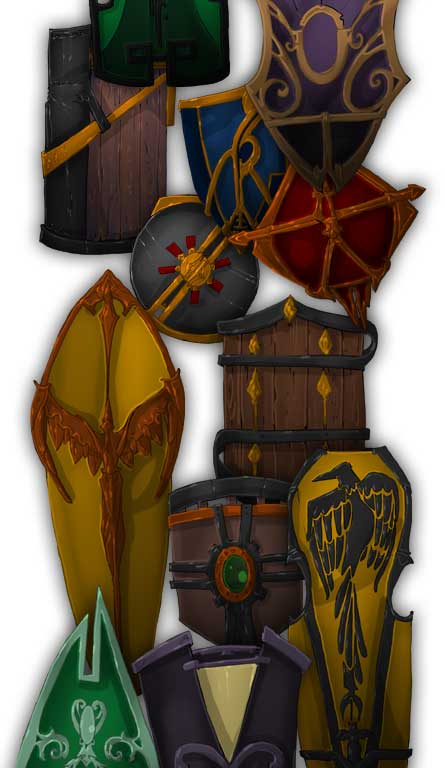 Development has been going REALLY well, and we just released the latest beta to the test team which includes a functional, working quest and dialogue system, which leaves the game feeling the most like... Well... A game that it has yet. Early testing from the team has shown that the quest code works well, so the next update will have many more quest types added as well as heaps more loot to grab. With quests happening and loot being added, the game is finally seeing some light at the end of the very, very, very long tunnel that it's been in, which is super exciting.
To show where it's at, one of our test team, Hyfrydle, has done up a Let's Play video showing the game in action. The video highlights that there are still a number of bugs we're still sorting out, and unfortunately the towns haven't yet been optimized, so their loading time is HUGE. But please remember while you're watching this that eventually the towns will be optimized and they will load as quickly as any other part of the game.
So that's all for now. We'll be back again quite soon with more updates, since we're in a real "jam all the content in" phase of development right now. We'll be keeping the test team busy, I can tell you that much!