Hello captains!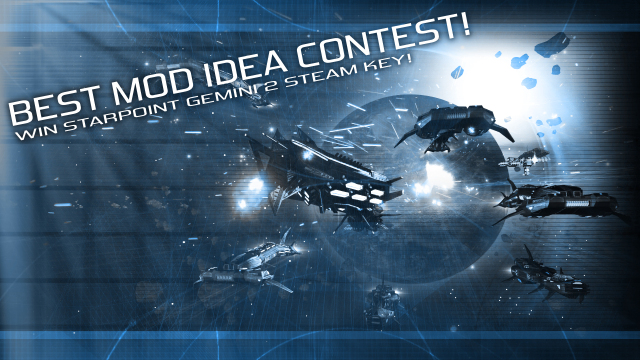 We're throwing a contest for best mod idea. If you think your ideas are the best, or the craziest, post them on reddit or on Steam discussion boards.
We'll give out 2 rewards. One will go to the idea with the MOST UPVOTES and the second will be chosen directly by us here at LGM Games. The follow up contest will be for modders to make one of these ideas come to life!
---
RULES
Maximum 3 submissions per person
If you have multiple ideas, split them up into different submissions
If you post an idea whish is already posted, all credits will go to the person who posted earlier

GUIDES

Provide as much details as you want, but keep in mind the difficulty of the task for modders
Keep it civil please!

END DATE

December 15th, 2014

REWARDS

1x Starpoint Gemini 2 copy OR Starpoint Gemini 2 t-shirt
1x Starpoint Gemini 2 copy OR Starpoint Gemini 2 t-shirt
If you want some inspiration or just want to check existing mods go to Steam workshop.
---
If you're looking to get more info, check out our official Facebook page and our Twitter channel!
To find out more on how to go about modding Starpoint Gemini 2, visit the Modding website and our own forum!
If you're looking for Starpoint Gemini 2 Steam store page, look no further ;).
Thank you for reading and safe travels captain!