Download Now!
REQUIRES "THE UNLEASHED PROJECT" TO FUNCTION PROPERLY, SEE INSTALLATION INSTRUCTIONS
WHAT IS THIS?
---
The original "Unleashed Project" mod for Sonic Generations features extremely difficult score ranks, which are much, much different from the way they were in Sonic Unleashed. To some people, such as myself, they are too difficult to complete. S-Ranks Unleashed attempts to translate/restore the original score ranking system from Sonic Unleashed back in to "The Unleashed Project" mod.
DIFFERENCES IN SCORING
---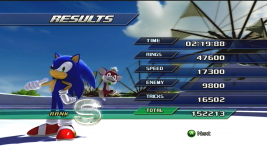 Sonic Unleashed calculates your final level score based on multiple factors, including Time, Rings, Enemies Defeated, and QTE accuracy. This process was greatly simplified for Sonic Generations, which calculates your final level score mostly based on how quickly you can get to the finish line, with a small score bonus for finishing a stage while holding more than 100 rings. Because of this, there is no exact way to translate scores directly between the two games - but I have done my best to "feel" the most accurate score out, based on how difficult I found it to be to get certain good grades in Sonic Unleashed.
INSTALLATION
---
To use S-Ranks Unleashed, place the "S-RanksUnleashed" folder in to your Sonic Generations Mod Directory. This is usually located at something like
C:\Program Files\Steam\steamapps\common\sonic generations\mods
If you do not have a mods directory, you need to have SonicGMI installed - which comes with The Unleashed Project (it can also be downloaded separately, here). As a reminder, this mod requires The Unleashed Project to function properly, so you need to have that set up and ready to go before you can use this.
Once the folder is extracted to the proper directory, open SonicGMI and enable "S-Ranks Unleashed" in your mod listing. S-Ranks Unleashed MUST be loaded AFTER "The Unleashed Project" for the changes to properly take effect. By default, this means that "S-Ranks Unleashed" should be the very first item, all the way at the top of your mod list.
UNIQUE SAVE FILE VERSION
---
This version of S-Ranks Unleashed is for people who do not want to contaminate scores between this mod and "The Unleashed Project". When using the "Unique Save File Version" of S-Ranks Unleashed, it will keep its own save file separated from "The Unleashed Project". Any progress from "The Unleashed Project" will not carry over to this alternate version of S-Ranks Unleashed. [Download here]