Rising Sun Progress
Rising Sun now having been back on track for a while now thanks to great new content sources (mainly the Blood & Iron II OSP content) is once again making some proper progress. I have replaced 100% of the old content with only a few items having placeholder meshes which themselves could actually become final.
At the moment I am still finishing up actual content (meshes, textures, maps) especially uniforms for more minor factions, but once that is done I can move on to the fun task of making all the troops redoing factions which will take some time, but not as long as the content. So pretty much what this means is I'm near completing the content and I'll soon move on to putting all together so this mod is one step closer to releasing.
Ideas
While I'm working on this I thought it might be a good time to get any ideas from the community as you are the ones who will be playing the mod. Any ideas or information you have about the Boshin War that you want in the mod feel free to comment, however there is no guarantee that I will be able to include any of it at all so just be aware that 0% of this could be in the mod.
Also if you have any useful information about the Boshin War (Make sure its Boshin War not Satsuma Rebellion) you think isn't included or could be represented in the mod feel free to comment as well, just make sure you know what you are talking about not that anything bad will happen it just probably won't get in the mod. This includes information about uniforms or armies for clans and domains or even names of commanders from certain clans or domains which would be helpful in renaming the current Sengoku period lords. Please don't feel obliged to do this, but if its knowledge you already know or it's no trouble it would be helpful to just comment this stuff or message me just know that you would be getting nothing in return besides a chance of this information being put in the mod :)
note* for people who might contribute info to the mod just know the difference between the Satsuma Rebellion of 1877 and the Late Bakumatsu period (1858 - 1867) & Boshin War of 1868 - 1869.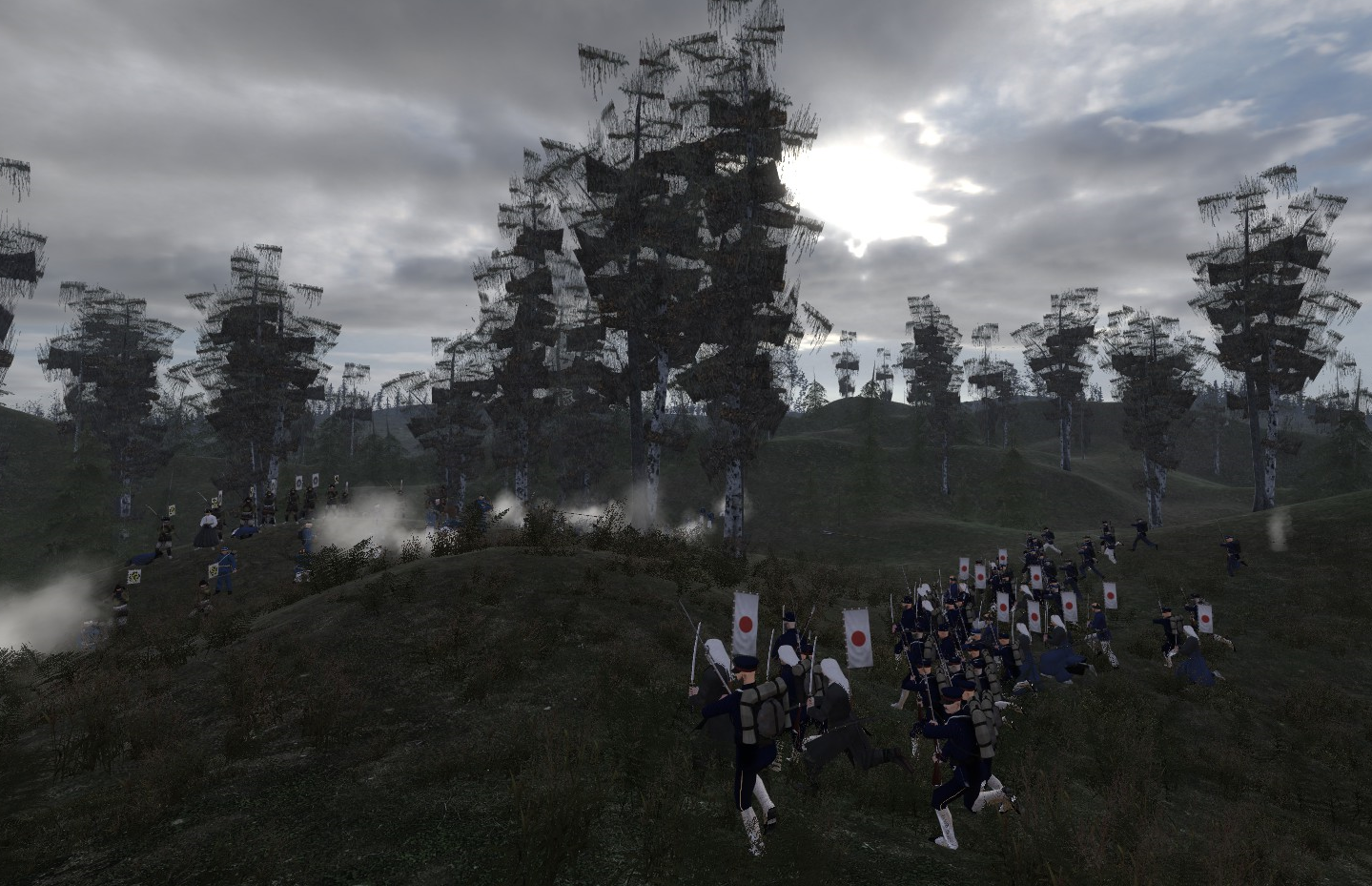 Thanks
More information from previous articles below:
Rising Sun
Originally I created this mod for myself because no Boshin War mods existed for Mount & Blade Warband and I was keen to blast away Samurai with revolvers and rapid firing rifles, but as the topic has proven popular and since the idea worked well I have decided to release its existence to the public.
However because I created it for myself I had only focused on the Satsuma, Choshu, Tosa Domains and only recently the Shogunate forces and there is much work to be done creating troops, npcs and factions. Almost all of the lords and knights need to be redone and many of the factions need to be remade.
Feedback and Ideas
If you have any ideas or feedback (negative or positive) of the modification be sure to comment it or get it out there I will almost definitely read it.
Dead Mod Concerns, Will this mod die?
No doubt some of you may worry that this project will die and there will never be a Boshin War mod for Mount & Blade: Warband, but fear not. Most likely I will continue work on this mod until at least a proper Boshin War experience is attained.
However in the event I don't I will release whatever exists as Rising Sun for the community to access and perhaps continue if they so desire however at the moment it is unlikely that will happen.
Plans for the Future (at the moment)
I plan for this mod to have fully completed factions and troops for a proper Boshin War experience. At the moment this mod is Singleplayer only however in the future it is possible for Multiplayer to be added. I attempt to stay realistic in the goals of this mod and not try and do something outlandish yet like promise to add a Gatling Gun or you know, Korea or the entire Qing China Mainland as a faction. I aim for this mod to simulate in some way 1860s tactics and the Bakumatsu warfare. Naval battles may become a possibility, but at the moment I have no idea.
Updates
I plan to update this as much as possible as I know how painful it is to wait months between news and updates for a mod so no worries there.
So thats is...... Thanks for all your support and have a good one boys and girls :)