The Nuclear Dawn trailer, at long last, is ready, released, and live.

Don't be afraid, press the big play button at the top of the Nuclear Dawn Home Page - it's going to make the wait and anticipation worth it, as we finally release a full look at the game's tactical combat, vehicles, RTS interface and control schemes... the works.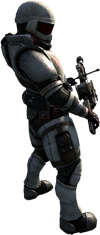 For more information and media, as ever, visit our site's blog section - or drop us a line on the Steampowered.com forums. We're waiting!
The trailer is nestled neatly below in ModDB's player, and you can also view the trailer on The Nuclear Dawn Website or on YouTube.
And if you aren't already, follow our social spaces!
---
---