Hi all!
First i have to thank you for comments, bug reports and some ideas.
Now news:
- New weapon. Chainsaw for close combat. Last chance weapon, because when you hit monster with this, monster hit you too. Best to kill dogs when they come to close to you.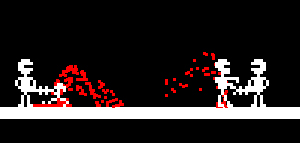 - New weapon. Shotgun! Activates only when you are in "Rage mode". Mass kill weapon. Meat flies in all directions!
- Now some monsters like zombies and zombie dogs can overcome the small height obstacles.
- The problem with playing music and sounds twice removed.
- Some new sprites like the wounded soldiers, barricades and more.
Much remains to be done. I told you some news, but now I'm going to write a game.