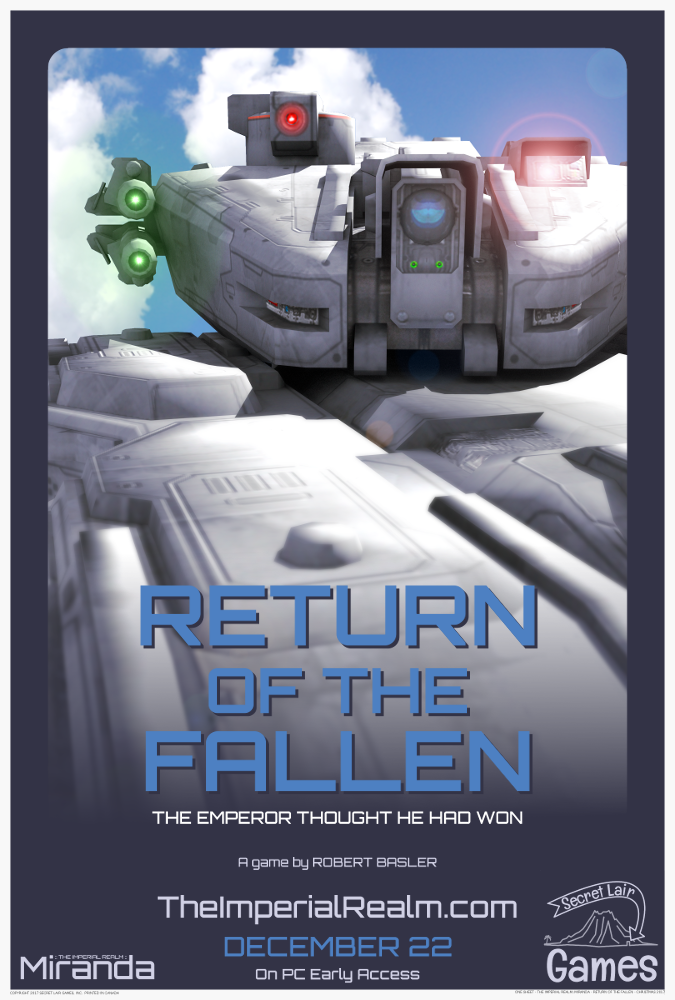 Emperor Cauto I was hailed as a saviour when he single-handedly ended years of pitched warfare with The Fallen. Now, forty generations later, the price of his treachery is finally coming due.
"When the explorer ships of Emperor Paine CXC came upon Miranda, it was not devoid of intelligent life. The indiginous species were unlike any creatures the Emperor's Ridiit had previously encountered. All attempts at communication were a disastrous failure. The Ridiit were unable even to determine what the natives called themselves. Reporting to the Emperor after an entire season of effort, the Ridiit described what would come to be known as the language of The Fallen, as the 'most subtle and complex form of communication ever encountered.' The Emperor took this as a personal affront to his divine nature and ordered the immediate extermination of The Fallen. Every one. The Fallen would not go so easily however, and a bitter conflict raged for nearly seven seasons as the Emperor's elite troops repeatedly failed to execute their Emperor's command. Then the Emperor was assassinated. And on the same day, The Fallen simply vanished from the face of Miranda. For a few days there were rumours that his successor, Emperor Cauto I had engineered Paine's demise and made some sort of deal with The Fallen. Then the rumourmongers mysteriously disappeared as well."
- Excerpt from The Mystery of The Fallen, 10681 Y.O.E.
The Return of The Fallen is the second major update to The Imperial Realm::Miranda, an open-world real-time strategy game now in Early Access on PC.
The Fallen are a new AI faction which adds to the two existing player factions: the Empire and the Independents. The Fallen provide new PvE challenges throughout Miranda's 400 square kilometer map.
"His Divine Eminence the Emperor has in his unlimited benevolence accepted the Independents pitiful pleas for mercy during this unprecedented period, and decreed the immediate establishment of the Blue Zone, temporarily suspending hostilities between Imperial and Independent forces in a small area of His realm. May His enemies hide there and prepare for their obliteration."
- Excerpt from The Record of Royal Decrees, 19 Painedays, 30696 Y.O.E.
The Blue Zone is a new map area where players can engage in PvE battles, safe from attacks by other players.
With the Return of The Fallen, Miranda's mysterious Monoliths have suddenly come to life, providing fast travel across Miranda for players who can discover their secret. Miranda's huge map also now features vendors, monoliths and points of interest to discover.
This update also adds Quadlasers, a new Mission, new Perks, new Achievements, new audio, larger initial component stocks, 40 bug fixes and 47 other changes.
The Return of The Fallen update will be available to play on December 22. Buy your copy of The Imperial Realm::Miranda today at itch.io or sign up for our mailing list.