After eleven months of modding, mapping, scripting and skinning it's basically done! On time with Christmas we are happy to present our Beta 0.4 of Star Wars Mod: Galactic Warfare.
All began with a 3D-model, and soon the idea to extend this theme as a non commercial fan project was born. It's our goal to unite our favourite game CoD4:MW with the classic universe of Star Wars, as the best trilogy ever. With this total conversion we will combine lot of the known battlegrounds, characters and weapons of Star Wars with the fantastic gameplay of the COD4-Multiplayer.
Either as a trooper of the Imperial Forces or as a soldier from the Rebel Alliance you will fight on Tatooine in the streets of the legendary space harbour Mos Eisley. The Beta contains one map but
others in different locations as well as further weapons and player models are of course in the works.
This modification for COD4 is a result of the co-operative collaboration of many ambitioned modders who create this spare time project together as a team. Everyone involved contributes the own
skills in the areas in which their expertise is at its best. So far, the core team consists of Mapicted, Xfckup, Old Man With Gun, Xiao, Rollercoaster, T.R. Graves, Sizzer, Zeroy, Nightwing and Novemberdobby. We of course got a lot of help also from other modders and members of the worldwide community. Thanks for all the help and feedback!
The mod is a non-profit project operated by fans. Star Wars, its characters, locations, weapons and all associated items are the intellectual property of Lucasfilm. ©2009 Lucasfilm Ltd. & ™ All rights reserved.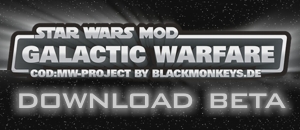 We hope you will enjoy playing! We will publish a poll within the next days to collect your feedback in an optimal way so that everything can be considered for the next release. If you like to get more
information about us, you are always welcomed at www.blackmonkeys.de.
Please don't hesitate (either in English or German) to use our board if there are any questions or ideas concerning the mod: Forum.blackmonkeys.de
Thanks to all the participants of our taunt contest. All taunts are great! The winners are Tim and Mike (Casshern). Congratulations. Your voices are already in the beta. Enjoy!
May the force with you and merry Christmas!
The beta is available on following servers:
213.133.110.38:29000 wgs./Maptest 2' -Galactic Warfare-
213.133.110.38:28960 wgs./Sterbehilfe' -Galactic Warfare-
213.133.110.38:30000 wgs./Maptest 1' -Galactic Warfare-
78.46.88.85:28960 =>SMW/Galactic Warfare<= HardCore StarWars | by FaL-Clan.de
NOTE: WE forgot to integrate Capture the Flag to the rotation. But its there and you can use it!