The game is finally out and about!

You can get it Here:
Store.steampowered.com
or here:
Gamejolt.com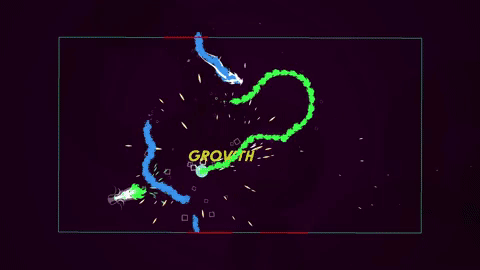 Cosmic Kites is a colourful and energetic local multiplayer game where the players control animal spirits, trying to wipe each other out in order to be the last man standing. With rapid moves and split-second decisions, use your tail and an array of offensive and defensive power-ups, such as the energy beam or the spiked shield, in order to turn your opponents into a rain of exploding particles.

The rounds are short, and the tempo constantly high throughout game. Once a round is finished, it takes but seconds to jump into a new game and get back to bashing your friends.

'Easy to pick up - hard to master' has become a bit of a cliché, but nothing explains the core of Cosmic Kites better. With only three buttons to keep track of, it's a no-brainer to involve new and inexperienced players, without them feeling left behind.
Features:
Fast paced local multiplayer action
Single player highscore hunting-mode
Easy to pick up - hard to master
Various power-ups, including energy beams, exploding plasma balls, spiky shields and more
6 different game modes
Customization options to create your own game modes
Loads of different character skins including dragons, warthogs, birds, squids and more
Colorful stylish graphics
Lots of fancy particles and explosions
Music… Loads of music