Take off your hard hats, flat caps and snapbacks. It's time to don some ARMOUR! Yep, this release of Friendship Club introduces a brand new Armour Mode, and many other smaller (but just as cool) things.

Armour!


How does armour work?
Playing with Armour on means players can be hit by two bullets before getting eliminated. However, it doesn't mean players have two hit points! Armour is not affected by the dash attack. In fact if two players dash into each other with armour on, they both lose their armour. It's more like having a protective shield.
Why is it so cool?

It might not sound like much, but it drastically changes the gameplay -- matches become longer, and the meta game gets ramped up significantly. Players with armour try to stay out of melee combat as there's the potential there to lose their advantage. Play styles also become more reckless as players know they need to get multiple hits in order to pull off their awesome victories. Essentially, Armour introduces more ways to totally humiliate your friends, and that's what this game is all about.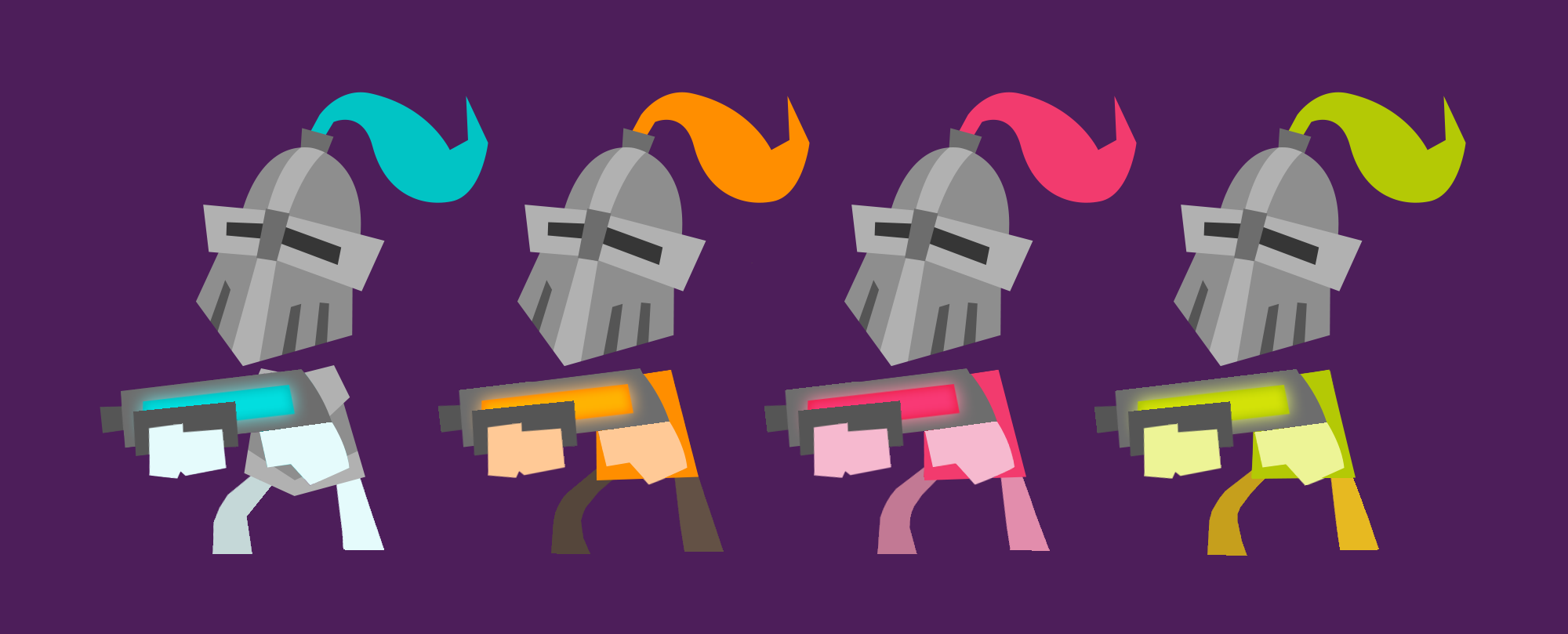 First pass of the armour. Not as cool, right?
What about those other cool things?

There's a lot in the full changelog below, but here are the best bits.
Bullet sounds are now affected by the game speed. Turbo Bullets also have new, more impactful sounds.
5 new interactive paintings in the Timmy's House arena!
Dash cone animation now plays super smooth regardless of game speed.

Dash cone animation & some paintings falling!
You might see progress slow down ever-so-slightly over the coming months -- Ashley our programmer is contracting 3 days a week to keep the project funding healthy. Steam sales haven't made us millionaires, and the nature of it is we have to make compromises to stay afloat. Thank you (in advance) for being so understanding!
Cheers!
- Tom

Do you like Friendship Club? Do you have nice (or even not so nice) things to say to us? You can do so on Twitter, Facebook or here on IndieDB in the comments. :)

Full Changelog:

Code:
Armour gibs!
Armour hit points / health system implemented.
Armour sounds implemented.
Added stats screen graphics to preproduction.
Disabled story screens.
Added broken gun gibs. (People thought you could pick up guns!)
Pressing the Start button while in options now returns players to the previous game state.
Left bumper now longer goes to Advanced Modifiers.
New font used on end-game drop-down overlay.
Art & Animation:
Armour pass 1.
Armour pass 2.
5 paintings animated for Timmy's House arena.
"Quickdraw" timer for The Wonky Wagon updated to include shards of wood.
New dash animation done in Spine.
New furniture to include in Timmy's House arena. TV, 2x armchair, desk lamp, 2x floor lamp, globe, others. (not yet implemented!)
Updated Finger Of God holes in the floor.
Armour "hit" effect added.
Piano and Bar in The Wonky Wagon recoloured.
New "floor lights" for Nana Rickett's in The Wonky Wagon.
Icons for Assassins and Armour modifiers.
Audio:
Sound effects for dash changed when players are wearing armour. These are unique to each character!
Sound effects for being hit by bullet while wearing armour. These are unique to each character!
Bullet sounds are now affected by the game speed.
Turbo Bullets also have new, more impactful sounds.
Added a compressor / limiter on the master output to prevent issues with levels and make it sound lush.
Misc:
Set up Git for the game project (finally)!
Set up Git and FTPloy for the website deployment.
Tom finally bought a standing mat for his standing desk.
Updated descriptions of Game Modes.