Before I plunge into the delicious details of running and gunning, let me give everyone a quick heads-up as to what will be going in the following news posts. First, any cool developments will be mentioned. Right now, most of the developments will be boring things like "coding online support" and other news that make most gamers yawn and shift uneasily. "Yes yes," you say to yourself, "It's nice that you've got all that boring number-crunching done, but when can I see high-res screenshots of helpless woodland critters being mowed down by gatling guns?" Soon, soon.
Right now we're finishing up the glossy, pretty features to our engine (lighting, shading, water effects and other goodies) which, while exciting in their own right, isn't exactly something that can fill a blog post. We do, however, have a few screenshots showing off the improved lighting and reflections off of our vehicles.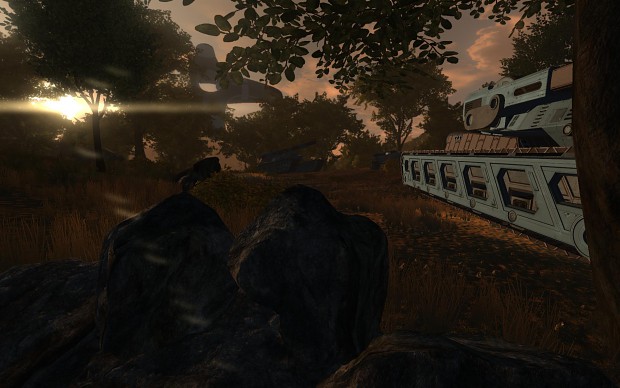 I'll be doing a multi-part blog series concerning the various features this game will present, and why you'll love them. First up is FPS or "Fighter Mode." On to the fun stuff!
At a very basic level, the FPS gameplay is like Battlefield. Hey, wait! Don't go, I'm not finished! It gets better, I swear! There we go, calm down. Now, I hate to compare this project to any other game, just as you are probably groaning about hearing that a promising FPS is merely borrowing ideas from an already well-established franchise. Let me make it very clear that this game is only marginally similar to such methodical multiplayer shooters like the Battlefield series. Here are the basic similarities: you respawn at the barracks or other specified areas; you have classes of units to choose from; there are vehicles. There, that's it.
Now, here's where Refusion differs: everywhere else.
Overview: You are a soldier with your own free will. Your mission is not to capture the pre-set "Command Posts" but to completely eradicate the enemy's buildings, vehicles, resources and personnel. Cooperating with your fellow soldiers and the RTS player, or "Master," is key to victory for your faction. Prove yourself to the Master, and he might just give you command of your own squad.
Gameplay: First, choose from five different units, each with their own abilities and weapons. You spawn from a selection of buildings the Master has built. Upon arriving, your choices begin. You could help gather some resources like a boring NPC, complete some requests by the Master to receive payment, commandeer a vehicle, or catch a ride on a transport and head into battle.
Vehicles: Many complaints about multiplayer shooters concerns vehicles. Either the tank is a piece of crap, or the planes are frigging invincible (unless another plane is shooting at it). Worse, you were a few minutes late in getting to the vehice spawn point, and now you have to walk the rest of the way or wait it out. No more! In Refusion, Fighters can nab one of the Master's vehicles (so long as he promises not to put too many dents in it) or purchase one of his own to use and abuse as he sees fit. Since the vehicles will be designed with the RTS gameplay in mind, a lot of time and effort will be put into balancing out the units.
Cooperation: While you certainly have the option to flip your teammates the bird and leave them hanging, these tactics certainly won't win the war. Cooperating with your fellow Fighters is key in Refusion. Generally, AI-controlled units built by the Masters are no match for Fighters, but things get tricky when you're up against another Fighter, or a horde of AI soldiers. Teamwork will be necessary if you ever hope to punch a hole in the enemy's defenses.
If you have any questions, we will be happy to answer them within reason.