Greetings Troopers!
Well it has been a long time coming, but it is finally here. The Rebel Defiance First Strike Campaign will kick off this Sunday with the first round of battles, and we are now officially opening registration to this ongoing event to the public. If you want to experience some serious First Strike battle action this is the place you want to be.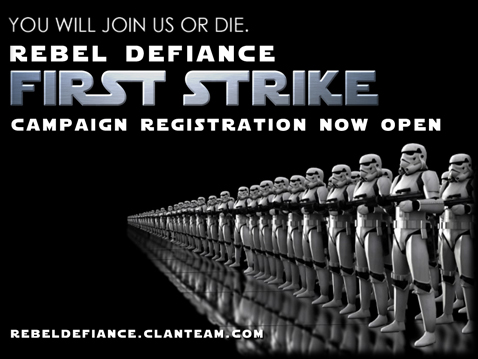 We'll also be doing things a bit differently this time with registration not being a compulsory factor in you being able to take part. We want to give everyone who wants to give it a try the opportunity to check it out without having to commit to the event, though obviously there will be advantages to having more registered players on your team, so it'll be totally up to you. You can find out more on this subject by heading over to the new dedicated Rebel Defiance server website which will be where you need to go to register should you wish to do so, and find out the latest news about the campaign.
First Strike campaigns have proven very successful in the past as most players love the mod, but find it hard to get together with other players at the same time to enjoy some well populated games, so the hope is that this campaign event will help eleviate the problem, and get more people exposed to this great mod.
So what are you waiting for? Head over to:
And get signed up. The galaxy awaits!
See you on the battlefield Troopers!