Alright, it's been a busy day here.
ART
First, let's have a look at this: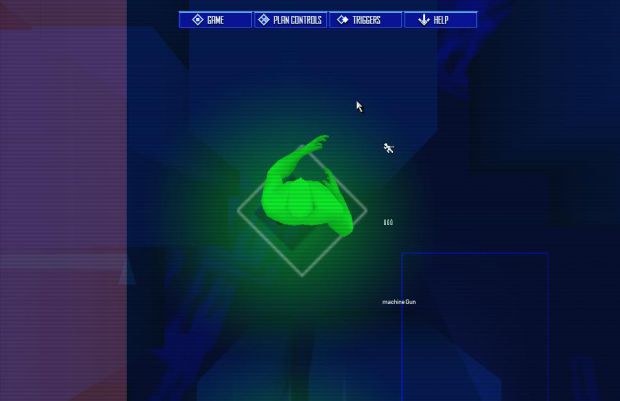 Here's our new model - nicer proportions...I just think he looks so much better than the older ones. When the weapons are done we should be really onto something - then it's just handling animation - gah!
Bin is working on hacking up our existing menus (which look like toilet) and replacing them with spangly transparent ones which will go over a cool background. I pretty much hate everything to do with UI art - it's the sort of thing you work on for ages and still looks wank. And also it always brings home the fact that we don't have an in-house artist - getting people to tweak them is mega expensive. Sigh. And I always want the UI to look good as it's the first impression people get of your game. I can't tell you the number of indie games I fire up and go "Ugh, this is going to be shit" because they have an ugly menu. My standards are higher than most people's, which is good because I have to create things that the people who buy our games will judge VERY harshly!
PRESS
I wrote a blog on Destructoid about the difficulty of trying to promote your indie game in a pleasant way.
I chose to put it on there because I still can't get a reply out of their news guys, who are incredibly busy people that only cover a tiny handful of indie games. I even mailed the founder of Destructoid to ask him about it! After getting on Joystiq this time - traditionally quite a challenge for an indie game- I figured somewhere like Dtoid would be up for it as well, but...always difficult to get through. Again, if anyone would like to do the following things:
1.) Support my blog on there, maybe just by commenting
2.) Try and help us get some coverage on there in any way
...I would appreciate it.
I had a bit of a boost after that, though, as I've now scheduled previews for PC Gamer and PC Format in Bath in March. This is a very nervewracking time for Ian as he has to watch people whose opinion he really respects wrestling with an unfinished version of something he's working on! It's good to let people see what's happening, and hopefully the game will speak for itself. This does mean that we have a big push to get everything to the next level by that time - I'm hoping that will happen.
STUFF
Today I also wrote a funding proposal: it's the first one of these I've done and I'm feeling positive about it. It's good that there is some funding out there for independent developers if you know where to look - it's just a generally great thing to be involved with. Finding out that there are nice people who know about games in regional creative development agencies is not something I was expecting!
Keep pushing the game, people! I'm still planning to release a bunch of free music when we get up to 400 followers so bear that in mind!
VISITING THE VILLAGE
I forgot to post last week's Village- here it is:


(This button will take you straight to our IRC chat room where you can talk live with the developers of Frozen Synapse!)

(Please track our updates! We try to make each one as amusing and informative as possible. Remember, don't click this button if you are already tracking - it will make you stop tracking! This is the opposite of what we want!)


(If you join our mailing list, we will use it only to send you important Frozen Synapse and Mode 7 Games updates. These will be very infrequent and guaranteed to be interesting! We will never, ever give or sell your precious juicy email to any naughty people - promise).