I thought that I had nailed the "bomb drop crash bug" with R01a, but it continued to persist for some people (annoyingly, not me or else it really would have been fixed ages ago). After some dedicated testing by amitj78, who was experiencing the issue and willing to help, it seems like it is now fixed.
The problem seemed to reside in the target area marker model (the glowing holographic octagon) -- after rearranging a few things inside the model that have absolutely no right to have any impact on anything, the game no longer crashes. We still have no idea how or why, but the prevailing theory is quirks of hardware setup such as graphics cards making Warcraft trip over its own shoelaces.
Either way -- if you were experiencing the crash, please do try R01c and give your thanks to amitj78 for helping me to finally batter through it.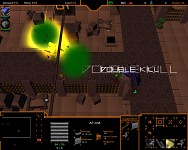 Other fixes are smaller in nature but no less necessary. The side quest "Hold the Line" was in the habit of repeating itself every time the player returned to the Transport 06 bunker; unfortunately, once again developer-only testing meant that I... uh... never returned after completing the quest to notice the problem. Also fixed is an issue with the keypad system, where digits from a half-entered code would hang around on leaving early.
As always, all of your unlocks will be preserved to this new version, so you can start a new game without losing any of your hard work (though if you were getting bombed out by the bomb drop crash I suspect you won't have any of that).

While we're here, I should give you an update on the bonus missions. I do have plans for both Operation: Gala's Trench and Operation: Skyward Fire (and some extras for the main mission), but I'm taking some time out from actually implementing these things to work on something a little less strenuous. I had been working solidly on Project Y4 for two years, so I hope you don't grudge me a wee holiday!