Howdy. I'd like to get started on a French and German translation so it'll be ready by the time I finish everything else and release. Right now I'm planning for French, German, and Spanish (sorry everyone else!)... So if you're a French or German member of the community, please send me a message! Here's the rough workload, and it'll likely take you a few hours:
about 40 subtitle strings of dialog
8 short poems
40-50 strings of text
Ideally, I'd prefer people who like reading books and who have a near-fluent grasp of English, so you'll understand some of the stuff I was trying for in my own writing and translate that with your own sensibilities.
In return... I sadly can't pay you, but I'll definitely put you on the playtester mailing list and give you a hearty thanks in the credits. And then you can point to your friends - "Ha, see? I translated a video game. What have YOU done lately with you life?" You will be the envy of the party.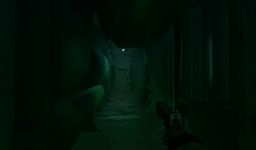 So in developing this style for the submarine, I wanted something that was part untextured model render, part realistic, part shiny / metal, part flat-shaded, and part undetailed.
In general, the more detailed / "realistic" something is, the less symbolic it can become in the player's mind - because the designer has already defined the object, that the stop sign is already a stop sign and nothing more - so here I have some vague mechanical shaped things on the walls. It's enough to tell you that this is supposed to be a submarine, but hopefully you're still able to say to yourself, "okay, but what else?"
It's not a photorealistic submarine; it's not trying to be. Real submarines are much smaller, much more cramped, and not very fun to explore. And to me, realism generally isn't a worthy goal in the first place because we already know it's not real by virtue of staring into a screen. It's a like reading a novel.
We know the novel is fiction. We know an author wrote it. Yet, we still get immersed in the novel - the content still engages us. The novel doesn't have to be realistic, but rather it has to be PLAUSIBLE and CONSISTENT. I aim for those goals in my levels.
... But to re-cap: if you're bilingual and you know French / German and English well, send me a message and we can start translating. Awesome.