Imperial Military
The proud men and women in service of the Fel Empire's military swear allegiance to the royal bloodline started a century ago by Jagged Fel and a mysterious consort. Note: Clicking on certain article images will redirect you to Wookieepedia articles for additional information.
---
The Imperial Army
The Empire has the most professional, disciplined and dedicated military in the galaxy. All recruits are zealous and dogmatic, convinced the ideals of the Empire are worth upholding to prevent anarchy in the galaxy and they will proudly die for the Emperor to protect the New Order.
---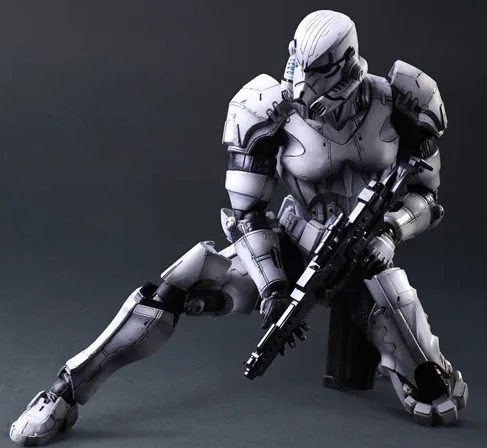 Stormtrooper
Role: Infantry
Armament
ARC-9965 Blaster Rifle
SE-14r Light Repeating Blaster
Thermal Detonators
Equipment
Stormtroopers are the elite soldiers of the Fel Empire. Like Star Destroyers and TIE fighters, stormtroopers served as ever present reminders of the absolute power of Fel Emperor. These faceless enforcers of the New Order were considered an extension of the Emperor's will, and thus they often used efficient yet usually unreasonable tactics as a way to keep thousands of star systems throughout the galaxy in line. At the height of the Empire, stormtroopers had effectively become symbols of major authority. With few exceptions, they were distinguished from all other military units by their signature white armor.
---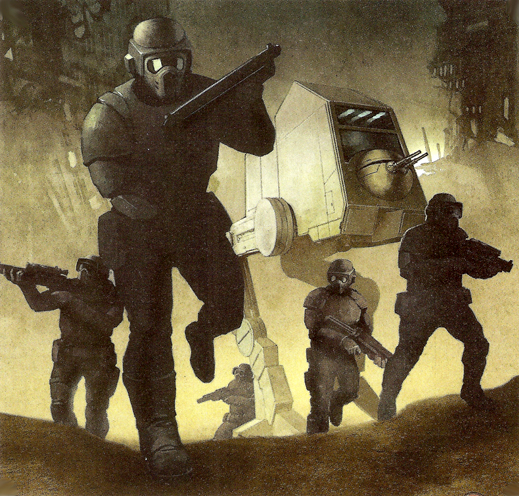 Storm Commando
Role: Special Forces
Armament
ARC-9965 Blaster Rifle
SE-14r Light Repeating Blaster
Thermal Detonators
Equipment
Reflec-coated armour
Comlink
The Storm Commandos were trained in live-fire exercises, giving them a sense of the reality of combat long before the regular Stormtroopers. Anti-terrorist training was conducted in a building nicknamed the Killing House. Though many commandos failed to survive their exercises, the rest learned rapidly, allowing them to become better soldiers. The commandos also experienced near-death torture to train them in resisting interrogation, and many commandos were left mentally scarred from the experience.
---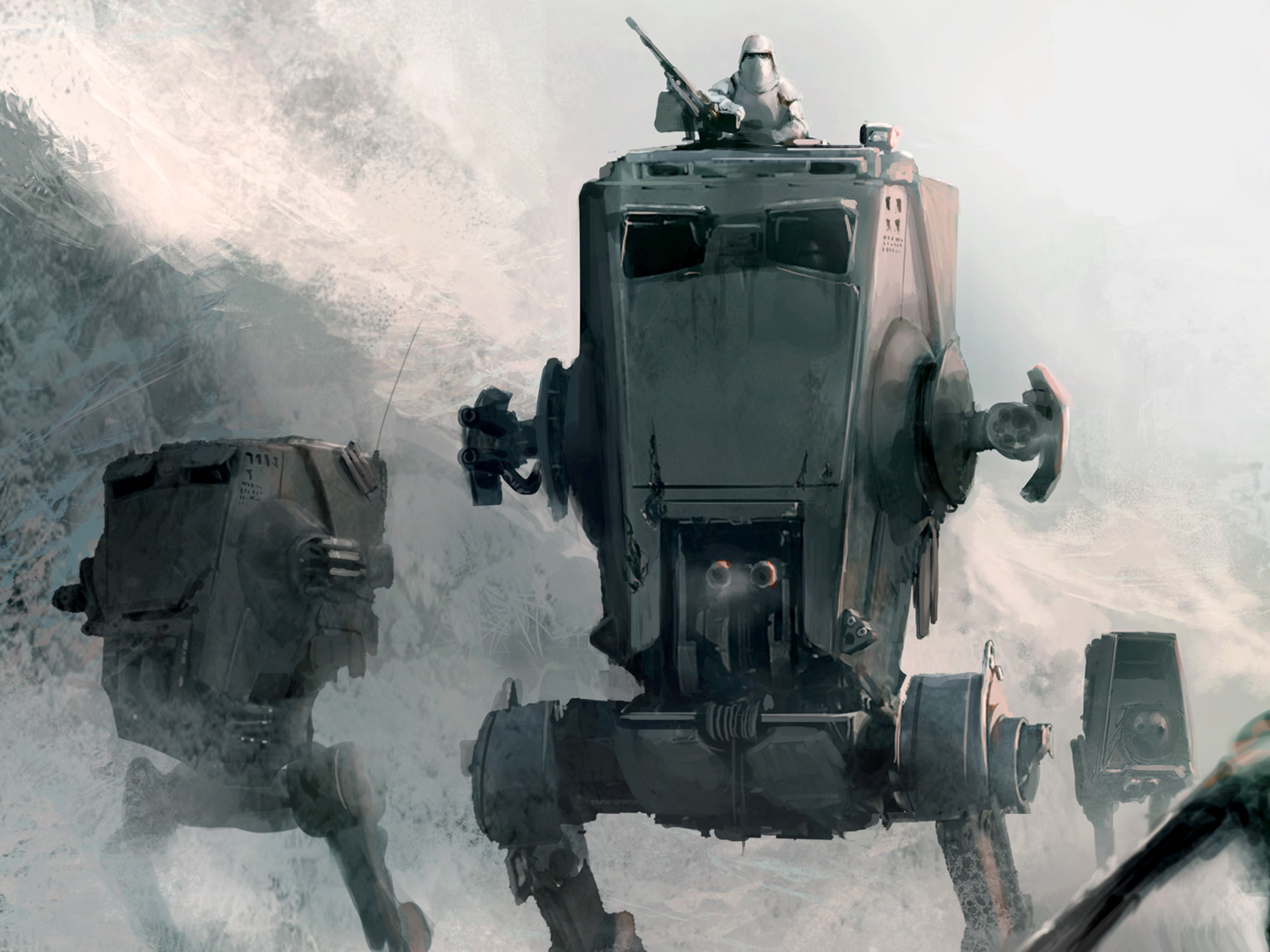 All Terrain Scout Transport
Role: Light Cavalry
Armament (Modular)
Twin Blaster Cannon
Light Twin Blaster Cannon
Concussion Grenade Launcher
Equipment
Comlink
Ground-penetrating Sensor Systems
Colloquially known as a "chicken walker" because of its shape and walking motion, the AT-ST was a light, heavily-armed, ground combat vehicle, and able to trek various environments. The stock model was equipped with a chin-mounted, double blaster cannon, a light E-Web twin blaster cannon on the port side, a concussion grenade launcher on the starboard side of its head. The AT-ST was designed to be a recon, hit-and-run vehicle. It could withstand standard blaster fire, but was vulnerable to heavy laser fire and missiles, as well as physical attacks to the legs and the side of the head.
---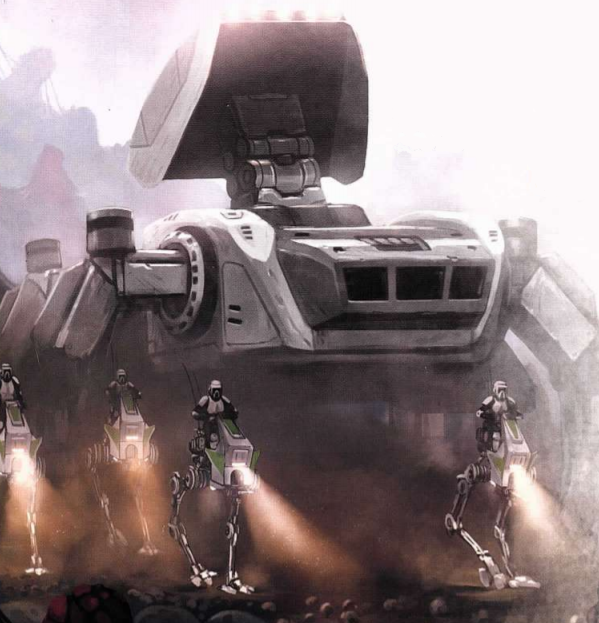 All Terrain Anti-Aircraft
Role: Anti-Aircraft
Armament (Modular)
Equipment
Comlink
Electronic Countermeasures
The AT-AA had four stubby legs and lizard-like locomotion, along with a low profile not seen in other Imperial walkers. On most models, the only weapon was a turreted flak pod. The AT-AA also carried electronic countermeasure systems that could scramble missile guidance systems, thus lowering the risk of missile strikes.
---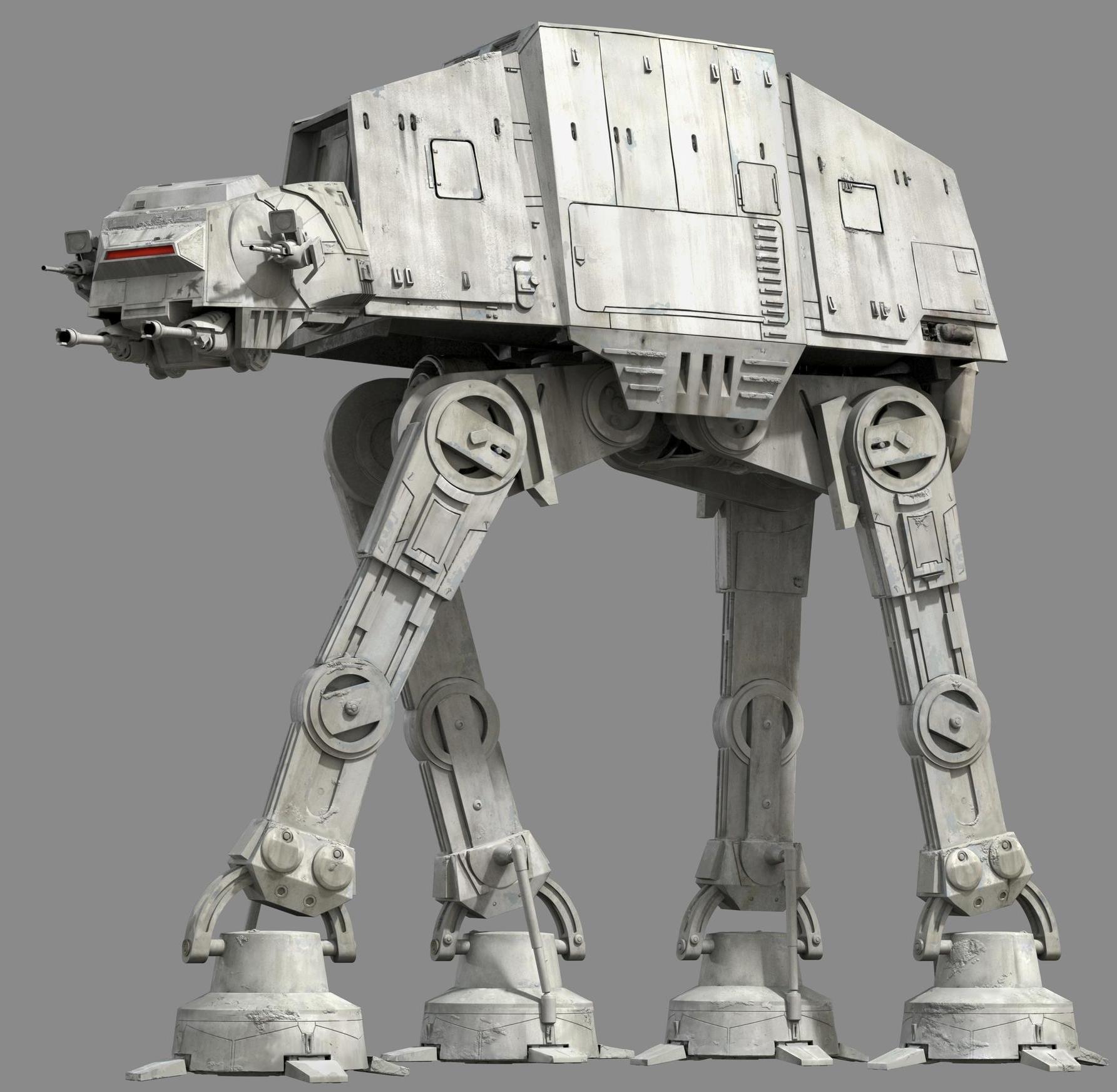 All Terrain Armored Transport
Role: Heavy Cavalry
Armament (Modular)
2x Heavy Laser Cannons
2x Medium Repeating Blasters
Equipment
Complement
5x Speeder Bikes
40x Soldiers
The AT-AT Walker, was a major part of the Galactic Empire's motor-pool. Carrying a vast amount of fire power and being heavily armored, the AT-AT was arguably the most feared and effective land vehicle in the Imperial Army, and enjoyed a long life span, from the Clone Wars to the Second Imperial Civil War, over 150 years later. However, it was also known for its relatively slow speed.
---
---
---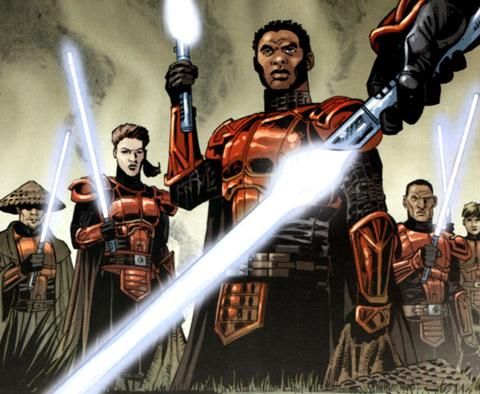 Imperial Knights
Role: Special Infantry
Armament
Imperial Knight's Lightsaber(s)
Light Sided Force Abilities
Equipment
Imperial Knight's Heavy Armour
The Imperial Knights, formally the Knights of the Empire, were an order of Force-practitioners loyal to the Emperor of the Fel Empire. They were fully trained in the ways of the Force and rejected the dark side of the Force, unlike previous Imperial Force-based organizations. The Imperial Knights swore loyalty to their Emperor, serving the Force as embodied by him. However, if the Emperor were to ever fall to the dark side, it was the duty of the Imperial Knights to either remove him from power or bring him back to the light, as ultimately, it was the Force to which they owed their allegiance.
---
---
---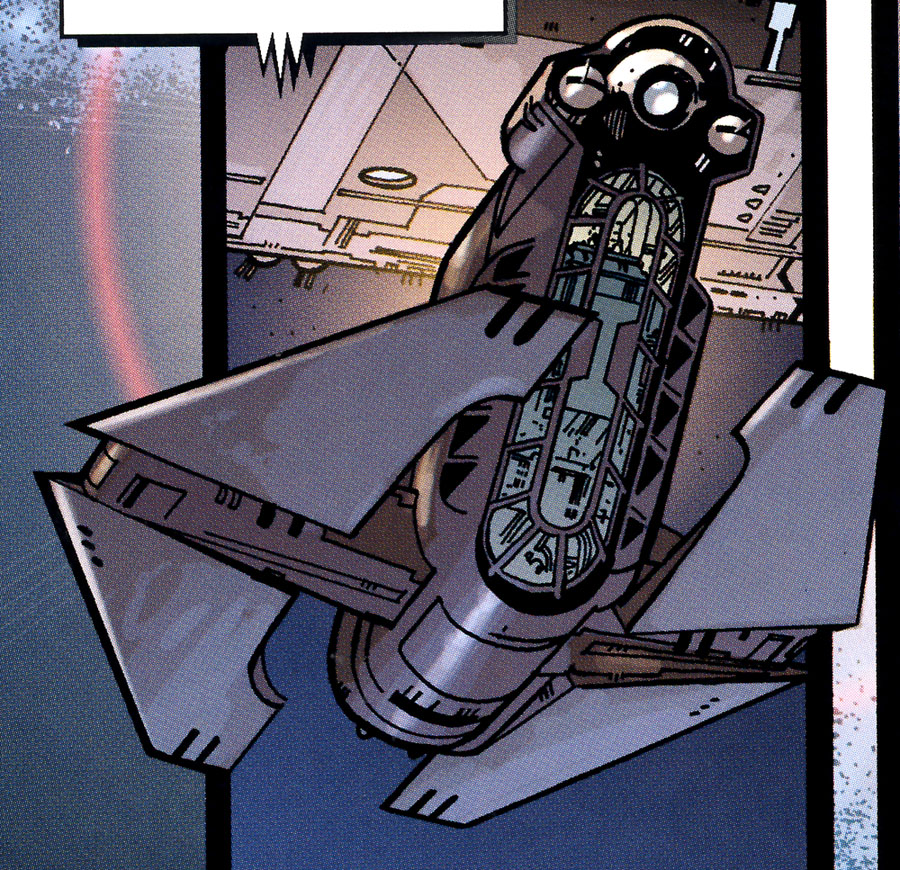 Nune-class Imperial Shuttle
Role: Transport
Armament
Medium Laser Cannon Battery
?x Medium Laser Cannons
?x Double Heavy Laser Cannons
Complement
The Nune-class shuttle had a much larger capacity for cargo or people than previous Imperial shuttles such as the Lambda-class and Theta-class. It also kept the folding wings feature of those classes, but unlike its precursors it could land with its wings unfolded. When armed, Nune-class shuttles were equipped with turbolasers.
---
---
---
Vigil-class Corvette
Role: Corvette
Armament
3x Twin Heavy Turbolaser Turrets
3x Twin Light Turbolaser Turrets
3x Laser Cannon Turrets
?x Medium Tractor Beam Emitters
Equipment
No Deflector Shields?
Hyperdrive
Complement
With a dagger-shaped hull, heavy armament, and relatively large crew complement for its class, the Vigil class shared many iconic design features of a true destroyer. The exception to this was the command deck, which sat flush with the hull to the aft over the main drive engines, giving the Vigil class a smaller silhouette and better protection than a tall and exposed command tower.
---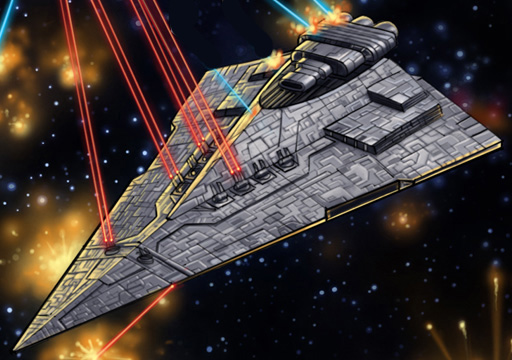 Ardent-class Fast Frigate
Role: Frigate
Armament
5x Heavy Turbolaser Batteries
3x Medium Turbolaser Batteries
5x Point-defense Cannon Batteries
2x Tractor Beam Batteries
Equipment
Deflector Shields
Hyperdrive
Complement
?x Nune-class Imperial Shuttles
12x Predator-class Fighters
200x Soldiers
The fast frigates were used as quick-strike vehicles. A common Imperial tactic was to send several Ardent-class frigates into enemy picket lines to exploit weaknesses and open gaps for other warships. They depended on their impressive shields to allow them to survive. Despite them, they still suffered more damage than most ships in the fleet due to their aggressive tactics.
---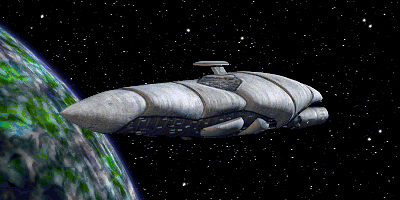 Strike-class Medium Cruiser
Role: Star Cruiser
Armament
20x Light Turbolasers
10x Turbolaser Batteries
Warhead Launcher (Adv Concussion Missiles)
10x Tractor Beam Projectors
Equipment
Deflector Shields
Hyperdrive
Complement (Configuration dependent)
18x Starfighters
2x AT-ST
1x AT-AT
340x Soldiers
Various Dropships
A departure from the Navy's trend towards increasingly large warships, the Strike-class cruiser was 450-meter-long Strike-class was capable of challenging larger cruisers with its surprisingly heavy load of firepower, strong shields, and high sublight speed. Armaments included 20 light turbolasers, ten turbolaser batteries, ten ion cannons, and ten tractor beam projectors. However, the storage spaces and skeletal structure proved weak against enemy fire once the shields were down.
---

Pellaeon-class Star Destroyer
Role: Battleship
Armament
50x Heavy Turbolasers
50x Turbolasers
40x Ion Cannons
30x Tractor Beam Projectors
50x Proton Torpedo Launchers
Interdiction Field
Equipment
Deflector Shields
Hyperdrive
Complement
48x Predator-class Fighters
6x Nune-class Imperial Shuttles
2,700x Soldiers
The Pellaeon-class was considered one of the most powerful warships in the galaxy and noted as having unmatched weapon systems and starfighter components. With its sleek outline, it presented less of a target to potential enemies, while at the same time optimizing its shield protection. The Pellaeon-class also possessed an interdiction field, capable of pulling ships out of hyperspace.
---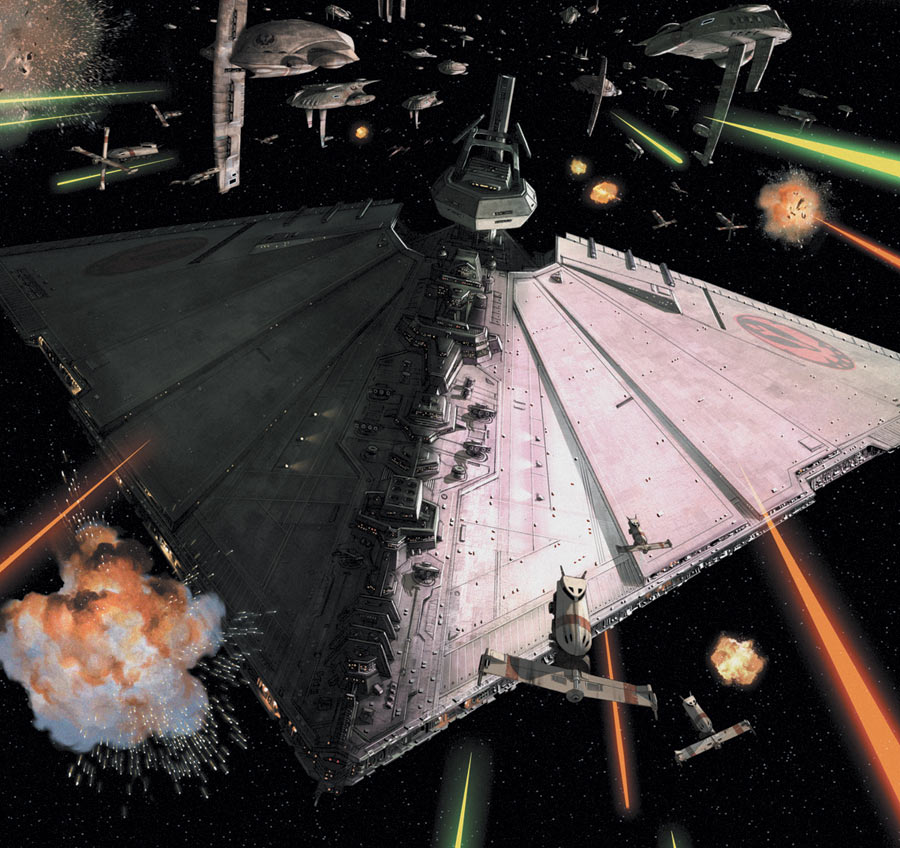 Imperious-class Star Destroyer
Role: Battleship
Armament
5x Heavy Turbolaser Batteries
5x Medium Turbolaser Batteries
4x Heavy Ion Cannon Batteries
3x Tractor Beam Projector Batteries
5x Proton Torpedo Launcher Batteries
?x Gravity Mines
Equipment
Deflector Shields
Hyperdrive
Complement
48x Predator-class Fighters
12x Neutralizer-class Bombers
6x Nune-class Imperial Shuttles
3,000x Soldiers
Compared to the Pellaeon-class, the Imperious-class was larger and more powerful, as well as more efficient in the regulation of its power. It had better shielding to the point that it could take on the full firepower of the Outer Rim Third Fleet before the shields began to falter, armor, and weapons allowing it to outgun any ship within the Imperial Fleet of Darth Krayt's Galactic Empire. In addition, the Imperious-class could be operated by a smaller crew. Generally, it was to the Pellaeon-class what the Imperial II-class Star Destroyer was to the preceding Imperial I-class.
---

Executor-class Star Dreadnought
Role: Dreadnought
Armament
2,000x Heavy Turbolaser Cannons
2,000x Turbolaser Cannons
250x Assault Concussion Missile Tubes
250 Heavy Ion Cannons
40x Tractor Beam Projectors
500x Point-defense Laser Cannons
Equipment
Deflector Shields
Hyperdrive
Complement
144x TIE Fighters
30x AT-AT
40x AT-ST
200x Supportcraft
2x Prefabricated Garrison Bases
38,000 Soldiers
The Executor-class Star Dreadnought, colloquially known as the Executor-class Super Star Destroyer or Executor-class Star Destroyer, was a heavy warship class in the Star Dreadnought league, often used as command ships and flagships in the Imperial Navy. At their prime, they were among the largest vessels in the galaxy, and were almost invincible in combat, although they were costly to operate.