Hey there!
It's time for another progress report on Sword & Scroll. The majority of the time has been spent debugging, making the game more stable, balancing and so on, so in the feature department there is not so much to report but there's still some stuff.
Multiplayer
In this area, the majority of effort has been put into increasing the stability and making the code more robust. Feature-wise, the need of connecting via IP to some game you have no knowledge about has been abolished (but of course you can also still do this) and a match maker server has been introduced to host games to make it easier to find people to play with.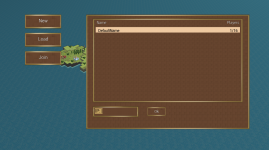 GUI Upgrades
The two most noteworthy points here are:
The old, really ugly font has been finally thrown in the trash and replaced by something more fitting.
To give the player a better overview and give more of a sense of "growth" without having territory expansions, areas are desaturated based on the "influence" of the player on the barony.
Shaders
I have also started on the long, long, long journey of beautification, at least on the shader side. Model and texture wise, there has been no major work done. But for the shaders, a lot has been done, to mention the main points:
Implementation of Soft Shadows
Water shader for river to emulate flowing water and water in the ocean
Fog shader for marking unexplored areas
Grass shader has been improved to make the grass more grass looking and weave in the wind.
Here is a close-up showing how the new shadows look in-game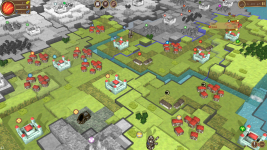 And the following short video demonstrates how the other effects look In-game and in-motion
To-Do
Currently I am working on exploration, in particular on allowing the AI to incorporate it into its play-style. Otherwise, the focus will now shift into the direction on adding more actual content to the game and making it look better.See you for the next update!