0.3.x of Ultima Ratio Regum has 6 components - generating myths, histories, languages, flags, coats of arms, and civilizations. The languages part is what I'm working on at the moment (with mixed results; will reveal more progress when there IS more progress!) along with the basis of storing civilizations and generating their unique traits. These traits are things like preferences for certain policies, for/against war, for/against trade, expansionism/protectionism, any unique features of that civ, and also their flags.
I decided last night that flags were both a good way to get started on making civilizations unique, and could also serve as a nice technical test of a new modular procedural graphics system I've had in my head which should make generating images much easier. So, after a night's work, here are some of the nicest flags we've had generated to date: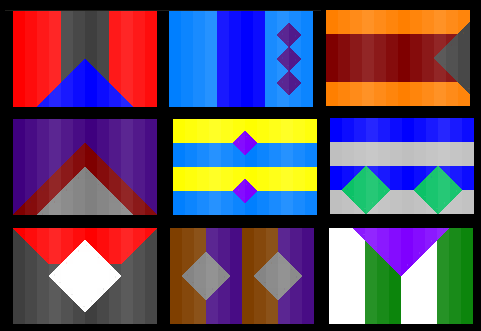 Most of the others still look acceptable, though a few definitely need some more work. None of the national flags can have symbols on, like some do in the real world; I'm saving symbols for religious symbols and icons later (though I will obviously make sure real-world ones cannot be duplicated!). Once I've got flags going, I'll then probably then finish off language generation, work on religious symbols, or move onto trying to get history generation really moving.
You can keep up to date on my devblog, Facebook page, or Twitter feed. The devblog is updated weekly on Mondays, Facebook a few times a week, and the Twitter roughly daily. Any thoughts, please leave them in the comments! Version 0.3.0 is now in the works, and will generate languages, myths, histories, coats of arms, flags, and entire civilizations. It'll be a big one, but I'm hoping to keep the updates coming regularly, and maybe put out a 0.2.2 in the mean time. Stay tuned...