Hey guys. The actual main menu isn't completed yet but I would like to show you a preview. While I did make it in Photoshop, it gives you a basic idea of how I want the main menu to look like. What I want from everyone is suggestions, and if possible tell me what you think of the current plan. (NOTE: That picture just shows what the very first frame of what the menu will look like. The camera actually zooms in closer to Azeroth)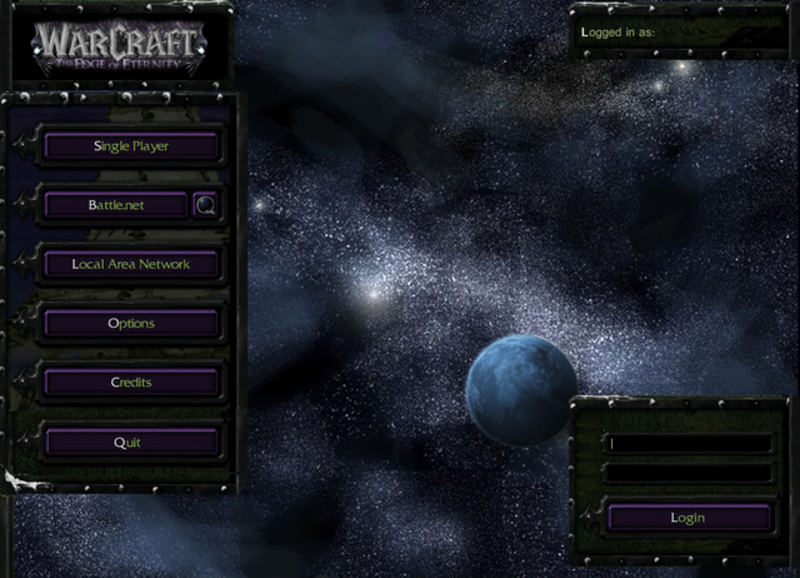 The background is a placeholder as we will actually have an animated background. The planet is supposed to be Azeroth. As you can see there is a login section now. Basically, in Warcraft IV you have to login to your profile with a password. There are a few reasons for this. When you play online you gain special "Victory Points". Every time you win a match you gain four of these Victory Points and with them you can buy special skins for your army. This is similar to the army painters from Dawn of War, except that there are only default skins. You can't actually customize them like the army painter. These points are allocated to your profile so if you share the computer you don't have to worry about your brothers, sisters, or whoever using your points. You can donate these points to other accounts online as well. You may be thinking: "Why add a login offline?". This is so you can gain your special unit/hero skins in single player as well. There may be more features later on but this is the only one we will incorporate when it is released.
Anyway, enjoy this preview.